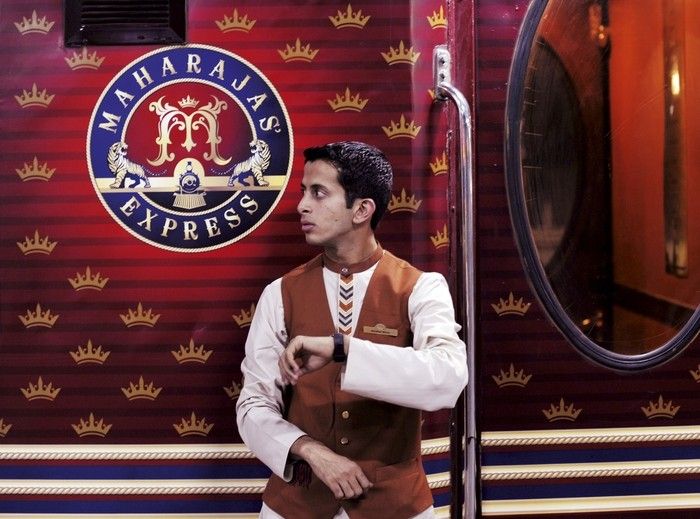 After recent show of Maharajas' Express in the West Coast of USA, its time for Christmas & New Year bash aboard most luxurious train in Asia. Palace on Wheels is running full for Christmas departure this season but that shouldn't deter if you are looking for exclusive train holiday in India. Maharajas' Express will offer 2 journeys to guests enabling them to celebrate their Christmas or New Year on board the train in style. The Indian Splendor Journey (departing on 22nd of December) is the Christmas Special departure and Heritage of India Tour (Departing 29th of December) is the New Year special departure aboard Maharajas' Express.
Dubbed as one of the most luxurious trains in the world, Maharajas' Express train lets you rediscover the romance of royal India. Carefully crafted insider experiences and cultural interactions lets you have glimpse of true colors of India in a way never seen before. Soak in the culture and heritage and come face to face with vibrant colors of this incredible country. Throw to it a dash of wildlife and what you get is an unforgettable rail journey.
The train with its graceful interiors and impeccable hospitality is also renowned for its modern amenities which make accommodation on board at par with the 5 star hotels. The spacious guest cabins come equipped with attached bathrooms, individual climate control, electronic safe and live television.
There are two restaurants with seating capacity of 42 each which ensures that all guests could dine together at 1 time. Then there is bar, lounge and library along with a souvenir shop to keep the guest entertained. More information and booking of the Christmas departure of the train could be done here:http://www.indianluxurytrains.com/journeys/maharajas-express.html
Equipped with state of the art amenities, spacious guest cabins and tastefully crafted itineraries ensure that guests have unforgettable moments to take away. To add to the holiday celebration, we have come up with very special offers and discounts. Enquire now for details and booking of your luxury train tour this Christmas & New Year aboard Maharajas' Express.
Company Profile:
Indian Luxury Trains (ILT) - India's first and only luxury train travel portal.
Provide: Newsletter | Brochure| News| Reviews | Bookings
http://www.indianluxurytrains.com | http://www.facebook.com/luxurytrainsinindia

Contact:
Rakesh Agrawal: +91 9717179408
Maharajas Express Luxury Train
Maharaja Express Train
Suite of the Maharajas Express
staff-serving-guests,-rang-mahal-restaurant-
Sitting area of the Presidential Suite