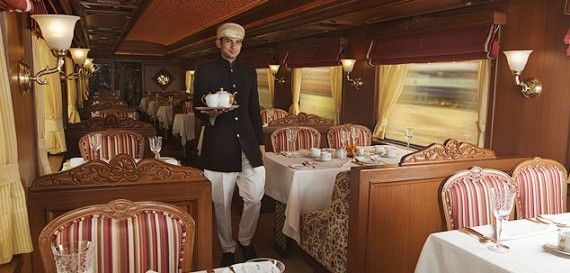 wwwmaharajas-express-india.com
Maharajas' Express Indian Splendor
Duration: 8 days/7 nights
Fare Starting From: USD 5560
A new chapter of luxury train traveling in India will dawn on 29th of September as Maharajas' Express will roll out from New Delhi on a weeklong tour cutting across state borders. The journey spanning over the duration of 168 hours will come to its conclusion in Mumbai but not before taking the guests on a royal ride across some of the most prominent tourist destinations in India. Included in the meticulously crafted itinerary is tour to royal destinations in Rajasthan along with a halt in Agra and Balasinor.
An array of cultural interactions, visit to UNESCO World Heritage Sites, tiger reserve and India's very own Jurassic Park forms the highlight of this royal rail journey which is dubbed as one of the most luxurious trains in the world.
Maharajas' Express is renowned for its state of the art amenities and elegant interior décor. Equipped with facilities such as individual climate control, Wi-Fi internet, live television, electronic safe, restaurant, bar, observation car and a souvenir shop, maharajas' Express is often referred to as a moving 5 star hotel on wheels.
The Indian Splendor is one of the 5 brand new itineraries announced by the operators of this luxury train. With a base price of US $5560 per person per journey, the fare of Maharajas' Express could reach as high as US $22000 for the Presidential Suite accommodation.
The all inclusive cost of Maharajas' Express tour include dining, accommodation, guided sightseeing tour, transportation in air conditioned coaches and car, entrance fees at the monuments and porter charges.
Mentioned below are the highlights of the Indian Splendor itinerary of the Maharajas Express
1. Delhi Agra Ranthambore Jaipur Bikaner Jodhpur Udaipur Balasinor Mumbai
2. Champagne breakfast atop Taj Khema
3. Exhibition Elephant Polo Match
4. Old Clock Tower Market in Jodhpur
5. Sundowner cocktail in sand dunes in Bikaner and Camel Cart Procession
6. Royal Lunch in City Palace Udaipur (Crystal Gallery)
7. India's very own Jurassic Park in Balasinor
8. Village Visit meeting with Royal Family over lunch
For more information about Indian Splendor Maharajas' Express Itinerary, feel free to visit the website of Indian Luxury Trains.