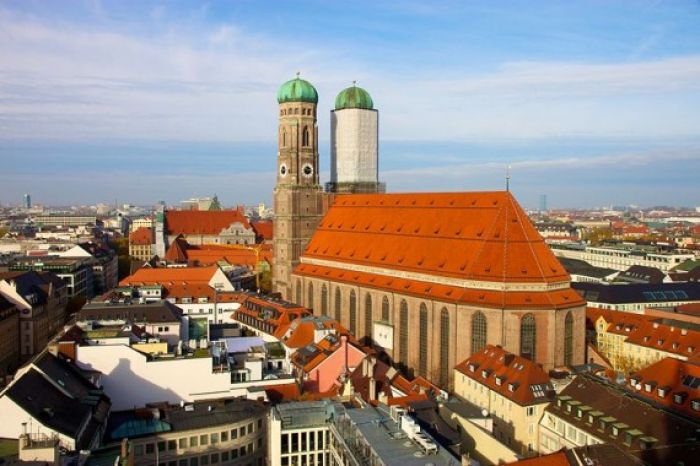 CC - Jiuguang Wang
Mention Munich and people automatically think of the famous Oktoberfest celebrations but this Bavarian city has so much more to offer throughout the year. Munich with its Japanese teahouse, English garden and Italian piazza displays influences from all over the world and attracts thousands of visitors each year. There are three impressive gates from the city's old defences and modern architecture such as the BMW headquarters building sitting along side historic palaces. 
Munich's Cathedral
Munich exhibits some spectacular architecture amongst which the Frauenkirche, Cathedral of our Lady stands out. A magnificent feat of construction it was completed in 1488 and has ever since been a prominent landmark in the city. Its interior is full of exquisite artworks and one of the more curious attractions is its "Devils footprint" said to have been the result of a pack between the architect and Satin. 
The Brewery
The 16th century Hofbrauhaus, Munich's well-known brewery is another much sought after destination. The present incarnation is a reconstruction of the 1897 building, which was destroyed during the war and proves to be as fashionable as it ever has over its 400-year history. 
Town Halls of Munich
The New Town Hall, built in 1874 in Marienplatz is a wonderful example of Flemish Gothic architecture and features an impressive 300-foot, clock tower, which performs mechanical plays at 11am, noon and 5pm daily. The Old Town Hall, dating back to 1480, rather than being demolished also still stands and despite much destruction during the war was rebuilt in its original Gothic style; it now houses an interesting toy museum. 
Squares, Platz and Piazza
Take a tour around the many squares of Munich, the most splendid being the Marienplatz at the centre of the city's historic heart. Along with the two town halls it also contains a column dedicated to St Mary and a small decorative fountain, know as the Fischbrunnen. The beautiful Odeonplatz was created in an Italianesque format and a number of the surrounding buildings such as the Feldherrhalle and the Theatinerkriche are reminiscent of the piazzi in Florence. The eastern edge is where you will find the pleasant surroundings of the Renaissance Hofgarten and the Ludwigstrasse, which leads down to the monumental Seigestor archway.
Revolutionary design
Modern Munich is just as striking and the four-stroke engine represented in BMW's headquarters is most definitely an iconic building, while the stadium and grounds constructed for the much fated Olympic Games of 1972 are built in a innovative style for the times. The futuristic Allianz Arena, is another of the outstanding features of the city and plays home to both Bayern Munich and TSV 1860 Munchen football teams.