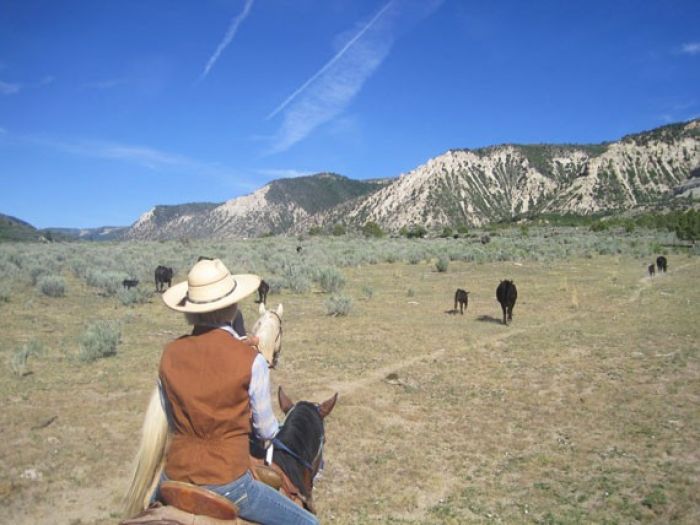 Irv Green
High Lonesome Ranch has long been a special getaway for those who like fly-fishing, big game hunting and wing shooting, but this summer it began opening its facilities to folks who just want to pull on some boots, climb astride a horse and spend a glorious week being a good ole Colorado cowboy.
To say that the property, located in the high mesas of northwestern Colorado, is immense is an understatement. With 300 square miles of leased and permitted land, it's bigger than 25 of the nation's 58 national parks.
To say that it's lonesome requires some elaboration. It's not lonesome in the sense of barren, although vegetation is sparse due to the high altitude (5,000 to 9,000 feet) and dry climate. But the endless vistas are interspersed with valleys of green, thus creating a landscape that is both open and welcoming.
It's also not lonesome in the sense of empty. There are animals aplenty—deer, elk, bear, moose, antelope, mountain lion, Big Horn Sheep and, since 2010, wolves, which returned to the state after a seventy-year hiatus.
But the ranch is lonesome in the luxurious sense of secluded. Although it's only a few miles from Interstate 70, the main route across the Rockies, stars shine undisturbed by passing lights, and the night silence is broken only by the rustle of a tree or the distant sound of an animal.
The decision to open the ranch to wannabe cowboys was as idealistic as it was practical. Obviously it makes good business sense to bring in paying guests year round, but more than that, says Scott Stewart, the general manager, "we want children to experience and appreciate the great outdoors. They are the policy makers of tomorrow, and we want them to understand the importance of land conservation and preservation."
But—and this is important—while the ranch wants to attract guests and spread its message, seclusion and privacy are still of prime importance. To that end, there will rarely be more than sixteen to twenty guests per week.
The first group of guests, of which I was one, was a diverse lot. We ranged in age from 4 to 74, in home location from Colorado to Connecticut and in ability from horse-savvy to horse-shy. Trail boss Amé Longfellow took pains to fit each of us with a horse that had the right temperament as well as the right fit. I told her that I wanted a horse that knew what to do, because I didn't. "No problem," she said, and she asked one of the wranglers to bring out Giant Bob, who, she said, was "slow and steady."
Pretty soon we were all in the arena, ready for Horse & Rider Orientation. Those of us who weren't familiar with horses got lessons in saddling and bridling. Others practiced controlling their horse by leading it around an obstacle course, and one guest, an accomplished horsewoman, took a trail ride with one of the wranglers.
Over the next several days, we all had the opportunity to go on multiple horseback rides. Giant Bob and I plodded along on a few of the easy trails, but by midweek I decided that I'd rather do something else. "Scott," I said, "is there a way I can see the upper reaches of the ranch, but by car, not by horse. "
"No problem," he answered. "Let me take you on a personal wildlife safari this afternoon. We'll go into the backroads and see if we can spot some animals."
No matter what any of us wanted to do, the answer was always the same: No problem. The small number of guests allows the staff to customize activities to fit each person.
My granddaughter wanted to picnic with the ponies, my daughter-in-law wanted to fly-fish, my son wanted to mountain bike, and my husband wanted to do a photo shoot. My grandson, who quickly turned out to be the best cowboy among us, wanted to become a good enough rider to participate in the end-of-the-week cattle drive.
Next year there will be even more non-equestrian activities. The staff has plans for guided hikes, painting workshops using oils and watercolors, van rides to a wild horse habitat, and interactive experiences with the scientists who are working on conservation and restoration projects. There will even be massages, cooking classes and, if people request them, excursions to nearby wineries.
The end of the week came much too soon. After a farewell dinner, we sat around the campfire and each of us made one last, gooey s'more. A man who had been with the ranch for years read cowboy poetry. Then other people chimed in with their thoughts—how they enjoyed spending time with family, how they stretched themselves both physically and mentally, how they enjoyed the camaraderie as well as the solitude, how they fell in love with the blue sky, brown earth and thin air.
But it was a fourteen-year-old girl who cut to the chase. "I had such a good time that I didn't even miss my cell phone," she said with a smile that creased her face from ear to ear.
In just one week she'd turned from city slicker to real wrangler.
www.highlonesomeduderanch.com
Story by Andrea Gross; photos by Irv Green
Irv Green
A goal of High Lonesome Ranch is to help children, even little ones, appreciate animals and the outdoors.
Irv Green
The dude ranch caters to the horse-shy as well as the horse-savvy.
Irv Green
Before going out on the trail, guests learn to lead their horse through an obstacle course.
Irv Green
Trail rides are offered every day.
Irv Green
Riders who can manage their horse get to go on an end-of-the-week cattle drive.
Irv Green
There are a host of diverse activities, including picnicking with ponies.
Irv Green
After-dinner activities include campfires with cowboy poetry and songs.