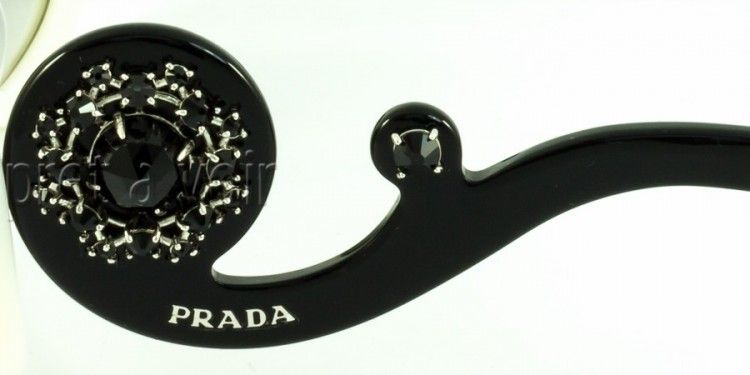 Pretavoir.co.uk
Building on the success of their bold Minimal Baroque range, Prada have released a new line of eyewear, the Prada Ornate Collection. The range includes the gothic-influenced PR31 PS, a larger round-eye frame with spike detailing, the same shape as the Prada Baroque 27NS - a huge fashion favourite. The Ornate eyewear is not an entirely 'dark' collection however, with the range featuring an intricate curved jewel design available on their optical and sunglass frames (the PR10QV optical frame and PR33PS sunglasses). This was directly inspired by Prada's own Jewel Collection.
The success of the Minimal Baroque range was partly due to its celebrity following, with wearers including Ashley Olsen, Kelly Rowland and Beyonce. Expect to see a similar interest with these, as the new Ornate line of frames begin to adorn celebrities' faces.
Gradient lenses dominate the sun collection (ideal for the sunglasses-at-night glamour girl - you can wear these well in to the evening and still actually see), making them a definite stand-out glamour piece.
The collection exudes glamour and quality, with the frames being made in Luxottica's factory in Italy. Each inlaid crystal is glued on by hand, while the frame itself is created using the latest micro-casting process. Currently we are only seeing the frames available in combinations of black and white, though Prada may release a more varied colour palette depending on the initial success of the collection (something they did with the Baroque range of sunglasses). Since these are a bit special, you can expect to see these on sale for over $500 - considerably more than the Baroque range.
Pretavoir.co.uk
The flagship Prada Ornate Sunglass in Black