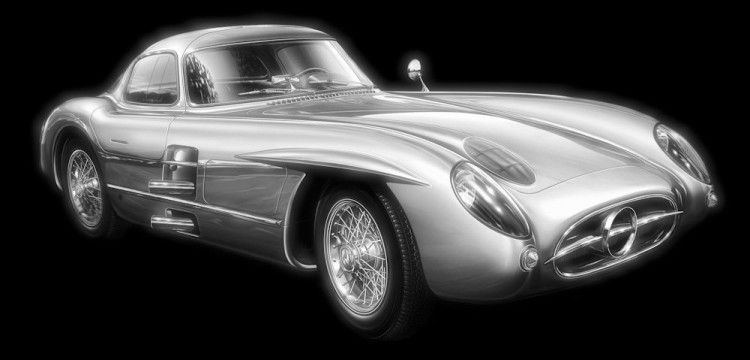 Photo by Ingo Poth
What is it about speed and acceleration that has fascinated 'mankind' since a hirsute hunter chipped away at the first wheel in his bone strewn man cave? What is in the male gender's DNA that speed and precision in cars, boats, snowboards or power mowers move grown men to swoon?
Car connoisseurs Ingo Poth and Bob Atanasov of AlloyCars Inc. are formost specialists in equating the synergy between testosterone and speed. As makers of the world's most prized sanctioned road ready, race vehicles, that include the legendary 550 Spyder and the 'Uhlenhaut' 300 SLR Coupe "Silver Arrow", Ingo Poth's AlloyCars are standard bearer's in the manufacture of hand crafted 'speed'.
Founded in 1996, AlloyCars transforms an aspirational dream into a tangible reality. Privately owned and operated Ingo has assembled a top team of automotive master designers, craftsmen and engineers in the re-creation of priceless works of automotive history. Working from a plant situated in a rough and tumble area of Ft Lauderdale, Florida, AlloyCars are purveyors of precision built opulence dedicated to all men (and women) who embrace speed and luxury.
The company carries on a historical tradition reminiscent of the High Renaissance where the European monarchy and the Vatican vested heavily in secular 'Art' and 'R&D'. Think Pope Julius II commissioning Michelangelo to paint the Sistine Chapel or Queen Isabella underwriting Cristobel Columbus. A contemporary equivelant ,AlloyCars melds German automotive mastery with precise American, 'can-do' craftmanship. Each AlloyCar is commissioned by the perspective owner and is indistinguishable from the original Mercedes 300 SLR Coupe and Porsche 550 Spyder.
Boasting unparalleled workmanship; AlloyCars are crafted from hand forged, high performance, alloy aluminum. From the original factory drawings, handbooks and decoded blueprints 3-D CAD scans were made resulting in exact reconstructions that are indistinguishable from their original makes and models. The company is in full tilt production mode and readying the delivery of 6 sanctioned 550 Spyders within the next six months. 'Good things take time'.
Photo by Ingo Poth
The prototype 550 Spyder was sold to a Conneticut automobile enthusiast with the original Fuhrman 4-cam engine, sold at $300 mil.
Photo by Ingo Poth
Not for the faint of heart the AlloyCars, Mercedes inspired 300SLR Silver Arrow is being touted as the most expensive car in the world.