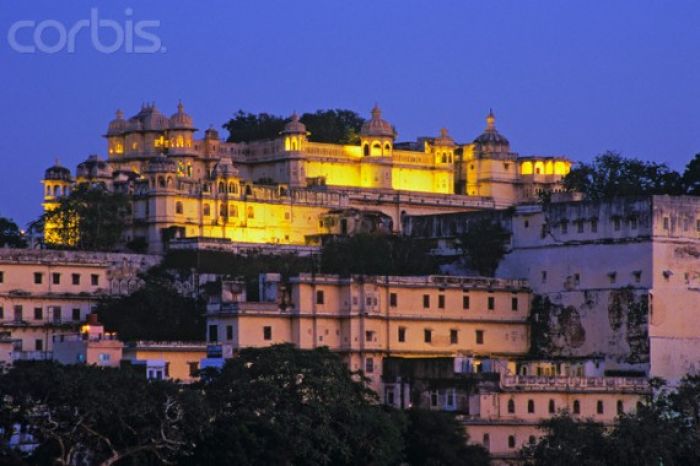 Tours in Rajasthan are as unique as you are, tailored to suit your interests, needs and fancy. A glimpse of Rajasthan is so promising that you'd never want to miss anything!
Tours in Rajasthan comprise the Desert Circuit, Royal Rajasthan Package, the Wildlife circuit, the Golden Triangle, Rajasthan Camel Safari, Rajasthan Tiger Safari Package, Palace on Wheels, Royal Rajasthan On Wheels, A Travel with 'Fairy Queen', Heritage on Wheels which covers Jaipur-Shekawati, Bikaner circuit, Rajasthan Cultural Tours and there are tours that call for celebrations!
'The Desert Circuit' has tours commencing from Delhi or Agra, with Jaipur and Udaipur as principal cities, trailing off to the desert regions of Jodhpur, Jaisalmer, Bikaner and Barmer. The Thar desert region can set your heart afire with its sand dunes and colorful romanticism!
'The Golden Triangle' is the famous Delhi-Agra-Jaipur package owing to the proximity of the cities and hence their accessibility. This offers you a thrilling sight with the Best of what India has to offer pertaining to her architectural marvels!
'Royal Rajasthan' takes you off on a flight of fancy to palaces, forts and castles of Rajasthan. This includes Amber Palace, Jal Mahal, Nahargarh Fort and Jaigarh Fort-Jaipur, City Palace and Lake Palace of Udaipur, Kumbhalgarh Fort of Rana Kumbha, Jaisalmer Fort & Sonar Fort, Mehrangarh Fort Jodhpur, Junagarh Fort in Bikaner, some palaces which have been turned into star hotels today, the forts or Chittaur, at places in Jodhpur, just being some of them!
Rajasthan is the Camel Capital of India, has tours promoting Camel Safari, which includes the 'Desert Circuit' of Jodhpur, Jaisalmer, Bikaner, Shekawati, Pushkar and Chambal and the famed Star Fort. This romantic rendezvous offers you a glimpse of rural life in Rajasthan on camel-back! As you laze stargazing with the night's cool breeze caressing your skin, you'll promise yourself a revisit!
Brace yourself for a pleasant surprise during a 'Tiger Safari' in Ranthambore's Tiger Reserve, for tigers here are a peaceful lot, allowing you to click away at your pace!! An abandoned fortress here, that's almost 1000 years old, will certainly pique your curiosity. Tours around Sariska offer you a 'Tiger Safari' experience. Catch a glimpse of salt pans in Sambhar Lake- the nation's largest saline lake.
'Palace on Wheels' is synonymous with novelty and style. What you only dreamt of as 'travelling in style', has found its way on the POW. It's not just a train; it's a 'palace' on wheels, whose interiors are adorned with paintings, handicrafts, furnishings and whose every cop has an attached toilet!
A tour of 'Royal Rajasthan on Wheels' is sheer luxury. With Ruby, Sapphire and Pearl suites, this one pampers your senses with a spa on board!
Indian Railway's 'Fairy Queen' offers a two-day package from Delhi to Alwar and Sariska.
The 'Royal Orient Train Tour' offers a delightful traverse along Delhi, Udaipur, Chittorgarh, Junagarh and Jaipur.
The 'Heritage on Wheels' is yet another luxury coach plying the Jaipur, Bikaner, Shekatwati circuit.
'Rajasthan Tour Packages' gives you the opportunity to travel every year. From Pushkar Mela, to Gangaur, Teej and Desert Festival, every month of the year is a celebration!