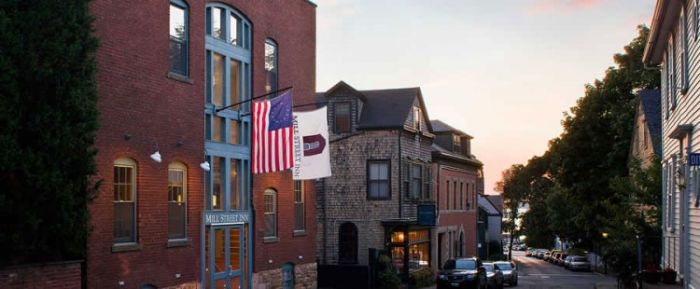 Mill Street Inn
Itís officially summertime in Boston, which means that itís time to start planning some fun weekend getaways. One of our favorite destinations is just a short drive away to seaside Newport, Rhode Island.
†
In just an hour and half, we arrived at the Mill Street Inn, an all-suite hotel located right in the heart of Newport. The renovated pet friendly property was once a large woodworking shop that supported the gilded age building industry. In 1890, the building was destroyed by a fire and rebuilt using brick. The reconstructed mill was powered by a steam boiler in the basement (pictures of which can be seen in the breakfast room) and continued to be used for millwork until the early 1980s when it was purchased by the current owners and converted into an all-suite hotel. The property was renovated in 2007 and today its 23 guest rooms now feature green technologies, including low flow plumbing and energy efficient lighting.
†
Located just one block from the harbor and situated in the Historic Hill neighborhood, the inn features all of the modern amenities you would expect to find in a luxury property. We loved the personalized nightly ďsweet dreamĒ notes complete with chocolate and a forecast of the next dayís weather.
†
We stayed in a two-story townhouse suite complete with first floor living area with pull-out couch and wet bar, brick exposed walls and flat screen TV. Upstairs, there is a spacious king bedroom complete with gas fireplace, bathroom with rain shower and Aveda Spa products, another flat screen TV and private roof deck walk-out patio. Included in your stay is free wireless Internet, afternoon tea, free parking (a major amenity in Newport), and complimentary daily breakfast.
†
For breakfast each morning, depending on the weather, they will serve a continental array of breakfast pastries, bagels, yogurt, granola, coffee, espresso and fresh fruit either in the lower level dining room during inclement weather or on the roof deck when it is a beautiful day.
†
The Mill Street Inn is located at 75 Mill Street in Newport, Rhode Island. For reservations or more information, call (401) 849-9500 or visit www.millstreetinn.com.
Mill Street Inn
Mill Street Inn