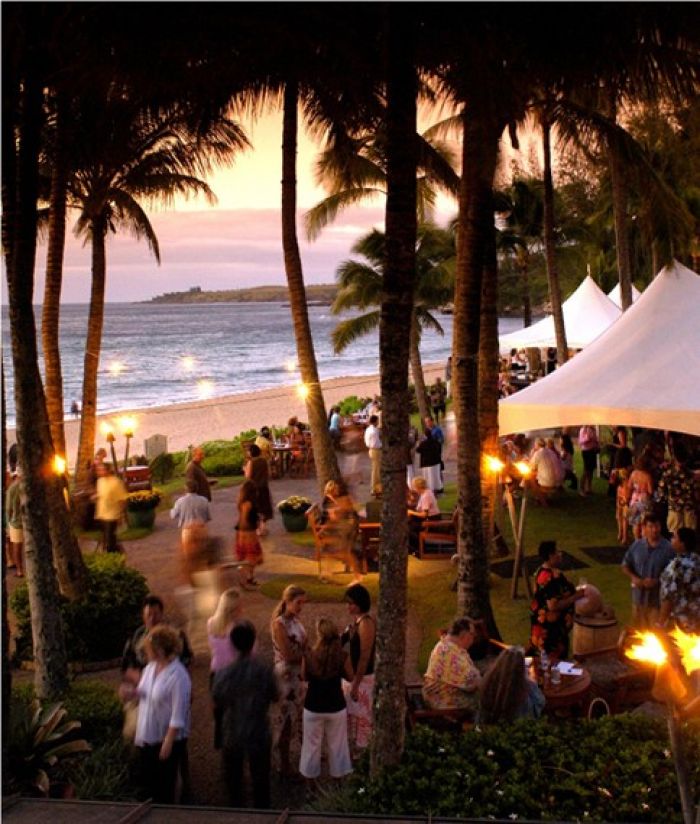 Courtesy of Ritz Carlton
Whether enjoying the scenic vistas or the gently lapping waves on the pearly white shores of western Maui, there is no better setting for a celebration than Ritz-Carlton Kapalua. Ritz-Carlton Kapalua and Kapalua Resort partners are proudly presenting a large array of food enthusiast and culinary connoisseurs' delights in this year's Kapalua Wine and Food Festival.
Presented by Visa, the 31st Annual Wine and Food Festival is featuring host Michael A. Jordon, winemaker Heidi Peterson Barrett, epicurean dinners, proactive panels, and much more. Highlighting the farm-to-table movement that has taken the island by storm, including a gastronomically glamorous Grand Tasting that includes several local and family restaurants pulling out all the stops to showcase their tasty talents, the event is not to be missed.
"Our property is once again proud to offer a stunning backdrop for such a high-caliber connoisseur's event," stated Tom Donovan, Vice President and General Manager of The Ritz-Carlton, Kapalua. "This year's unique collaboration of a Kapalua-centric chef showcase on Friday night is going to be an outstanding demonstration of innovative talent within Kapalua Resort."
An entire weekend of wine tastings, educational seminars, and exclusive access to vineyard selections, the Kapalua Wine and Food Festival is a wonderful experience for both seasoned veterans and festival newcomers. The signature finale event, the Kapalua Seafood Festival, makes for hot tickets that are highly sought after. The celebraiton is June 8-10 this year on the beautiful shores of Maui. Tickets are available at www.kapaluawineandfoodfestival.com. Home to events such as the Celebration of the Arts, make sure to and schedule a spa treatment while on property at Ritz-Carlton Kapalua as well. From coast to coast and on the island itself, Ritz-Carlton continues to bring the best of the best to patrons around the world.
Originally posted on Examiner.com