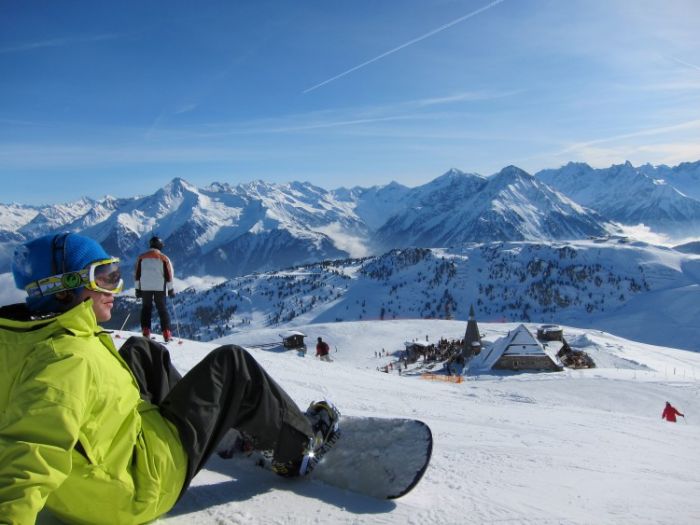 howard.lloyd
If you're gagging to get out on the piste this season but don't know where to head, the choice of destinations can be overwhelming. Whilst France may be a failsafe choice for many Britons, if you're looking to spread your wings a little further there are a number of options available to you. From the outlandish or unexpected to the cheap and cheerful, skiing is an elite sport no more – there's a package out there to suit every budget – so grab your skis, pack your snowboard, don your salopettes and let's go!
For the family:
La Thuile, Italy
Just over the Alps from France, Italy offers some fantastic skiing for all abilities as well as reasonably-priced après ski, a warm and friendly atmosphere and possibly the best hot chocolate on the planet!
La Thuile is located two hours' drive from Turin and Geneva airports and was originally a mining town. Today La Thuile is home to a large resort at an altitude of 1440m, with 150km of north-facing pistes that are serviced by 35 lifts.
La Thuile is perfect for intermediate skiers, although the ferocious black runs that slice through the open forests and off-piste offerings are perfect for adventurous advanced skiers. Heli-drops are also available for those looking to take their off-piste escapades to more radical extremes.
With a wealth of bars and restaurants and free childcare in many cases, La Thuile is popular with families, but the nightlife is certainly still vibrant enough to keep the young and energy-filled skier entertained late into the night.
For a short break somewhere unusual:
Mount Hermon, Israel
It's hard to imagine that just two hours' drive from the deserts of the holy land you can find a ski resort – but that's exactly what you'll find at Mount Hermon in the Golan Heights region of Israel, in the far north of the country. Whilst this resort may not be world-class, for around 50 days of the year – between January and March - you'll find great skiing at Israel's only winter ski and snowboarding resort.
Situated 2814m above sea level, this resort is the highest point in Israeli-controlled areas that overlooks both Syria and Lebanon – making it of strategic military importance as well as simply a place to enjoy some sports! The nearest airport is Tel Aviv, and there's a good choice of guest lodges in the area. A ski pass costs around £40 a day and there are 10 lifts that service the snow-sure areas between 1640m and 2073m.
For the party animals:
Mayrhofen, Austria
In your mind's eye you might associate Austria with Julie Andrews frolicking atop a mountain singing about string. Well, at Mayrhofen you couldn't be further from the truth. This resort not only boasts some serious skiing and outstanding opportunities for snowboarders, but every April Mayrhofen also plays host to "the greatest show on snow"- the Snowbombing Music Festival. This high-altitude, high-energy music festival promises to combine "black runs with white-hot parties". With mountain-top stages, sky-high igloos and even an enchanted forest – all accommodating some world-class music acts over the course of a week – Mayrhofen offers so much more than your run-of-the-mill resort.
The Vans Penkens Park has a diverse range of jumps for snowboarders and freeskiers, and the 159km of runs – serviced by a whopping 147 snow cannons – guarantee 100% snow coverage on the slopes. Mayrhofen is also home to Austria's steepest groomed slope – the infamous "Harakiri" black run. Featuring gradients of up to 78% - this run, and the resort as a whole, are most certainly not for the faint of heart!
For those on a budget:
Poiana-Brasor, Romania
This small resort, 1200m above sea level, is located near the town of Brasov around 166km north of Bucharest, and is the most popular skiing resort in Romania. Whilst Poiana-Brasor may be a little rough around the edges, it represents great value for money and definitely falls under the "cheap and cheerful" rather than "shoddy and sub-standard" category.
With flights often costing less than £100, and a week's ski pass also coming in at under £100, this resort is super-affordable. Better than that, you'll see neither hide nor hair of the infamous £10-a-bottle après ski beers. A domestic beer in Poiana-Brasor is more likely to cost you less than £1. Amazing!
Zakopane, Poland
This popular Polish ski resort is located at the feet of the Tantra Mountains, south of Krakaw in Malpolsken Voivodship - the southern part of the Podhale region. Regular visitors talk of the intangible feeling of energy that exudes from this young, vibrant mountain range – and the skiing is considered to be some of the best there is.
With stunning natural scenery and vivacious après-ski nightlife, you'll find great value-for-money and plenty of action both on and off the piste.
Improvements, growth and development are constantly happening in Zakopane to accommodate the area's blossoming popularity. Zakopane also offers really unusual architectural contrasts – with staggeringly old buildings juxtaposed with masses of Eastern Bloc high-rises and massive statues inferring to the strong Soviet undertones of the area, this resort is both unusual and indisputably endearing.
For something completely different:
Mauna Kea, Hawaii
Admit it - the last place you expected to see on a list of ski destinations was Hawaii, right? Who can blame you, it's certainly not the first place you'd think of when planning a snowy trip. But, the volcanic mountain Mauna Kea (Hawaiian for "white mountain") offers some extreme skiing – if you're brave enough!
If you measure Mauna Kea from its undersea base – some 19,000 feet below sea level – all the way to its snowy peaks 13,796 above sea level, Mauna Kea is, technically, the world's highest mountain! This unexpected location also offers some of the world's highest skiing too. However, this is wilderness skiing at the extreme – we're talking no lifts, no grooming, no resort – you'll need a 4x4 and an adventurous nature to tackle these unruly slopes.
The unusual climate of Mauna Kea produces what is known as sugar/corn snow – snow that is granulated in consistency due to being repeatedly melted and frozen again. In typical tropical Hawaiian style, this snow is known locally as "pineapple powder".
There are a number of guided excursions that will take you to Mauna Kea but it should be stressed that this terrain is certainly only suitable for very advanced skiers. Whilst under the snow is predominantly cinder – making for something of a softer landing than other surfaces - there are plenty of jagged rocks to look out for. Additionally, the changeable climate means that the weather can turn on a dime – and with no safety provisions, this isn't the kind of place you'd want to find yourself out of your depth. However, advanced skiers with a sense of adventure speak very highly of the challenging and exhilarating terrain that Mauna Kea offers.
Top Tip
If you're planning on trying some skiing gems for yourself, it's worth bearing in mind all the added extras that can mount up from ski hire to the costs of taking your skiing equipment on a plane. Heathrow Parking specialists Purple Parking see that thousands of skiers have a relaxing start to their holiday and has some money saving tips for skiing holidays which includes a ski baggage fees comparison table giving you all the information you need when you come to booking your flight for.
Elias Callejo
Mauna Kea, Hawaii
ProArtaC
Zakopane, Poland
Foshie
La Thuile, Italy