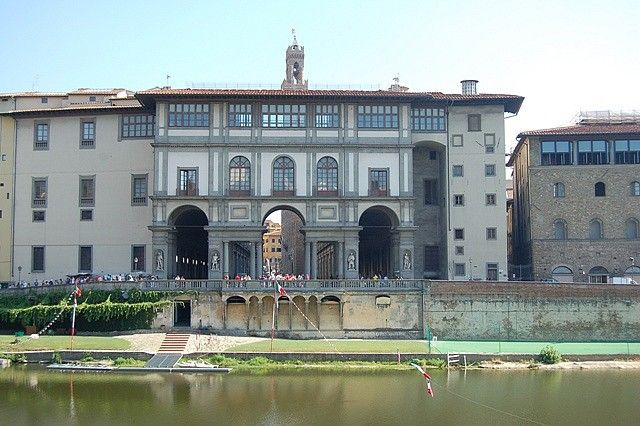 http://www.flickr.com/photos/r
A trip to a museum is on the itinerary of any good tourist, but with so many great museums to choose from in the major cities of Europe, how do you know which ones to include in your sightseeing tour of Europe? Here are a few ideas to get you started.
The British Museum, London
This vast museum is dedicated to the preservation of human history and culture. The British Museum is an absolute must for anyone who loves to see interesting antiquities and famous artefacts such as the Rosetta Stone or the Parthenon Marbles. There's even the odd mummified Egyptian to marvel over. Special events and exhibitions change constantly, keeping the museum fresh, and there are plenty of free activities on offer for kids and adults alike. The museum has restaurants, cafes and of course the mandatory gift shop.
Where is it?:                     Great Russell Street, London
Opening times:                               10am to 5.30pm (open until 10.30pm on Fridays)
Admission:                        Free
The Galleria degli Uffizi, Florence
Lovers of Renaissance art will be in heaven wandering around this gallery, which is full to the brim with masterpieces from some of the greatest artists of the era. Michelangelo, Leonardo da Vinci, Botticelli, Raphael, Botticelli, and Caravaggio are all on show. There are works from all eras, but most of the collection dates back to between the 12th and 17th centuries. Be prepared for a long queue, though; along with the Vatican Museums (below), the Uffizi is the most-visited museum in Italy.
Where is it?:                                      Piazzale degli Uffizi, Florence     
Opening times:                                Tuesday to Sunday, 8:15am to 6:50pm; closed on Mondays
Admission:                                         Tickets start from €9.50 and you can also buy combo tickets to give you access to the Hard Rock Café or other attractions. Tickets need to be reserved a day in advance if buying online.
The Guggenheim Museum, Bilbao
The Guggenheim Museum in Bilbao is one of the most extraordinary museums in Europe just to look at, and celebrates architectural innovation.In addition to the fascinating structure of the museum, you'll be wowed by the exhibitions, which are 'designed to challenge assumptions about the connections between art, architecture, and collecting'.The permanent collection includes art from old masters such as Picasso and Miró, and the museum puts on a variety of seasonal exhibitions, activities and events. There's even a Michelin-starred restaurant – and some less formal dining opportunities too.
Where is it?:                                      Avenida Abandoibarra, 2 - 48009 Bilbao
Opening times:                                Tuesday to Sunday, 10am to 8pm; closed on Mondays
Admission:                                         Tickets are €9.50 for adults; children go free                       
Museum Island, Berlin
You're spoiled for choice when it comes to museums in Berlin – there are 150 of them, but five of the best are helpfully located in one area. The state museums all hold world-class collections, including antiquities, 20th century paintings and sculptures.
The Pergamon Museum is the most visited museum in Berlin, and houses exhibits such as the Pergamon Frieze and the Market Gate of Miletus.
The Bode Museum has a huge collection of sculptures and treasures from the Museum of Byzantine Art and the Numismatic Collection.
The Neues Museum lay in ruins until 1999, after being destroyed in the Second World War. Since then, it has displayed artefacts and treasures from the Egyptian Museum, the Museum of Prehistory and Early History Museum, including the bust of Nefertiti.
The Alte Nationalgalerie houses famous art works spanning Classicism, Romanticism, Impressionism and early Modernism.
The Altes Museum is currently being renovated.
Where is it?:                                     Museumsinsel, Lustgarten, Berlin
Opening times:                                Tuesday to Sunday, 10am to 9pm. Late opening on Thursdays to 8pm. Closed on Mondays.
Admission:                                         The best way to see the museums is with a Berlin Welcome Card, although some exhibitions may charge extra for entry. This gives you unlimited access to museums in Berlin for up to 72 hours, from €34.
The National Archaeological Museum, Athens
The National Archaeological Museum is the largest archaeological museum in Greece, and one of the most famous museums for ancient Greek art. There are collections of prehistoric and Egyptian antiquities as well as exhibitions, a shop, and cafes to relax in.
Where is it?:                                      Patission Street, Athens              
Opening times:                                Monday: 1-8pm; Tuesday to Saturday: 8am to 8pm; Sunday: 8am to 3pm
Admission:                                         Usually €7; children go free. Admission is also free on selected national holidays.
The Naples Archaeological Museum
The most important archaeological museum in Italy, Naples Archaeological Museum contains a large collection of Roman artefacts from Pompeii, Stabiae and Herculaneum, as well as art work from Greek, Roman and Renaissance periods. One word of advice: if you specifically want to see the Pompeii mosaics (or other famous artefacts), check ahead because it's not uncommon for whole sections of the Museum to close for restoration for days, weeks, or even years!
Where is it?:                                       Piazza Museo, Naples, Italy
Opening times:                                Open daily from 9am to 7.30pm; closed on Tuesdays
Admission:                                         €8 for adults; children go free
The Vatican Museums
Be prepared to wait in a very long line to see these world-famous museums – but the wait will be worthwhile.  The Vatican Museums encompass all the museums within the Vatican City boundaries, and are made up of the immense art and antiquities collections owned by the Roman Catholic Church, built up over many centuries. Expect to see some of the most famous classical sculptures and Renaissance masterpieces in the world – culminating in the phenomenal Sistine Chapel.
Where is it?:                                      Viale Vaticano, Rome
Opening times:                                Monday to Saturday; the ticket office is open from 9am to 4pm, and the museum closes at 6pm.
Admission:                                         €16 – or buy online to skip the queue and pay a €4 booking fee. Well worth it to get in quickly!
What do you think is the best museum in Europe? Let us know which museums you'd add to this list if you were to take your own tour of europe in the comments below!