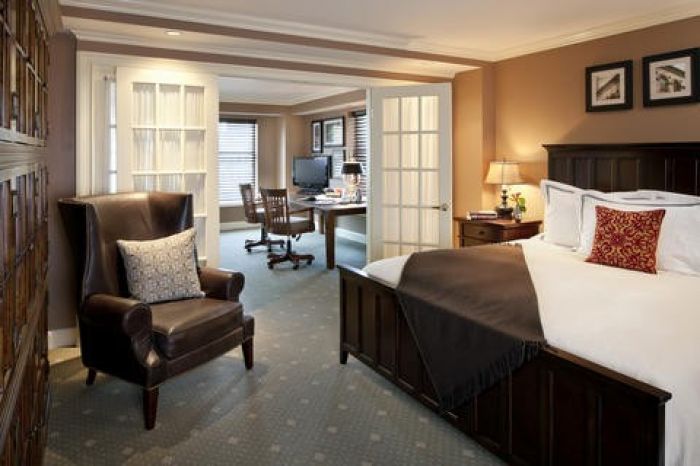 Hotel Commonwealth
Every writer knows a thing or two about writer's block.
You sit there, stare at a blank paper and 15 minutes later, the paper is still blank.
Boston's Hotel Commonwealth has come up with a solution to put any writer's block to rest. Introducing The Writer's Block No More package, which includes a stay in one of their newest suites – the Reading Suite.
At this two-room suite, you can get in touch with your inner writer by curling up with a good book at the "reading nook" window seat, sit at the library table or, browse the curated library of 50+ titles signed by authors who have stayed at the hotel.
The package also includes two cocktails at The Hawthorne where you can sip on a Jack Rose, a cocktail made famous by Hemingway in The Sun Also Rises. Head outside for a stroll around town but be sure to save time for afternoon tea for two at the Courtyard Restaurant at the Boston Public Library, the nation's oldest public library. http://www.thecateredaffair.com/bpl/courtyard/.
Not sure you way around town? No problem. With the package, the hotel will provide you with a map of Boston's Literary Landmarks Walking Tour, which will take you past the homes and haunts of great Victorian writers such as Ralph Waldo Emerson, Nathaniel Hawthorne, Henry David Thoreau, Louisa May Alcott, Henry James, Charles Dickens, and Henry Wadsworth Longfellow.
The Writer's Block No More package also includes a $20 gift card to Barnes & Noble, located across the street from the hotel as well as an antique book box filled with nuts, chocolate covered pretzels and dried fruit.
Pricing starts at $489/night subject to availability. The Hotel Commonwealth is located at 500 Commonwealth Avenue in Boston. For more information, call (617) 933-5000 or visit www.hotelcommonwealth.com.
Hotel Commonwealth