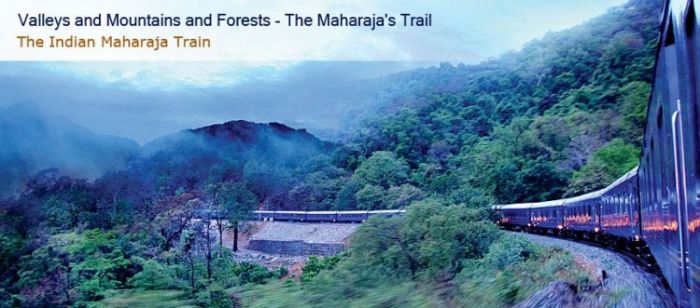 Most foreign visitors to India look to explore India's rich cultural side that fascinates the world. Being historically and culturally of great significance, India is a major cog in the Asian cultural wheel. When Indian Tourism board realized this, they introduced several tour packages that enabled guests to discover the cultural pots of India. this included tours to destinations such as Delhi, Rajasthan, Kerala, Goa, Varanasi etc. One such innovation was the introduction of luxury trains. Indian luxury trains, like the Indian Maharaja and the Palace on Wheels, are today considered at par with the best luxury trains of the world.
The Indian Maharaja, in particular, has risen to be one of the most popular luxury trains in India today. The train is a virtual five star hotel on wheels and has everything, maybe more, that you normally associate with a luxury hotel. The Indian Maharaja has 11 passenger car – each more aesthetically done than the other. Each car has up to 4 cabins which offer a choice between twin beds and queen size beds. There are 2 presidential suites, each with its own bedroom, living room and en-suite bathroom. That is luxury exemplified! It is sometimes fascinating to see all the facilities the suites afford when space is at such a premium. And yes, you get your own butler who will be dedicated to your services.
Moving on, there are several deluxe cabins categorized as Gold and Silver class. Each cabin is luxuriously adorned and boasts of features that can put a 5 star hotel room to shame. In-cabin facilities include air conditioning, electronic safe, direct dial telephone, LCD television, wall to wall carpeting, wardrobe and bathrooms with shower. Each carriage enjoys the services of a dedicated butler who caters to guests' whims round the clock.
Dining is another key service where the Indian Maharaja simply excels. 2 multi-cuisine restaurants dish out an array of Indian, Marathi, Goan, Chinese, Rajasthani and Continental delicacies to tempt guests' tastebuds. However, it is advisable that guests make prior reservations to avoid seating issues. Both restaurants afford great ambience and in the backdrop of hills and vast desert stretches whizzing by, dining aboard the Indian Maharaja Train is truly an experience to savor. The bar is well stocked with domestic and international brands of liquor. The bartenders conjure the finest of cocktails without breaking a sweat. It must be noted that all drinks are exclusive of the tariffs and must be paid for separately.
As and when the wonderful 7 night, 8 day journey ends, guests are escorted back to the airport from where they can board the flight back home.
Author Bio:
Sushant Sharma
Sushant Sharma has published online articles, blogs, whitepapers, travelogs and DIY guides on topics ranging from luxury train travel to travel guides to the remotest places in India. Sushant is currently working on a detailed tour guide for Western and Southern India with Rajasthan, Goa and Kerala as the primary destinations.
The Indian Maharaja Train Journey
impeccable hospility