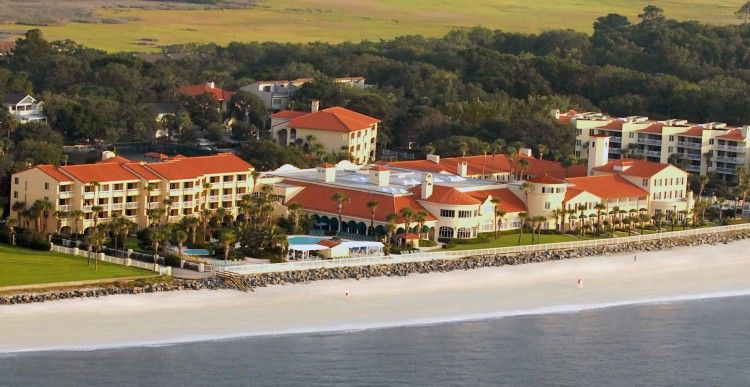 King and Prince
As soon as I arrived at the King and Prince Beach and Golf Resort on the coast of Georgia, I experienced some of touch of the Southern hospitality that we hear so much about. My room was not ready, so the staff called room service, and asked if I'd like to be called after it was cleaned. I agreed and the staff member gave me a pool key for my wait. Now, that's great service! I spent the night in a room with a king-sized bed. I thought that the striped blue and white sofa was conveniently positioned near the balcony.
The view was impressive. Not only could I see the ocean, but from my balcony, I could also scope out the action below, like the kids playing, and bods sunning at two of the outdoor pools. I could even hear the surf.
I thought that a map would suffice to navigate from my room to the luxury resort's meeting room, but it turns out that I needed verbal directions or maybe an escort, because I couldn't find the meeting room with merely a map. Thank goodness for the patient staff, accustomed to doling out directions.
It was easy to get a bit disoriented there (especially if you are directionally-challenged). The resort has an oceanfront building, a main building, the Oleander building, some beach villas, meeting rooms, a couple of restaurants, cottages, and some homes for the folks who are lucky enough to live there.
Aside from the beach, meals were the highlight of my trip. I couldn't get enough of the seafood. I loved the shrimp and grits; the blackberry sorbet was scrumptious, too.
Overall, I had a peaceful stay, perfect for an incognito getaway. For a little adventure I could walk to shops or ride a bike into town or to see the historical sites. I found a bike rental shop down the street from the main building. To top it all off, the resort has free Wi-Fi.
Claudine Williams' accommodations were courtesy of the King and Prince.
King and Prince
Oceanfront room
King and Prince
Oval Pool