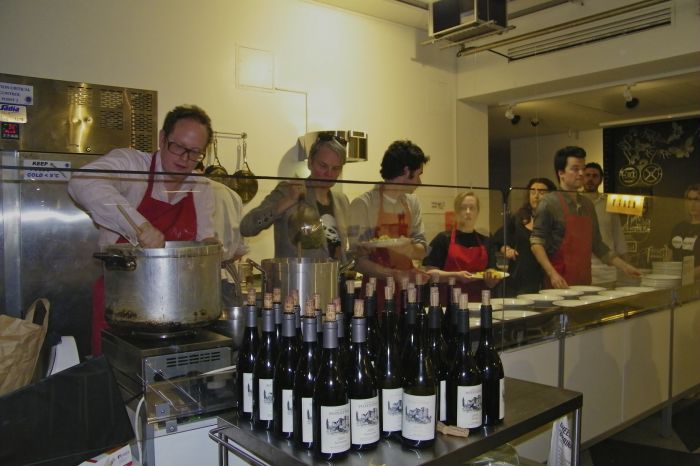 Columbia Hillen
What a way to learn biology, particularly about the intriguing interactive processes behind our sense of taste. If they'd had this idea in school, I'm sure I wouldn't have flunked the exam.
At first glance, the invitation seemed most strange, maybe a premature April Fool's joke: dinner in a science museum! But further reading showed it to be the creative brainchild of FromVineyardsDirect, one of Ireland's leading wine distributors under the leadership of general manager, Stuart Smith, and the Science Gallery in central Dublin. They'd combined their skills and expertise to highlight a special exhibition entitled, 'Edible - the taste of things to come.'
Not only was there to be a homemade, five-course dinner with wine tasting but most of the ingredients were sourced from and around a particular farm and vineyard in Tuscany, one of my favourite culinary regions in Europe.
The hosts had persuaded English-born Charlotte Horton and her younger brother, Alexander, to travel to the Emerald Isle's capital city with various products from their very own, Castello di Potentino in Provincia di Grosseto is in southern Tuscany. Ably helped by an enthusiastic band of assistants, they prepared on-site a veritable feast for the evening, on the second floor of the museum, just around the corner from Trinity College Dublin, the erstwhile academic home of literary luminaries such as Oscar Wilde and Bram Stoker, the centenary of whose death is commemorated this year.
Guests gathered together around a large circle of tables began with generous slices of unpasteurized cheese from sheep raised by Charlotte's neighbors, Angela and Aldo on nearby Monte Amiata, the highest mountain in Tuscany. This was accompanied by Charlotte's chilled, Lyncurio, a white wine obtained from the pinot noir variety. Named after a mythological curative stone strongly associated with Bacchus, I could well imagine such an illustrious Diety and his pals giving their full-throated approval to this nutty, complex elixir.
A tasting of the new season's olive oil produced on Charlotte's property followed, with guests imbibing and chatting merrily. Dipping large slices of fluffy, home-made bread in the golden-emerald liquid and licking our lips in appreciation of the oil's subtle flavors was a most delightful activity. Pasta using bottarga pesto –known as the poor man's caviar - served with Charlotte's Piropo 2008, a pinot noir, was next. Bottarga is dry roe of grey mullet or other fish, waxed and served normally as an appetiser.
The wine working its wonders and the evening in full swing with everyone seeming to meet new friends, the main dish was served - a plate of delectable, homemade pork sausages bursting with tantalizing flavor, cooked in wine and accompanied by broad beans and bitter greens (fave e foglie). Stuart was keen for me to finish my last drop of Piropo so he could present me proudly with his ruby Sangiovese – Sacromonte Montecucco Rosso. He called it a table wine but I deign to disagree, though a gilded image of 19th century Italian bohemians debating passionately around a bar table about literature, art and philosophy did come to mind as I drank generously. Sitting with so many others, conversation rising and falling in rapid rhythms and seeing plates refilled from the gigantic metal bowls behind us, this image was enhanced even more.
The coup de grace of the evening was Alexander's chocolate pot, incorporating a delicate mix of Maldon sea salt and lavender, which left us well and truly satiated.
With Alexander's love of cooking and perfume-making combined with Charlotte's wine-making skills, I am looking forward to the promise they might open a wine bar in London. But just in case, I've already started looking into flights to Tuscany.
See www.fromvineyardsdirect.ie for upcoming activities and informative wine news and www.potentino.com for more onCastello di Potentino, which also offers home-style accommodation options.
Columbia Hillen
Stuart Smith, general manager of FromVineyardsDirect, welcomes guests.
Columbia Hillen
Charlotte explains Castello di Potentino and its history.