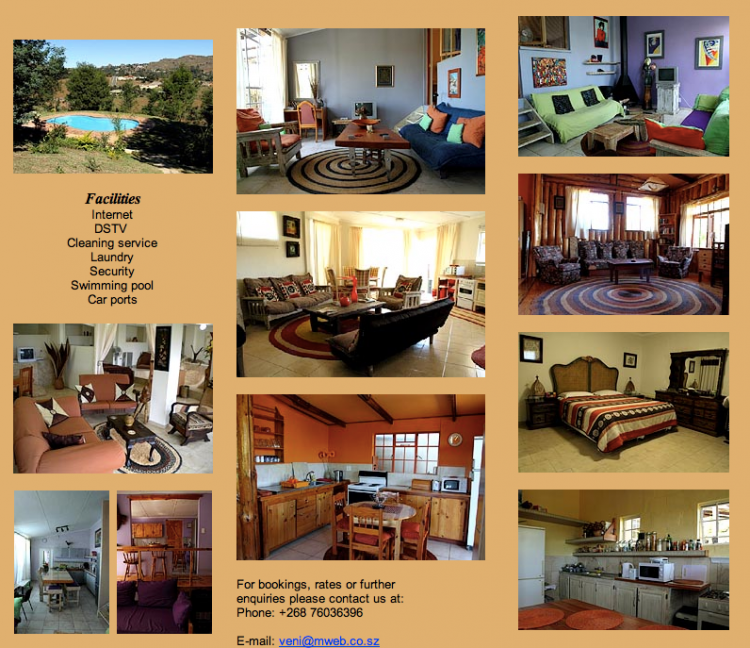 Come for the view and the tranquillity; stay for the personalities of Veki Beronja and Dave Cranko. Tucked away on five hectares about four kilometres from the center of Mbabane, Veki's Village offers luxury self-catering accommodation.
The eight chalets at Veki's Village – which range from a compact 58 square meters through to a family size 90square meter unit – all have individual personalities. But they are united in terms of creative construction and real art.
Dave built the chalets – some of vertical logs and others of concrete. A sculptor and painter by training, his stamp is evident from both a flare for design of the chalets and his paintings and sculptors that grace the premises. Get him to take you on a tour of their house perched at the top of enclave – a proverbial art gallery – and be sure to ask to see his sketches.
According to Dave, "Veki is the heart and the soul of this place." Together they team up to mix and mingle with their guests. Veki laughs, "We once had a dinner party with 15 nationalities being represented around the table. It was great fun and then we all ended up dancing till all hours."
Dave emphasises, "We go out of our way to help. People who are relocating need advice on the good areas to rent a house in Mbabane. And they need to know about the laws in Swaziland, which may be very different to what they are used to. Things here tend to be more relaxed. And we have a well-established network and know how to get things done. For example, when we are fully booked we work with other guest houses so people can be accommodated."
Who stays at Veki's Village? Corporate types, tourists, families – a mixed crowd. And it is the attention to detail that keep them coming back or renting on a long-term basis. The well-equipped kitchens, the fireplaces, the choice of a bath or a shower, the white cotton linen and the feather pillows. And the rough-wood furniture Dave made that you simply won't find anywhere else.
And for those so inclined, there is a massive swimming pool and hiking options. For the more sedentary types, relax on the patio or balcony as every chalet has one or the other.
While the view is truly spectacular, the personalities are even more magnificent.
Contact details:
Veki's Guest House
Cell: 268-760-36-396
Email: veni@mweb.co.sz
Website:http://www.visitswazi.com/vvillage/