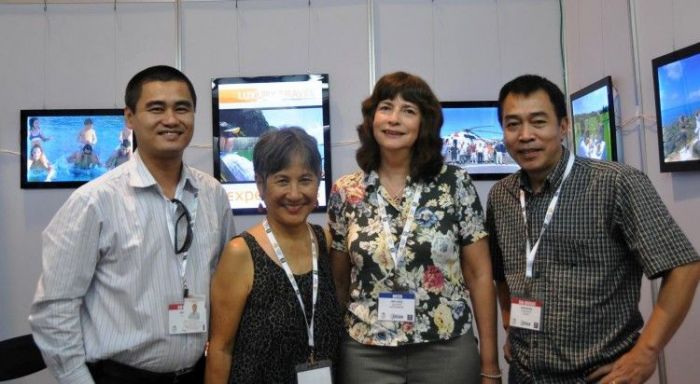 Luxury Travel Ltd. Team
Luxury Travel Ltd. will showcase its expertise and teach luxury tour operators and travel partners at ITB Berlin with VNAT from 6 to 10 March 2013.  
ITB Berlin is the world's leading travel trade show and takes place in Berlin, Germany from 6-10 March 2012. Luxury Travel Ltd is a long established Asian specialist in luxury privately guided and fully bespoke holidays in Vietnam, Laos, Cambodia, Myanmar and Thailand.
The representatives of Luxury Travel Ltd. from the London, Berlin and Hanoi offices will participate in ITB Berlin as an exhibitor. The aim is to promote Vietnamese high-end tourism products in the leisure luxury segment and to find out buyers who want to sell unique experiences for discerning german travelers.Luxury travel is being redefined as experiences rather than brands.
According to recent figures by FVW Medien Gruppe, Germany's leading travel industry media group with more than forty years of expertise in tourism, provides widely known and recognized publications, 39% of German tourists want sun and beach for their vacation, 31% want a relaxing holiday, 22% like nature trips as their preferred types of holidays, 22% travel with family, 16% like adventure, 14% like active holidays, 8% want fun and 8% like winter holidays and 4% like winter and warm for their vacation.

For many travel experts, Vietnam has all of these to offer to German tourists.
Vietnam in particular increasingly is being recognized as a destination for high-end global tourists, especially those coming from Western European countries with direct flights, such as France, the UK, and Germany. Vietnam now has world class hotels and resorts, beaches and cuisine, in addition to its natural beauty, rich history and traditional culture.
The country receives 100,000 German tourists yearly, and the number of tourists increases year after year. The new slogan of Vietnam tourism –– "Vietnam - Timeless Charm," was created with an aim to attract long haul travelers from Germany and elsewhere, who wish to experience its defining characteristics: Thrills, nature, heritage, festival, pristine, bliss, scenery and essence.
"Headquartered in Vietnam, with our rep office in Berlin , the biggest travel show in the world such as ITB Berlin 2013 is a great chance for us to establish our business relationship with all of you who look for reliable full travel service agencies and luxury tour operators." said Pham Ha, founder and CEO of Luxury Travel Ltd.
Benefits of face to face meetings at the ITB Berlin 2013 show include:
·        Meet and talk with a multi-language team: Vietnamese, French, German, English
·        Updating fresh Indochina tourism products and introducing a new luxe concept.
·        Understanding what luxury and luxury travel really means to you
·        Discussion of 9 day FAM trip to Vietnam
·        Seeing for yourself before you sell to customers,luxury travel is being redefined as experiences rather than brands.
·        Learn what niche travel products are available for luxury travelers
·        Learn how best to sell luxury travel products to the economy and luxury class and everyone in between
·        Learn how to increase your sales volumes and maximize profits for luxury tour operators, travel agencies and local experts
·        Learn about Luxury Travel Ltd's brochure and Vietnam luxury travel guide book and how they help travel professionals reach their peak sales performance
·        See how local luxury travel advisor teams work and collaborate with the travel experts effectively around the clock for the benefit of their customers
·        See how to exceed customer's expectations and make them lifetime customers for the travel company
·        Get a confidential tariff book for 2013-2014 in French, English and German
For further business discussion with Luxury Travel Ltd. representatives, book an appointment in advance at itbberlin13@luxurytravelvietnam.com, check website at www.luxurytravelvietnam.com.