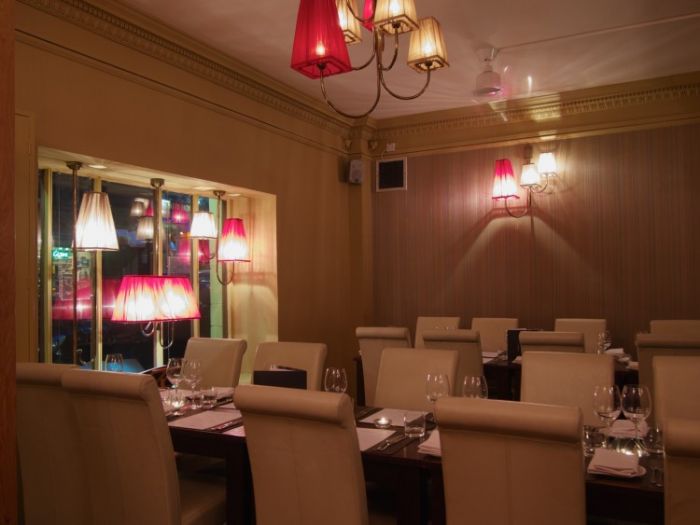 Columbia Hillen
Salads are often a key indicator as to the general quality of restaurants – if they are fresh and creative, the likelihood is the menu will follow suit. If tossed together in humdrum, disinterested fashion, well…
'Humdrum' and 'disinterested' are certainly not the words to describe either the salads or the overall menu at 'Wedgwood' on the Royal Mile in Edinburgh, Scotland.
Instead, salads arrive as an aromatic bouquet of diverse and intense flavors - sweet cicely (a relative of fennel and anise), wood sorrel, sea purslane (adding natural saltiness), pink purslane (providing an earthy aftertaste), pineapple chamomile (a cousin of chamomile, with similar relaxing effects) and chickweed (offering a mild, almost cornsilk flavor).
Such a description only begins to give an idea as to the extent friendly owners, married couple, Paul and Lisa Wedgwood, go to make their restaurant one of the most appreciated in Edinburgh. And one of the very few open on Sunday evenings.
Spanning two floors – ground floor and basement - 'Wedgwood,' opened in 2007, is located a two-minute walk from the city's famous castle with a simple, French café style door as the off-street entrance. No neon signs here, none necessary if the crowded restaurant was anything to go by when my companion and I were there.
Inside - a polished wood floor, partially covered in an elegant, gray carpet, crimson-colored pillars, cream-backed leather chairs and cherry and white lampshades greet one's eyes. A soft butterscotch and lime-green wallpaper with a stucco border decorating the edges of the ceiling helps provides a pleasing ambiance, leaving one with the feeling of being cocooned, prepared for pampering.
The menu is an eclectic mix of surf 'n turf, ranging from Scottish home-grown scallops to wild deer and lamb.
For starters, I chose lobster thermidor crème brulee. Adequately interpreting this fine dish created as it was with such artistic twists is indeed a challenge. Maintaining the delicious creaminess of a thermidor warmed by the subtle flavour of saffron, it came accompanied by a coin of Bloody Mary sorbet and parmesan-enhanced traditional Scottish shortbread.
The calibre of any chef can be measured by how he or she takes local produce and enhances them with their own brand of uniqueness. My companion's starter amply reflected this ability, so much so she 'dived' into king scallops cooked with cauliflower korma and sifted with pistachio and peanut dust, pineapple chamomile and capers.
My main dish was new season loin of lamb with a seaweed crust and braised neck. The balance of colors as a prelude to the balance of flavors was remarkable - the natural saltiness of the seaweed crust embracing the soft, medium-rare flesh completed with a strong earthy bundle of black pudding, truffled goat's cheese dauphinaise and anchovy cream.
Believing that dining on Edinburgh's famous Mile required a certain level of Royal indulgence, my companion leapt for the most appropriate dish - wild deer with creamed leeks, venison haggis, beetroot and basil pesto with truffle jus. Her dinner conversation momentarily eased into silence as images of ancient, rugged Highlands and their thick wooded slopes and tartan-dressed Scottish hunters filled her mind, a dream-like state she acknowledged was encouraged by a fine bottle of Spanish rose Rioja Tempranillo by Bodegas Altanzaaged in French oak.
Soon after our arrival the restaurant had filled up, leaving us feeling extremely lucky we had managed to secure a table, especially as we noticed several people being not so lucky. Obviously, the restaurant's reputation has justifiably become known far and wide.
Firmly – and warmly - ensconced, we were determined to enjoy the pleasure of a complete menu and to leave with our palates fully satisfied. We therefore displayed no cowardice when it came time to choosing desserts. Very sticky toffee pudding with Caol Ila butterscotch (the Gaelic name for the Sound of Islay, home of the single malt scotch whiskey of the same name) and coconut panna cotta, sweet cicely sorbet, pistachio crisp and - surprise, surprise - sweet beetroot – provided a perfect adieu to a delightful culinary evening. Walking out into the misty, damp night past the 'medieval skyscrapers' of the old town towards the castle perched high on the hill, we were imbued with more than sense of having been treated royally.
For more information contact the restaurant here www.wedgwoodtherestaurant.co.uk
Columbia Hillen
Columbia Hillen
Columbia Hillen
Wild deer with creamed leeks
Columbia Hillen
New season loin of lamb
Columbia Hillen
Very sticky toffee pudding
Columbia Hillen
Coconut panna cotta