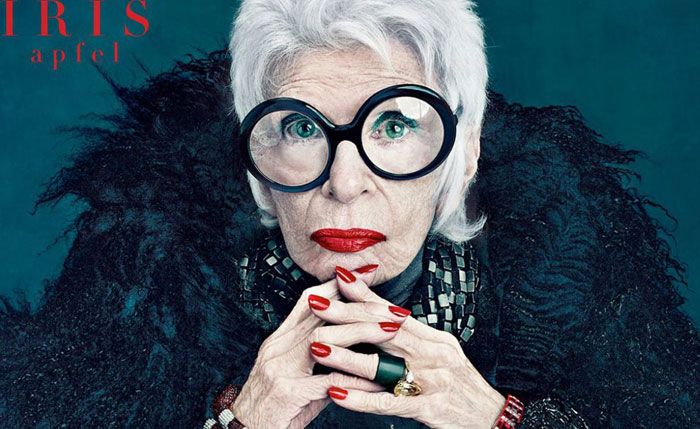 Photo Courtesy of Iris Apfel
Countless dollars, hours and Starbucks coffee runs were involved in the making of these innovative ads so that they could be properly seen, shared and ultimately purchased. No, we are not talking about your run-of-the-mill advertisement with a talking dog or quirky jingle, but rather, campaigns featuring
luxury goods
that had us craving more. So, here you have it, folks, the most catchy, colorful and coveted of 2012.
MAC Cosmetics has had a slew of celebrity endorsements, from Lady Gaga to Boy George, but in January the brand hit us with the definition of an "oldie but goodie." Style icon Iris Apfel teamed up with the cosmetics line at the ripe old age of 90, proving that not only is her style timeless, but her beauty eternal. With a 21 piece collection with as much color and flare as Iris herself, the campaign was said to be inspired by her lavish fashion sense.
As if we didn't already have enough of a girl crush on this A-Lister, the simply stunning Natalie Portman made fashion news this year after a campaign for
Diorskin Nude
was released showing the actress posing au naturel. While unmentionables were not shown, these pictures were far from PG, and featured the Oscar-winning actress draped topless over a chaise lounge, ultimately making it the most envied couch in history.
Photo Courtesy of Dior
We're sorry, but any excuse to get hottie David Beckham in some tight boxer briefs is a brilliant idea in our book. This superstar athlete modeled for his own
H&M Body campaign
this past year, making women around the world weak in the knees and cursing Victoria Beckham for her luck. The steamy shots feature the heartthrob shirtless and tatted-up giving the camera his killer, bad boy stare. We truly thank you David Beckham... and boxer briefs.
Photo Courtesy of David Beckham
Growing up, Disney movies and characters played a major role in our lives; however, somewhere along the road we were told that we had to let go of these childish obsessions. We have to say though, we couldn't have been happier with Barneys decision to collaborate with Disney to create a fun and fabulous video of the fashion world through the eyes of one of our favorite characters: Minnie Mouse. In the 5-minute video we follow Minnie on a fantastic adventure through the world of high fashion, encountering some of our favorite style icons on the way— including
Vogue Italia
Editor in Chief, Franca Sozzani, fashion photographer Steven Meisel, and other A-Listers like Sarah Jessica Parker, Linda Evangelista and Lady Gaga. For us, this was the ideal combination of fantasy and fashion.
Photo Courtesy of Barneys
Queen of excess and
Vogue Japan
Editor-at-Large, Anna Dello Russo, certainly knows how to rock unexpected fashion— and this year she teamed up with retail giant H&M for a deliciously decadent collaboration. In order to promote the new line, an electro-pop music video was created starring the fashion vixen, entitled
Fashion Shower
. Decked out in an exorbitant amount of gold, the video is slightly humorous— however, the song may actually be better than half of the actual music that is out there today (ahem, "Gangnam Style.")
Photo Courtesy of Anna Dello Russo
We can get on board with any ad campaign that chooses to poke fun at Hollywood in an outlandish, over-the-top way (that we all know isn't too far from the truth.) The pi?ce de résistance for this Lady Dior campaign is the fact that it stars the ever-elegant French actress Marion Cotillard. In the film, we see Marion playing a Hollywood star that is tired of the industry and tells her fast-talking manager that she would like to quit, to which he of course laughs off. Finally fed up with over-animated hair and makeup artists, stylists and photographers, she has a bit of a meltdown at the shoot, which ends up being a hit. This "exaggerated" portrayal of L.A. life simply proves that high-fashion
does
know how to do humor.
Photo Courtesy of Lady Dior