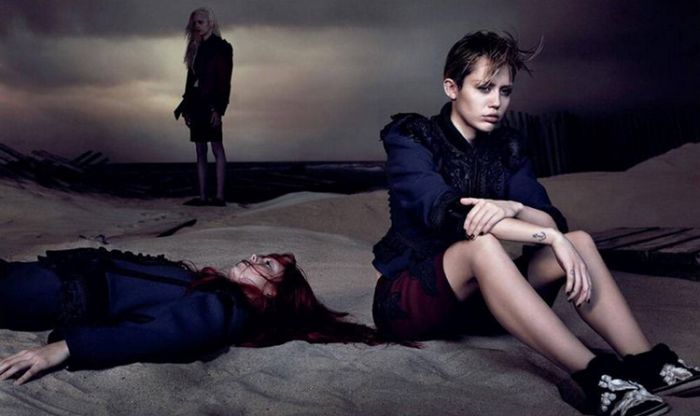 Photos Courtesy of Marc Jacobs
No, your eyes are not deceiving you; that is in fact Miley Cyrus in her very own Marc Jacobs campaign. And we'll be entirely honest—we're not quite sure how we feel about it. On one hand we can't help but adore our favorite designer, but on the other—it's Miley Cyrus. We do have to admit though, the images are pretty awesome, even with the lifeless models posing around her, and she looks far cooler brooding on a beach than she does twerking on a stage.
Since Jacobs and Cyrus have had a serious fashion love affair as of late (she's worn his designs on the red carpet and posed for his Love the Skin You're In t-shirts), it was really only a matter of time before she landed a spot in one of his campaigns. Starring as the new face of his Spring 2014 line, she was shot by David Sims and styled by Katie Grand with co-star models Natalie Westling and Esmerelda Seay Reynolds. And even if we can't be totally supportive of this whole Miley/Marc thing, this is seriously better than any tongue-wagging selfie she's ever posted.