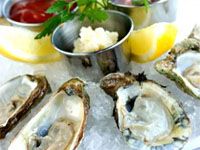 Fine Dining:
My family and I recently had the pleasure of visiting a piece of Santa Monica history --
The Lobster
restaurant -- where fine cuisine and sensational sunsets merge to deliver the perfect seaside dining experience. Perched at the very start of the famous Santa Monica pier, the modern iteration of The Lobster restaurant is an exquisite combination of sights, scents, sounds and flavors that have been captivating diners for more a decade - duly living up to its legacy from the original The Lobster restaurant that opened in 1925.
Whether sipping cocktails at the bar or indulging in the restaurant's masterfully prepared seafood dishes amid an expansive view of the Pacific Ocean, The Lobster is a perennial favorite with locals and tourists, alike. And with good reason, since the restaurant was named best seafood restaurant in Southern California by Gourmet magazine in 2000 as well as "Best Seafood Restaurant" for three years in a row by City Search voters.

Upon opening its doors in the 1920s, the original The Lobster restaurant -- a modest looking structure known as a seafood shack offering no less than 60 fresh seafood items -- thrived throughout the 50s, 60s, and 70s. In 1985 the restaurant closed its doors and remained vacant until it was re-opened with far more space and splendor in 1999.

Designed by Howard Laks Architects, the structure is thoughtfully designed to maximize the panoramic coastline, ocean and pier views. Perched on concrete columns, the restaurant actually rises above the pier to capture a full 180-degree vista. Diners can actually view the coastline north to Malibu and down south to Venice Beach and beyond.

The Lobster restaurant is bright, airy and modern with functional picture windows that open up to let in the ocean breeze on warmer nights. Understated crisp white table linens provide a simple yet sophisticated atmosphere that allows patrons to duly focus on the food and the view. Although clearly a fine dining restaurant, kids are also welcome at The Lobster -- a good thing since on the evening of my recent visit I had my two young children in tow. It's also notable that there are no "bad" tables here, as all seats have a sightline to the ocean -- and the sun as it sets each evening. The bar area offers both indoor and outdoor seating to maximize the space and accommodate those patrons who like to lounge amid the fresh ocean air.




The menu is the handiwork of Executive Chef Allyson Thurber who has been dishing it up at The Lobster for eight years. Her innovative approach to shellfish and other seafood changes with the seasons but, of course, always features the eatery's star ingredient -- Maine and Pacific lobsters -- offered in countless compelling configurations. The restaurant's other vital victuals include Alaskan King crab, Wild King salmon, and Wild Alaskan halibut as just some of the delectable protein possibilities.

The menu starts with a number of appetizer options ($8-$18) each one more tantalizing than the next. I ordered the Sweet White Corn and Scallion Pancakes that were topped with a generous potion of a rich, meaty and creamy lobster salad and green herb aioli.

Other savory starters include shellfish cocktails ($4-18). We ordered the jumbo wild Mexican shrimp cocktail -- jumbo indeed, and among the best tasting shrimp I've ever had. Others offered are a Dungeness crab "Louis" cocktail with avocado, cucumber, egg and tomato; or the lobster cocktail with, what else, but warm drawn butter. Additional starter standouts include the crispy lemon calamari with garlic anchovy aioli; the jumbo lump crab cake with ginger-black bean sauce and Thai squid salad; and the ahi carpaccio with sesame marinated onions and tobiko wasabi. Any of these are a nice accompaniment to the fresh warm bread with a garlic and green herbed oil dip served as standard.


Those for whom mollusks are a must, there is quite a selection of oysters ($4-$14.50). On this evening oysters from various regions were offered by the half or whole dozen: Malpeque from Prince Edward Isle, Coromandel from New Zealand and the small, meaty Kusshi variety from British Columbia, which we ordered and found to be fresh and delicious sans crackers. Can't decide? A chilled oyster sampler is offered, which provides a nice mix of all types served on the half-shell with lemon, cocktail sauce and fiery horseradish. Those looking for even more zip might want to try the oyster shooter, prepared with a Hama Hama oyster, Crop Organic cucumber vodka, and all the classic accompaniments.

A lobster, snow crab and Dungeness crab bisque ($8) with parmesan croutons was on the menu along with a number of fresh and inviting salads ($9-$12). Our party ordered the sizable "BLT" sweet heirloom cherry tomato and crisp baby iceberg salad ($10) with Maytag blue cheese and crispy apple wood smoked bacon. Two others of particular interest were the grilled asparagus salad with golden beets, heirloom cherry tomatoes, feta cheese and green herb vinaigrette; and the Dungeness crab and wild arugula salad with red flame grapes, shaved parmesan, pine nuts and lemon vinaigrette.
For the dinner entree ($18-$43), the restaurant's namesake -- lobster -- is where it's at, and comes in all shapes and sizes. There are those for petite appetites, unlike mine, and then there are those lobsters that literally need their own table as witnessed by a colleague of mine on another occasion at the restaurant. As a die-hard lobster lover and a seafood aficionado, I found it quite difficult to settle on which equally enticing entrée would grace my palate on this evening. After much deliberation, I opted for the 1.5 pound steamed American lobster ($24 per pound), which I had shelled in the kitchen to save myself the effort and mess, that came with flavorful roasted potatoes, rather understated asparagus and drawn butter. The unadulterated meat was extremely sweet and delicate -- not at all salty or chewy. Other lobster options included a 2.5 pound herb grilled American lobster ($25 per pound) with lemon garlic butter and a 1.4 pound pan roasted American lobster ($42) taken out of the shell, sautéed with a Jim Beam sauce and served over whipped potatoes.

Our party also ordered the Dungeness crab stuffed filet mignon medallions with wild mushroom gnocchi, sautéed spinach and a shrimp brandy sauce. I tasted more than a few bites of this dish and would highly recommend it. The steak was tender enough to be cut with a fork, and the crab meat stuffing and shrimp-flavored sauce in combination with the deep green spinach gave the dish great depth.

Other entrees that were fishing for my order but will have to wait for another one of my expeditions to The Lobster included the mouthwatering seared day boat sea scallops with lobster home fries and shrimp bisque sauce; grilled Catalina white seabass with forbidden black rise risotto, tomato ginger relish and a hint of curry; kasu marinated Hawaiian mahi mahi with sticky brown, almond and shiitake and scallion rice, chili spiced haricot vert and house teriyaki; and the sautéed New Zealand John Dory with whipped potatoes, lobster salad and white truffle beurre blanc. Those who are not carb-conscious should strongly consider the Alaskan King crab and American lobster pasta -- a medley of fresh black angel hair pasta, Manila clams, black mussels, scallops, tiger shrimp, seabass, roasted garlic, and julienne tomato in a saffron fume blanc.


Other menu options for non-seafood lovers include a grilled 12-ounce New York strip steak with sliced vine ripened tomato and truffle parmesan fries and a fall herb marinated roasted half free range chicken with chive whipped potatoes, sautéed spinach and roasted chicken jus.

Of course, food this divine calls for a libation from the restaurant's noteworthy wine selection, which earned the 2004 Wine Spectator Award of Excellence. The comprehensive list has choices for every type of wine...from Cabernet Sauvignon and Merlot to sparkling wines, Champagne, Riesling and chardonnay. There are also other varietals and blends to choose from in full or half bottles or by the glass.

Dessert at The Lobster was yet more delicious confusion. Although the Farmstand blackberry cobbler with sweet scone crumble, pecan streusel and vanilla ice cream among the other sweet selections sounded fantastic, I chose the chocolate bread pudding with hot fudge sauce, sweet ream and vanilla ice cream that was thoroughly enjoyed with a hot, fresh and decidedly robust cup of Joe.

I would be remiss to not mention the impeccable service offered at The Lobster as one of its many compelling attributes. The waitstaff clearly aims to please by making educated recommendations, and they are only too happy to accommodate any special requests.


I also strive to point out when a business is doing its part to preserve the environment and reduce its carbon footprint. The Lobster did recently receive its Green Business Certificate from Sustainable Works. The operation employs low voltage lighting and a recycling program for just about everything in the restaurant, including turning its oil and grease into biodiesel fuel. Meats and fish are purchased from sustainable growers, while solar panels have been installed and water and energy conservation tactics implemented.

In all, The Lobster restaurant set the stage for a family dining experience as perfect as any I've ever had. Eating incredibly fresh and flavorful seafood with my husband amid a gorgeous summer sunset that backlit our children's equally fresh faces is, for me, as good as it gets.

The Lobster restaurant is located at 1602 Ocean Avenue, Santa Monica, California 90401. Due to its overwhelming popularity as a premier dining locale and the possibility of the restaurant being booked for a private function, dinner reservations are highly recommended.

Visit www.TheLobster.com for more information.

- Merilee Kern
JustLuxé.com's "The Luxe List" Executive Review Editor

The Luxe List product, service and travel review editor Merilee Kern scours the luxury marketplace for new and captivating "musts." Submissions accepted via e-mail at Merilee@JustLuxe.com.