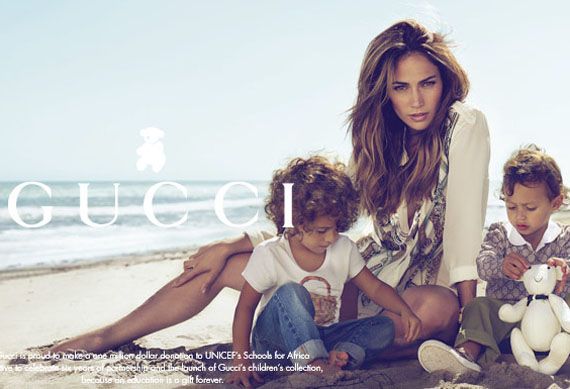 As if Gucci couldn't get any more drool-worthy, the luxury fashion house recently introduced the Gucci Children's Collection. Their special
ad campaign
features the always stylish Jennifer Lopez and her completely adorable twins.
To celebrate the launch of the luxurious little clothing collection, Gucci has made two special efforts: using the stunning Jennifer Lopez and her twins in an ad campaign shot on the beach of Malibu, California and making a $1 million donation to UNICEF's "Schools for Africa" initiative.

Gucci's strong link to the UNICEF efforts and their multi-million dollar donations helped sway Lopez into letting her twins, Emme and Max, participate in the campaign. "We don't really parade them around like that, so it was for a good cause," Lopez said.

Since 2005, Gucci has committed over $9 million in support to various UNICEF programs. The children's collection launch made for a good opportunity to highlight UNICEF's "Schools for Africa" program, which strives to educate the most vulnerable children.

Accompanied by the iconic Gucci teddy bear, the Spring/Summer 2011 Gucci Children's Collection offers clothing for two age ranges: newborn to two years and two to eight years.