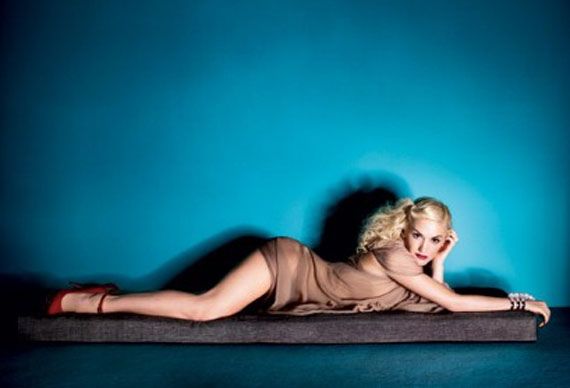 Photo Credit: Matthias Vriens McGrath/ Elle Magazine
What to do with a wedding dress after the wedding is almost always a conundrum for the bride. So what do you when you're a frontwoman for a popular band and your wedding dress was designed by a fashion genius? If you happen to be Gwen Stefani and had your dress designed by John Galliano, you donate it to a museum.
In an interview with Elle UK, the No Doubt singer talks life and fashion and most importantly, about her unique wedding dress designed by troubled
fashion designer John Galliano
.
Check out this excerpt from Stefani's interview with Garbage frontwoman Shirley Manson:
SM:
"What have you worn over the years that you've thought, "F***, I looked good!"
GS:
My wedding dress.
SM:
That wedding dress was insane! [John Galliano] is one of the greatest living designers.
GS:
Oh, for sure. When I got engaged and someone told me that John said he would make my dress, I was like really? I said I wanted it to be over the top, but not traditional - I wanted it to be everything. But how do you tell this genius over the phone? He was, like, OK, and sent me these drawings of this unbelievable, perfect dress. It's going into the V&A now. I didn't wanna send it because I was scared it would get ruined. But it's a work of art, it needed to be seen."
The custom-made pink and white silk faille gown was accompanied by an antique lace veil that Galliano also designed and was the perfect mix of haute couture and punk-rock princess.
Via
Telegraph