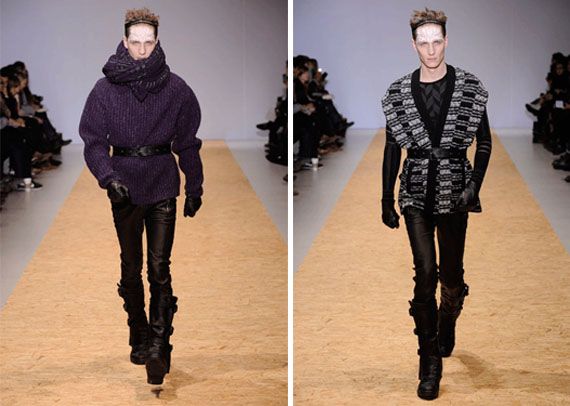 Photo Courtesy of Qasimi
Fashion constantly represents an alternative take on the latest taboo. But taboos soon become trends, and trends soon fall into acceptable attire.
With belted cardigans featured on men, male skirts becoming more than just a Rick Owens look and androgynous boys fronting campaigns for Jean Paul Gaultier and Marc by Marc Jacobs, it seems that blending gender roles are now appearing in menswear too.
Designer Khalid bin Saltan Al Qasimi's namesake label Qasimi, in particular, will appeal to those who like to play with persuasive masculinity via figure hugging silhouettes, delicate chiffons and styling that falls more on the feminine side.
Having grown up in the northern region of the Arab Emirates, Al Qasimi's first introduction into men's clothing would have been flowing fabrics, and unstructured tailoring that represented a certain regulated lifestyle. His label, which plays with the dichotomy between masculine strength and expressive dressing, has transformed the male outline to a new set of rules.
Qasimi's
autumn/winter '11 collection
, aptly titled "Future Tribalism," featured sweaters with shoulder volume, spray-on leather pants, belted knee-length cardigans and two-way zip-up fur coats. Piped puffer jackets, body stockings and looped wrap-around scarves were also a key focus of the collection.
Using body scars and traditional armors as inspiration, the Central St Martins graduate channeled the idea of a boy rediscovering his tribal instincts while fighting his adolescence (in a futuristic world) for the collection's underlying theme.
The color palette lingered on earthy tones like tan, charcoal and pebble to complement other shades of metallic graphite, antique silver and anthracite, while face paint, head bands and knee-high buckled boots helped accessorize a look that wouldn't seem out of place in trans-planetary combat—assuming all men's cheekbones were part of the armory.
And with cropped jackets, high-waisted trousers, attention to draping and semi-exposed skin, it's easy to see the appeal of finally breaking down old effeminate taboos.
Via
JC Report