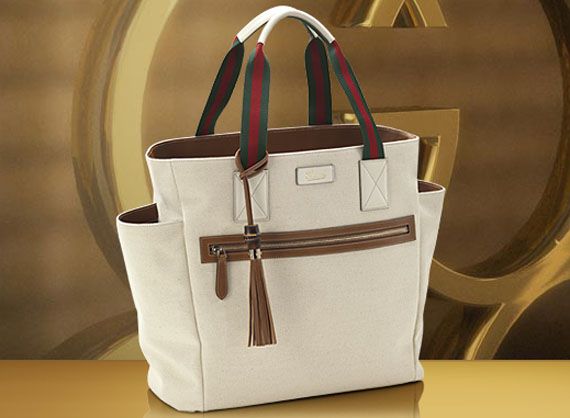 Photo Courtesy of Gucci
As Gucci and UNICEF's partnership enters its sixth year, the luxury fashion brand has recently introduced a limited edition bag designed by Creative Director Frida Giannini in honor of Mother's Day.

The functional, yet fashionable bag in off-white fabric, features leather trim along with Gucci's signature green-red-green web. The exterior of this simple ,but elegant, bag features a front-zip pocket and two open side pockets, while the interior contains a zip pocket and a flat open pocket with three compartments.

While Gucci has already guaranteed a minimum donation of $70,000, for each bag sold, Gucci's donation will provide more than 200 expectant mothers with the tests they need to determine their HIV status; a test that is vital to ensure that a mother takes appropriate measures to treat and protect her child.

"My inspiration for this special edition bag came from my trip to Malawi with UNICEF in November 2009, when I witnessed first hand the AIDS epidemic that affects entire generations of families. As part of our continued efforts with UNICEF to improve these circumstances, the bag allows all those who would like to help make a difference in the lives of these families to contribute a gift that will have double meaning on Mother's Day," said Frida Giannini, who is also on the Board of Directors of PPR's Foundation for Women's Dignity and Rights.

Salma Hayek added, "As a member of the PPR Foundation for Women's Dignity and Rights, I am proud that my friend Frida Giannini has designed a special bag for Mother's Day that will benefit UNICEF and its global flight against HIV and AIDS. There is no better day to honor and support women. It's easy, simple and efficient: a beautiful bag with a real social impact, I love it!"

If it is your price range or if you are already a Gucci enthusiast, you can give your mother something special with this meaningful gift. The limited edition bag will be exclusively available at the gucci.com store from April 28, 2011 to June 15, 2011 priced at $970 dollars.