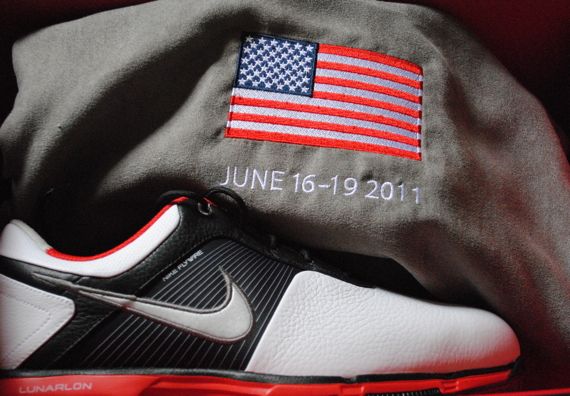 Photo Credit: Deidre Woollard
With Tiger Woods out of the U.S. Open, the path is cleared this year for the new stars of golf to make their mark, many of which are in the Nike stable.
Nike's PGA athletes
Stewart Cink, Paul Casey, Lucas Glover and Anthony Kim recently received their tee times for next week's big event.
In advance of the tournament, which runs June 16-19, Nike has revealed their sleek new red, white and black limited edition Lunar Control shoes for the U.S. Open. They are similar to the green, white and black Masters shoes released earlier this year but in a little more of a wardrobe friendly palette (unless of course you happen to be one of the lucky few with a Masters jacket to match).
The Lunar Control shoes debuted at the start of this year. It is a collaboration with golfer Paul Casey who had a lot of input on the shoe's performance and design flair. The shoe uses some of the materials and technologies used in creating Nike's running shoes including Lunarlon Foam and Nike Flywire.
Flywire is a network of ultra-thin nylon fibers that wrap the middle of the foot for extra support and the Lunarlon foam provides soft cushioning where you need it. This means that they have the support and glove-like fit of a running shoe and offer excellent traction and control. It makes perfect sense if golf is essentially a "good walk spoiled" there is still a good time involved.
We are a world away from the golf shoes of the old days with their flat, hard soles and metal spikes that could really take their toll after 18 holes. These shoes use the next-generation Nike Power Platform outsole for enhanced flexibility and natural motion with waterproof performance leather by Sadesa. Scorpion Stinger Spikes and the Tri-LOK system for excellent traction make sure that there are no slips on wet grass.
The shoe will be available at
Store.Nike.com
, starting at $150, on June 13, the week of the U.S. Open. They come in a large heavy red and black box with a frosted plexiglass lid bearing the words: "To the most prepared go major results." Inside, the shoes are softly cradled in a gray embroidered shoe bag featuring the tour dates June 16-19, 2011 and an American flag. They'd make a perfect
Father's Day gift
for golf-loving dads.