By Eric Rosen Jun. 13th, 2011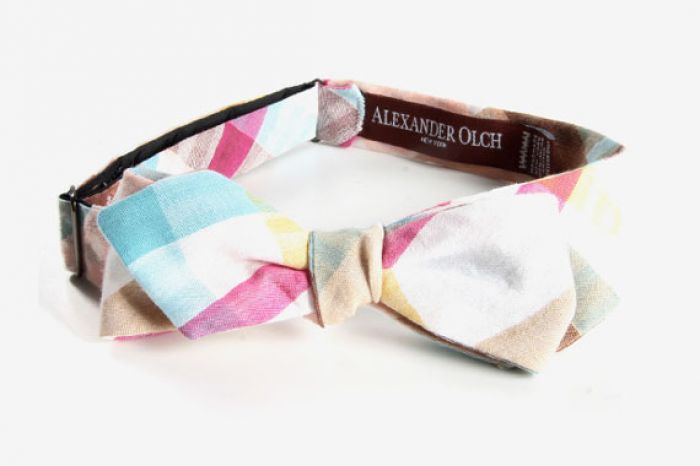 Photo Courtesy of Alexander Olch
Oprah's "Favorite Things" might be gone forever, but at least here are a few of
our
favorite things for your favorite guy on Father's Day. One of these should make him feel appreciated. All of them will make him feel like the coolest guy in the world.
Cufflinks from J Hilburn
We already told you about the custom-tailored men's clothes we ordered from bespoke clothier J Hilburn, but now we just thought to mention what we know would be a great gift for dad this year: their custom cufflinks. The Mercury Dime cufflinks are a classic look for the patrician statesman, while the Bulldog cufflinks are a whimsical treat for dog-lovers. We'd go with the elegantly simple Silver Knot ones that he can wear to any occasion.
All go for a mere $99.




A Concord WorldTimer Watch
He already has a fancy watch for formal events and the office, and he probably has an Ironman for his grueling fitness regimen. But if your dad is the jetsetter you've always aspired to be, think about getting him the Concord C1WorldTimer. This beauty of a timepiece has what sounds like an indestructible slick black DLC-treated stainless steel case made out of 53 elements (practically the whole Periodic Table), a sapphire crystal face, a hardy black vulcanized rubber strap with a stainless steel clasp, and self-winding Dubois-Dépraz movement. It'll hold up down to 20 ATM underwater. But the real standout feature is the ability to tell time all around the world thanks to a handy blue arc display on the face that shows the time in many of the world's major cities, so when he's in Paris, he'll know when it's time to call you back at home. This model starts around $11,000, but isn't he worth it?




A Bowtie from Alexander Olch
We know, we know, there's nothing more cliché than giving dear old dad a necktie on Father's Day; but the bowtie is experiencing something of a resurgence these days thanks to dapper dandies and ironic hipsters sporting them everywhere from gallery openings to black-tie affairs. So, why not get your pops in on the action and smarten up his style this year with a bowtie from Alexander Olch?

Think about getting him one of the gingham ones in red, blue, brown or green that will be perfect for summers at the Cape ($105). There are also more collegiate-inspired versions with striking primary colors like red, yellow and blue, or a gorgeously understated one with slate-blue, taupe, charcoal and white ($140).

If you just don't think you can get him to tie one on, though, their neckties here have just enough attitude and a touch of whimsy as well, like our personal favorites with windmills or carriages on them ($150). There are also more traditional looks that will make your father look like he just stepped out of a Ralph Lauren catalog. Now if only you could get him to stop wearing those Bermuda socks...




Accessories from Mr. Porter
One of our favorite online men's retailers has a slew of accessories ready and waiting for dad this Father's Day. Mr. Porter carries everything from your typical menswear to fancy pocket squares, wallets and even umbrellas. Get your badass dad a rockin' Alexander McQueen double-sided skull print scarf ($315) or a colorful PS by Paul Smith striped leather wallet ($205). For those in rainier climes, a Swain Adeney Brigg oak handle umbrella ($415) is a classy timeless gift that will keep him dry for years to come.







Ribs on the Roof at the Peninsula Beverly Hills
The way to a man's heart is through is stomach, so nothing shows dad you love him like a good old barbecue dinner on Father's Day, especially if it's one like the Peninsula Beverly Hills' special "Ribs on the Rooftop" menu. The three-course menu is $59 per person and starts with a summer vegetable spring roll with apricot-calamansi chili sauce and enoki mushrooms; a choice of entrees such as the charred 16-oz. rib eye chop, a whole-grilled Maine lobster, or the signature 24-spice-rubbed barbecue pork ribs; and key lime pie for dessert.




Beer Pairings at Drago Centro
Toast your father on Sunday at one of our favorite downtown eateries, Drago Centro, which is hosting a six-course dinner menu on Father's Day paired with craft beers for $70 a person. Dishes that caught our eye include the lobster carbonara with egg yolks and parmesan paired with Russian River Brewing's Damnation ale; and the crispy pork belly with potato gnocchi and chile foam washed down with the Belgian Broweij Bosteels' Triple Karmeliet. We'll toast to that.



Venokado Pours Some Wine Knowledge On You
The Market at Santa Monica Place, L.A.'s answer to San Francisco's Ferry Building Marketplace, is finally open. Inside it, you'll find the second location of one of our favorite specialty stores in the city: Venokado. So if you want to toast your dad this Father's Day, pick the old man up some Old World vintages hand-selected by the Brink sisters and their partner, Tracy Hof. Or drop some real oenophile learning
on him with the newest edition of Jancis Robinson and Hugh Johnson's World Atlas of Wine.



Vintage Comfort from Room & Board
At times austere, while cuddly at others, your father is a complicated man. So invite your paterfamilias to relax and put his feet up on the new eye-catching Cruz Lounge Chair ($299) you're getting him from a great Culver City-based design store called Room & Board. The sleek chair of hand-welded steel comes in an attractive baby blue that belies its sharply defined lines, and embodies the dual nature of fatherhood. At least, that's what you can write on the card attached if you want to appear contemplative and philosophical. Otherwise, just kick back and enjoy your day with dear old dad.
Eric Rosen
Eric Rosen lives in Los Angeles and writes about food, wine, travel and adventure... usually in some combination of the four. He regularly contributes to Los Angeles Confidential Magazine, Condé Nast's HotelChatter and Jaunted, TravelAge West, Palate Press, Frontiers, Edge and Wandermelon. His work has also appeared in the L.A. Times. When he is not exploring the Los Angeles dining scene, Er...(Read More)