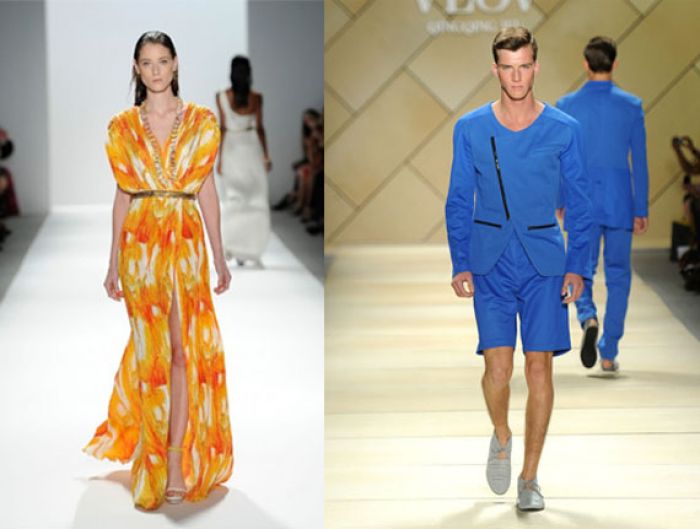 Photos Courtesy of Mercedes-Benz Fashion Week
IMG Merecedes Benz
Fashion Week
brings out every fashionista or wannabe in New York City twice a year. Although I would hardly call myself a fashionista ?much as I love beautiful clothes ? I, too, felt the need to dress to impress and head to the tents to cover the shows. 
Fashion's Night Out started the festivities on Thursday, September 8. Although I attended several prominent parties ? Valentino, Helmut Lang, Diane Von Furstenberg ? there were too many people on the streets and inside the venues to make for a comfortable reporting experience.
I waited until Monday, September 12, to attend the shows at Lincoln Center. Two runway collections peaked my interest: one from an established womenswear designer, the other from an up-and-coming Asian design house. Brazilian designer Carlos Miele (right) presented his Spring/Summer 2012 collection. Titled,
Immersive Landscape
, the collection featured ethereal and sculptural pieces in orange, green, white and gold. Chiffon was big as were fortuny pleats and gold lame. The white one-piece bathing suits enveloped in billowing printed orange, blue, green and black-and-white chiffon caftans that opened the show made me feel as if I was about to watch a resort show.
Thankfully, Miele stayed true to form the rest of the presenting, displaying plenty of dresses
and red carpet gowns as well as jumpsuits, skirts and shirts. The standout piece was a grecian-style one-shoulder gold lame top and a wrap skirt that showed plenty of leg. 
Menswear was the focus at the VLOV show. Chinese Designer Qingqing Wu (left) presented his Ready to Wear Spring/Summer 2012 collection. The show featured suits and separates ? shorts with jackets, oh my! ? made of nylon and other shiny fabric in gray, black and bright blue. Asymmetrical zippers were prominently displayed on jackets. I could see the collection becoming a best seller overseas but the American consumer probably won't go for the atypical collection. 
{start-jlvideo}673{end-jlvideo}
Carlos Miele Spring/Summer 2012 Collection: Immersive Landscape
Carlos Miele Spring/Summer 2012 Collection: Immersive Landscape
Carlos Miele Spring/Summer 2012 Collection: Immersive Landscape
Carlos Miele Spring/Summer 2012 Collection: Immersive Landscape
Carlos Miele Spring/Summer 2012 Collection: Immersive Landscape
Carlos Miele Spring/Summer 2012 Collection: Immersive Landscape
Carlos Miele Spring/Summer 2012 Collection: Immersive Landscape
Carlos Miele Spring/Summer 2012 Collection: Immersive Landscape
Carlos Miele Spring/Summer 2012 Collection: Immersive Landscape
Carlos Miele Spring/Summer 2012 Collection: Immersive Landscape
Carlos Miele Spring/Summer 2012 Collection: Immersive Landscape
Carlos Miele Spring/Summer 2012 Collection: Immersive Landscape
Carlos Miele Spring/Summer 2012 Collection: Immersive Landscape