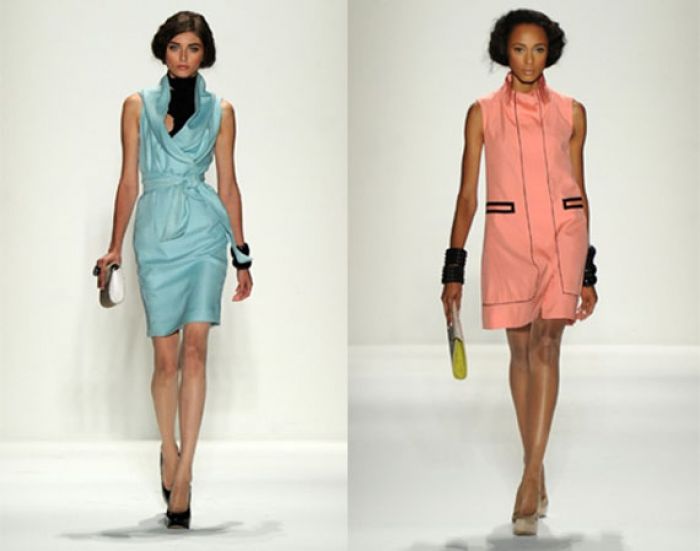 Photo Courtesy of Mercedes-Benz Fashion Week
One of the last collections to be shown at IMG
Mercedes-Benz Fashion Week
was the Spring/Summer 2012 show by up-and-comer Elene Cassis. And it was well worth the wait. 
Cassis, a 2009 Parsons School of Design grad, showed an impressive array of sheath dresses, pencil skirts and blouses in silk jacquard, tweed and silk dupioni. Coral was a popular color as was sand, ivory and aqua. The show started off with violinist Sarah Charness strutting her stuff and her electric instrument down the runway. It was a bit jarring and made me wonder what kind of show this was going to be. Thankfully, Cassis displayed classic pieces in elegant fashion.
Hair was crimped and tucked under to create the illusion of a bob and the makeup, by Marc Reagan for Bobbi Brown, was pretty and bright. Even the sight of Ramona Singer of the Real Housewives of New York City near Trueblood star Carrie Preston didn't seem incongruous. 
Sheath dresses made up the majority of the collection. From structured sleeveless sheaths to color-block winged-collar sheaths, Cassis knows what looks good on the modern woman who prefers a classic 60s silhouette. Standout pieces included a tri-color block cuffed three-quarter-sleeve sheath in ivory black and coral; a silk three-quarter-sleeve sheath with graphic details on the sleeve and hem; a one-shoulder shawl collar sheath in coral silk and a show-stopping oversized collar sheath with a sash tie in aqua. 
Even Ramona Singer's eyes seemed to be popping more than normal. I know mine were. See more at
MBFashionWeek.com
or check out the full runway show below.
{start-jlvideo}670{end-jlvideo}