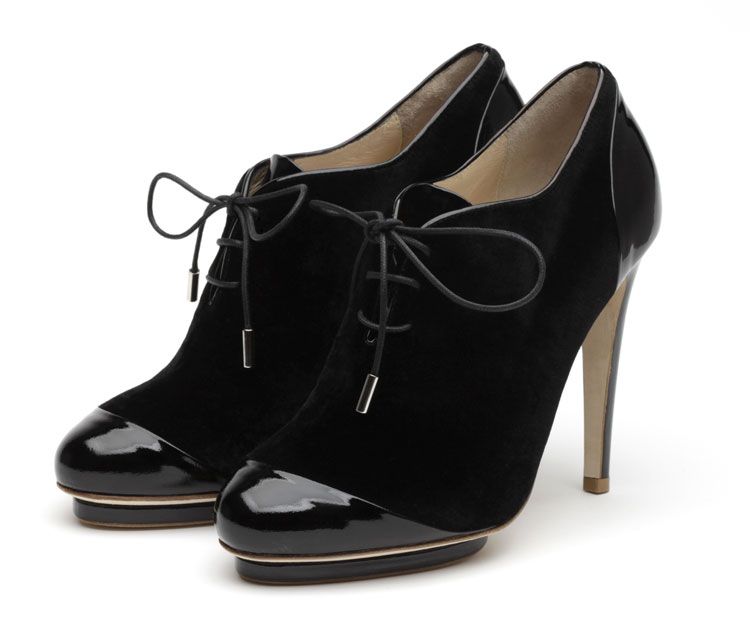 Photo Courtesy of Liam Fahy
Liam Fahy's upbringing can be attributed for the drive and success that the young designer is experiencing today. With four collections under his belt, the 26-year-old's designs encompass class and elegance, but also show an influence from his unique upbringing in Africa. Fahy's
luxury designer shoes,
which are made with materials like satin, pony skin, and other exotics, come at no small price, from about $780 to $1,850.
Photo Courtesy of Liam Fahy
Born and raised in Zimbabwe, Fahy was introduced to various forms of artistry and creativity at a young age. He notes in an interview with Fashion Week Daily that the environment he grew up in required anyone who wanted a certain product to make it themselves. As a child, his parents, who were charity workers, brought Fahy to African villages, where he was exposed to original craftsmanship in the forms of pottery, painting, weaving, and stone sculpture.
Photo Courtesy of Liam Fahy
To enrich his art education in a way that most are not able to, Fahy went to live with the Batonka Tribe located in the remote valleys of the Zambezi River. He spent a year there learning truly authentic craftsmanship before attending school in Leicester, England at De Montfort University to begin his formal design training. While there, he experienced success early in his career when he won the prestigious Lineapelle Young Designers Award in 2006.
Photo Courtesy of Liam Fahy
He designed with several sport brands to add a well-rounded component to his education, but ultimately opted for the exclusivity that the high end world of footwear offered, instead of the mass production aspect that came with sport shoes. His passion for luxury footwear shined through when he won the first ever Fashion Fringe Accessory Award, which was judged by fashion giants Manolo Blahnik and Colin McDowell, among others.
Photo Courtesy of Liam Fahy
Winning the award gave Fahy the push to relocate to Italy to learn true Italian craftwork and design, and ultimately, pursue his first namesake collection. Today, we have the pleasure of delighting in his latest collection for Fall 2012. The collection, titled
Film Noir,
channels the influential time period of the '20s, which can be seen through his chosen colors and silhouettes. However, Fahy's unique upbringing inevitably shows through in many of his designs, no matter the theme, and we like that despite his fame and success, he knows how to stay true to his roots.
To view the full collection, visit
LiamFahy.com.
Photo Courtesy of Liam Fahy