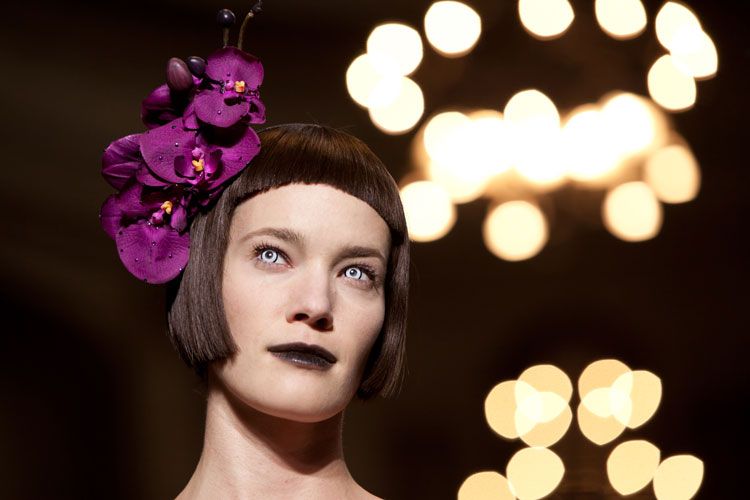 Photos Courtesy of Philip Treacy
Within the fashion world, Philip Treacy is known as one of the most extraordinary designers of
luxury hats
for his eccentric style. Best known for his ornate hats that have topped the famous heads of Sarah Jessica Parker, Lady Gaga, and Princess Beatrice of York at 2011's Royal Wedding (along with 39 other attendees) the latest pieces for Treacy to add to his repertoire were components of Didit Hediprasetyo's Fall 2012 Couture show.
Photo Courtesy of Philip Treacy
Didit's Couture Collection made its debut on the runway earlier this month at Paris Couture Week. The line's orchard garden inspiration was evident through the abundance of lavender, violet, and lilac hues. With the collection featuring a variety of silhouettes, Treacy's intricate hats added something special to the overall look. While they support the floral theme of Didit's line, they also encompass the classic Treacy elements.
Photo Courtesy of Philip Treacy
The vibrancy of the orchid in the purple floral hat is eye-catching, but also complements the plum color of Hediprasetyo's dress. At a closer glance, you can see how much detail went into making this hat, including the small jewels that are dusted onto the delicate petals of the orchid.
Photo Courtesy of Philip Treacy
Floral was a prominent theme in the show, but other Treacy designs reflected his signature eccentric work. The black contoured ribbon hat reminds me of the shape and texture of Princess Beatrice of York's hat at the Royal Wedding last spring. The whimsical shape of the material in this hat resemble Treacy's signature style. For more information, visit
PhilipTreacy.co.uk.
Photo Courtesy of Philip Treacy