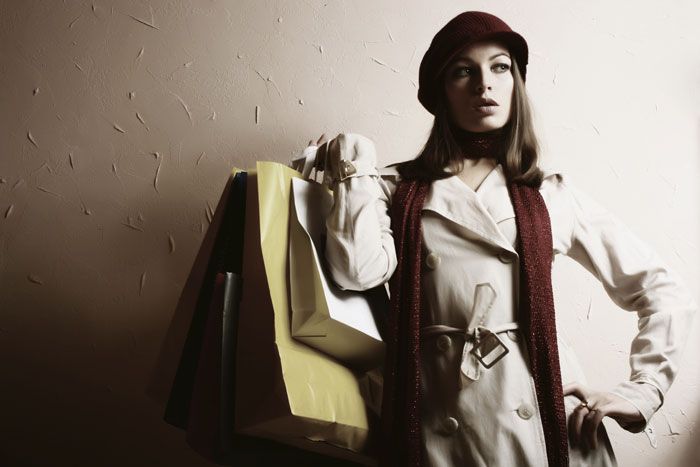 Photo Courtesy of iStockphoto/Thinkstock
The holidays are great for food, family, fun, and one more reason that people tend to forget: fashion! Yes, looking chic while trying to fight off torrential rains and high wind speeds is not ideal, but here we have compiled a list of three must-have
luxury trends
for the holidays that will have you looking style-savvy and warm (unfortunately, you're on your own when it comes to overbearing relatives.)
If you thought that you had to be a Hells Angel to rock leather, then think again, as one of our favorite trends this winter is
leather trimmings
. Capable of adding undeniable spunk without forgoing feminine flare, leather acts as the perfect accessory to virtually any item this season. Whether it is high and mighty pumps, a perfect and posh collar, luscious leggings or a fitted trench, black leather accents give basics a real edge without making you feel as if you're in a "Sons of Anarchy" episode.
Additionally, these pieces are a refreshing break from the traditional holiday get-up of oversized sweaters and airy skirts, adding just enough structure to showcase your style but not so much that you feel tightly bound up while enjoying your holiday binge… we mean meal. We adore this
Burberry London Langthwaite Jacket
.
Photo Courtesy of iStockphoto/Thinkstock
Speaking of
leggings
, there is truly no better way to transition from a cozy morning sipping hot chocolate with the family to a swanky night out enjoying all the tasty treats this season brings. No longer simply the right-hand man to your pair of overused UGG boots, leggings have been given a new life with different patterned prints, vibrant colors and added accessories.
Pair them with a lush cashmere sweater for daytime activities, and at night, don your pretty pumps and blouse for a festive gathering. The holidays can be inarguably stressful, so leggings are ideal for producing an assortment of killer outfits without turning your closet upside-down. These
Alexander McQueen Jacqard knitted leggings
certainly add personality to any holiday outfit.
Photo Courtesy of iStockphoto/Thinkstock
Not a flat, not yet a boot, the
bootie
acts as the ultimate footwear for the holiday season because of its unrivaled versatility. If you couldn't tell by our previous trends, this season we are gung-ho for fashion accessories that can be dressed up or down, meaning booties are right up our alley!
This season, designers have made a variety of booties that come in different heel heights, fashionable fabrics and a range of fun frills. Not to mention, their short height means that you won't spend the customary hour-long battle you have with your knee-high boots trying to take them on and off. These lovely
Rachel Roy Ester Booties
are great for your classic beauty, or if your style is more rocker-chic, try these
Chloe Western Booties
.
Photo Courtesy of iStockphoto/Thinkstock