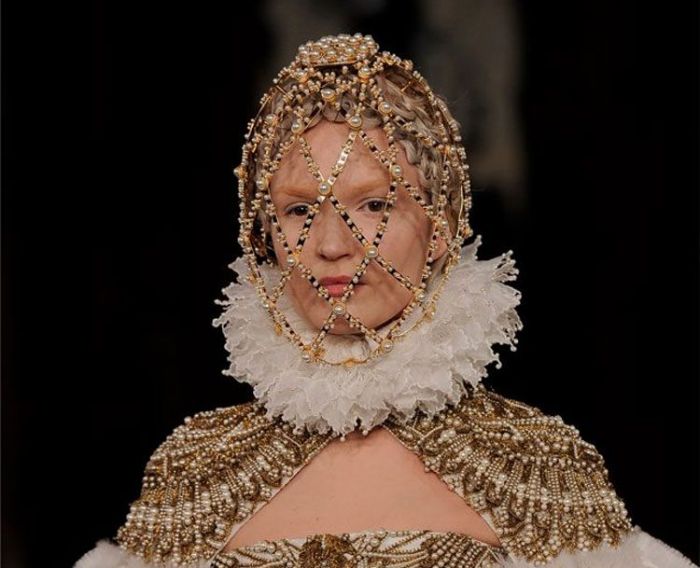 Photos Courtesy of Alexander McQueen
Always on the pulse of current events— her designs were front and center at 2011's Royal Wedding— Sarah Burton's latest creations for
Alexander McQueen
arrive amid the announcement of a new Pope. Fit for the occasion, the label's Fall 2013 ready-to-wear collection ushers in the likes of Communion dresses, cardinal robes, and high fashion favored during the reign of Queen Elizabeth I. Although only a true aristocrat of fashion might be able to pull off one of Burton's gilded headpieces, these stunning looks sure do make one appreciate the talents of a
luxury designer
.
The ready-to-wear collection revolves around 10 black and white looks evoking Elizabethan fashion with tight waists and flared hip lines amidst wide sleeves and billowing skirts. The fabrics used display exquisite detailing, like the delicate lace that cascades over a roomy petticoat. An elaborately folded neck ruffle completes the look of this doll-like Communion dress.
Intricate detailing speaks volumes of what is to come this fall. We predict it will not be the season of simplicity, at least for Burton, who showcases decorative lace creations and pearl embroidery. In keeping the color palette simple and classic, she can get away with such extravagant components.
Lush ornamentation is showcased on the fabrics of the collection, with rich textures constructed from decorations like feathers, metal studs, gold embroidery, and pearls. One ensemble shows a sheer cutaway skirt sewn with a sea of pearls and ostrich feathers that adorn jewel-encrusted gold sandals.
In addition to the pearly latticed headpieces and flouncy neck ruffles, Burton offers accessories like intricate metal belts and fashionable leather finger gloves with pearl knuckle accents. The laser-cut leather boots feature lace-up backs, metal toe accents and pearl embellishments.
One black velvet dress inspired by a cardinal robe is pretty lavish, but what makes it really stand out are a pair of pearl-embroidered fishnet tights. Although not exactly fitting for church, we could find a reason to wear these nonetheless. And judging by this extravagant ready-to-wear line, we can't wait to see what Burton has in store for her upcoming couture collection.