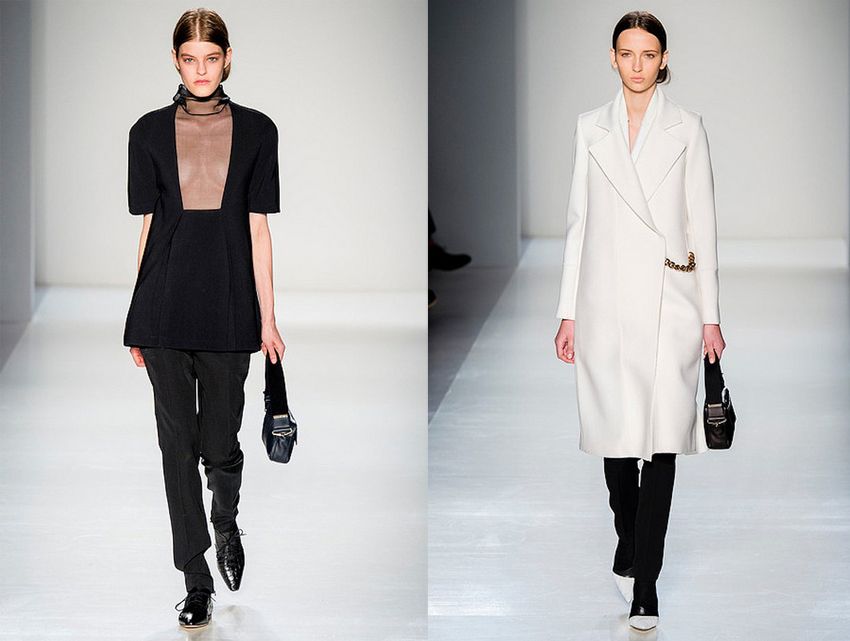 Photos Courtesy of Victoria Beckham
Okay, as much as we might hate to admit it, Victoria Beckham's Fall 2014 collection wasn't half bad. This weekend during New York Fashion Week the former Spice Girl showed off her designs—a lineup filed with black and white with slimmer, more feminine cuts than her previous collection. Of course we weren't totally sure how seriously Beckham could be taken as an actual designer (how often have we seen celebrities in fashion tank?), but with each season her pieces progressively improve—now she's starting to grow on us.
One thing is for certain, even if you're not a fan of the line or Beckham herself, the woman understands silhouettes. The cuts on these pieces are phenomenal—draping in all the right places, most falling to a calf-gracing length that is flattering, elongating and sensual without being sexual. Box shoulders and wrapped waists give the illusion of a perfect hourglass figure, even on some of the more shapeless models.
We understand designers dig the black and while color palette for fall/winter, but we were happy to get a splash of color on this runway, in patterns on skirts and coats, pants peaking form underneath long jackets and one gorgeous red dress kept us happy it wasn't a wash of neutrals. Varying shades of white and different fabrics give the collection more depth—sheer black tops are a beautiful contrast to black evening gowns, while crisp, white dresses seem more luxurious than their softer, cream-colored counterparts.
The collection is minimalist both in color and shape, and to add to the look of sleek simplicity, a large gold chain is used throughout the line both as an accent piece and as a closure on wrap dress, coats and jackets. And, surprisingly, for a woman who is known for loving her sky-high heels, Beckham's models walked in flats, most of which were brogues and matched beautifully with her feminine pieces.
We would love to say the best part of this runway show was a dress or a particularly fantastic coat, but we kind of loved that the entire Beckham family turned out to support her. David Beckham with all four kids in tow sat front row to cheer on their mom. Harper sat on her father's lap, reportedly picking her nose the entire time. Victoria Beckham even shared a "beautiful message from my babies" on Instagram. Aww.