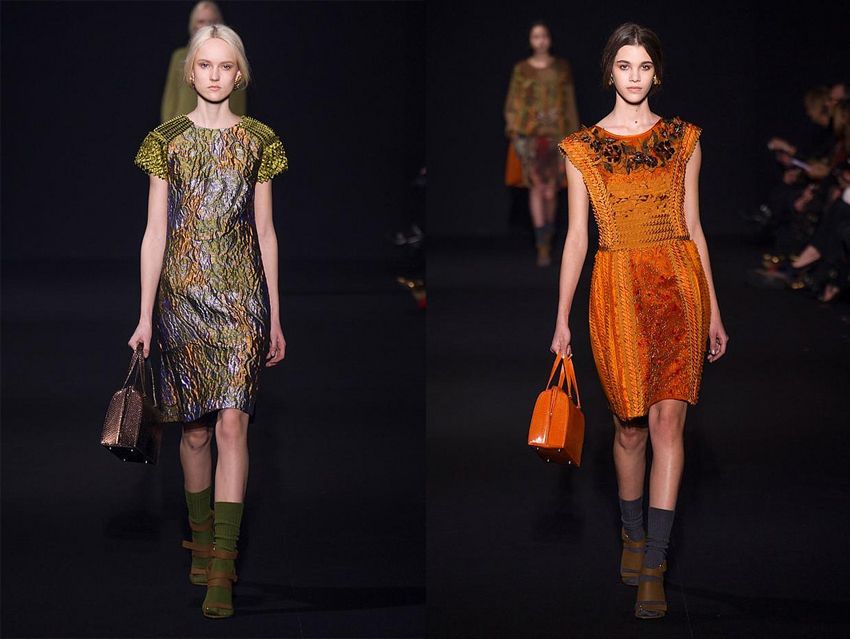 Photos Courtesy of Alberta Ferretti
When Alberta Ferretti does a fall collection, she does a fall collection. For the first day of Milan Fashion Week the designer showcased her Fall 2014 line, a smattering of browns, olive greens and oranges that made the runway look like a pile of very stylish leaves. The earthen tones that would normally pull down an outfit with its drab colors and complexion-drowning browns, were elevated with more sparkle, metallics and sequins than a '75 discotheque. It was pretty awesome.
Trends were piled one on top of another in a way that, surprisingly, didn't feel forced. The blend of runway trends and street style trends kept everything fresh—metallic dresses paired with ankle socks and sandals seemed like go-to favorites, while unhemmed edges seemed to be there from years of love and wear rather than an attempt at the latest looks.
The earthy tones and seemingly leafy accents are not accidental; the entire collection is meant to replicate a romp in the forest. "I imagined animated woods, where nature embraced the body of a woman," Ferretti told WWD backstage before the show. Short of turning the models into forest nymphs, these pieces are, for the most part, beautifully rendered interpretations of nature. Some of the more failed styles include those that made models looks like tree trunks, birds or an awkward version of Little Red Riding Hood.
Texture plays a huge role in the collection—sequins, feathers, wools, lace, embroidery and knits give life to the fabric, making the collection seem to embody Ferretti's notion of forestry encasing the feminine figure. While most of the cuts and lengths don't immediately lend themselves to a fall/winter silhouette, the heavier fabrics and thicker layers make sense, although you might have to partner some dresses with tights and boots instead of sandals.
A few pieces aside, this collection has perfection written all over it. Rarely can anyone get away with so much brown and still make it stylish, but she's pulled it off quite successfully. The interpretation of an encroaching forest works well when used in a conceptual form instead of a literal one. Either way, the collection does a wonderful job of putting together nature and fashion, and this is one of those rare times an idea was executed and portrayed beautifully.