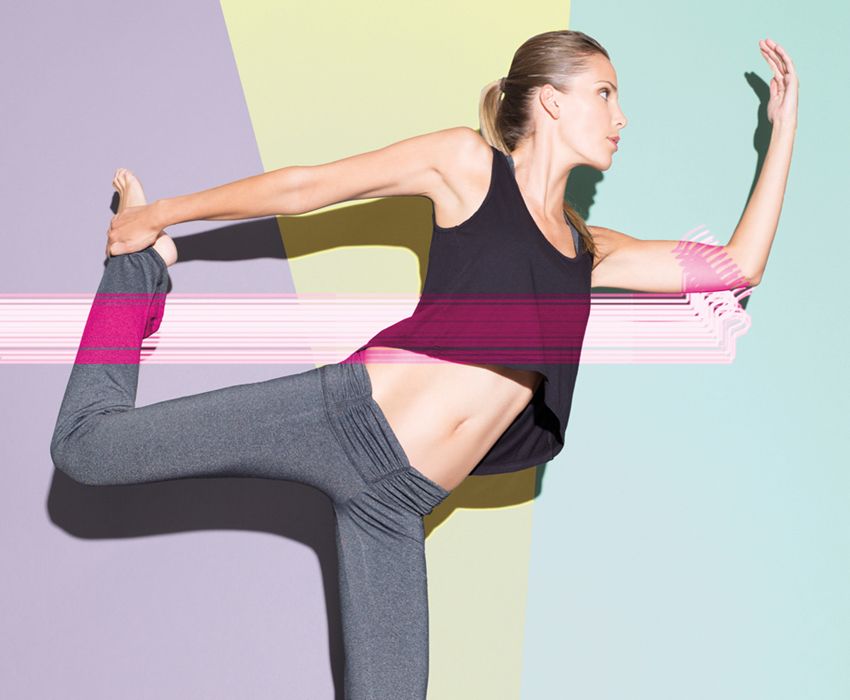 It's almost spring; it is so amazingly close we can taste it. That first weekend of warm air, those moments when the sun breaks through the clouds and practically screams that you can take off your overcoat and toss out your rain boots, until you realize—gasp!—that bikini-ready bod you promised yourself while tossing back champagne and dancing along a glittery floor is not quite how you pictured it. But don't freak; making sure you're working out and eating healthy can help you tone up just in time for that spring getaway. And to get that body rockin' in style, Koral Activewear has created a new series of super-functional (and ultra-hip) workout clothes—so by the time you hit the beach you'll be looking hotter than ever.
Created by Peter Koral and creative director Ilana Kugel, Koral began in 2010 with Koral Swimwear, born from Kugel's passion for design. Growing up on the coastline of Rio de Janeiro, she was inspired by the spirit and vivacity of the women on the beaches and began designing bathing suits with both heavy Brazilian and metropolis influences. "I imagine a woman's body like a blank canvas. As she travels around the world, she incorporates her travel inspirations into her daily wardrobe from a day in the office to a night out. Her refined sense of style should also extend to the beach or wherever life takes her!" she says of her designs.
The new activewear brand plays off of this idea of consistent style and evokes the same feeling of nonchalant beauty as the Brazilian women who initially inspired her. As a line that can be easily integrated into your wardrobe, it's meant to be a functional lifestyle collection, worn for everything, from yoga classes to running errands. With lounge pants, jersey cardigans and cotton tops, the collection is just as wearable around the house as it is in the gym, but with summer just around the corner the last thing we want to do is to lie around on the couch.
Cut to create slimming silhouettes and flattering angles, Koral Activewear uses colors, shape and fabric to create a collection that will be comfortable, flattering and functional so you look your absolute best at the gym. Designing their own fabrics, Koral uses both Infinity and Evanesce in their active and swimwear line to help improve performance. Infinity was designed to be extraordinarily soft and durable, allowing the piece to retain its shape and resist "chlorine up to ten times more than conventional fabrics," which could save the bright colors and body-hugging shapes we love. Evanesce, on the other hand, is built specifically for high-impact exercise; fibers are specifically designed to pull away sweat from the body and allow for moisture balance when working out, as well as offer a light compression to support muscles and improve circulation.
While a collection of activewear filled with tank tops, shorts and jackets doesn't sound particularly inventive, it's the blend of advanced fabrics and functional styles that make this collection so fun. It's bright and comfortable, and actually makes us want to step away from Netflix to enjoy a run through the park (unless of course an awards show is on). And the plus side to it all—after you've got your new bikini body you can go for a jog along the beach in your new sports bra and know how ultra-amazing you look—it's a total win-win.