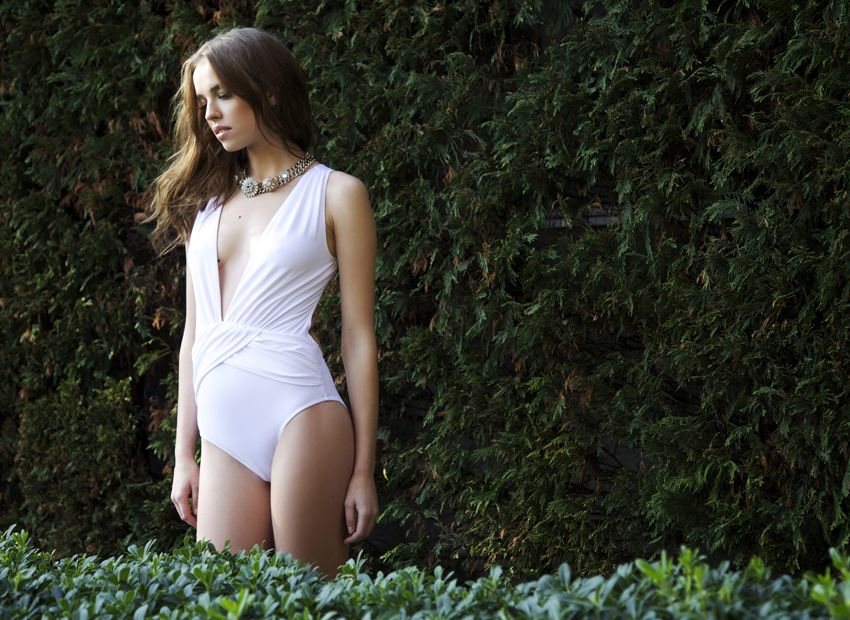 Photos Courtesy of OYE Swimwear
Oh sweet, sweet spring you are finally upon us—we can almost smell the ocean air, taste the piña coladas and feel the sand in our flip flops. We have a list of perfect week-long getaways in our head that range from relaxing spa vacations in Costa Rica to swimming with the dolphins in the British Virgin Islands, but our wardrobes are looking a little more polar vortex than beachside escape. It's time to start filling our closets with warm-weather gear—shorts, sandals, and our absolute favorite, swimsuits—because nothing says "goodbye winter" like a few new bikinis. And we'd love to grab a few pieces from a new favorite of ours, OYE Swimwear, a brand that is pushing the envelope when it comes to design. A sensual, high-fashion collection, OYE is blurring the lines between swim and style.
Designed to "see beyond fashion on the beach" the Istanbul-based brand takes a non-traditional approach to the creation of swimwear, giving each piece the sensuality and elegance to rival anything in your closet. It is, for all purposes, swimwear, but styled with a sleek jacket or dress and it suddenly becomes part of a super-hip wardrobe—taking you from the beach to the bar in less time than it would take to slip into heels. A few pieces of their beachwear even pair perfectly with their bathing suits, turning your bikini into a chic evening look. And anything that can pull double duty totally earns a coveted spot in our carry-on.
And when you're heading out for a week or two of warm weather, make sure to take a few pieces along. If you're a big sunbather, the bikinis may be better suited for your needs as most of the one-pieces are outfitted with unique cutouts, patterns and silhouettes that could leave an interesting design on your new sun-kissed skin. We love the Luna for tanning and the Elsa or Esther (shown below) for some gorgeous swimming styles, but that's only if we have to narrow it down.
All handmade, the designs are what speak to us as there's never a time we don't want to look like the epitome of high-fashion—and that includes the beach. Just because we're switching out our Louboutin heels for flip flops doesn't mean we want to look like a sartorial disaster—it's vacation, not the apocalypse (and even then, Nicholas K has some amazing stuff we could wear). If we could pack an entire suitcase of OYE we would; tiny bikinis, beachwear, bodysuits and one-pieces that double as bodysuits pretty much make this collection seasonally perfect.
Available in fine department stores worldwide and online at OYE Swimwear. Priced from $220-$420.