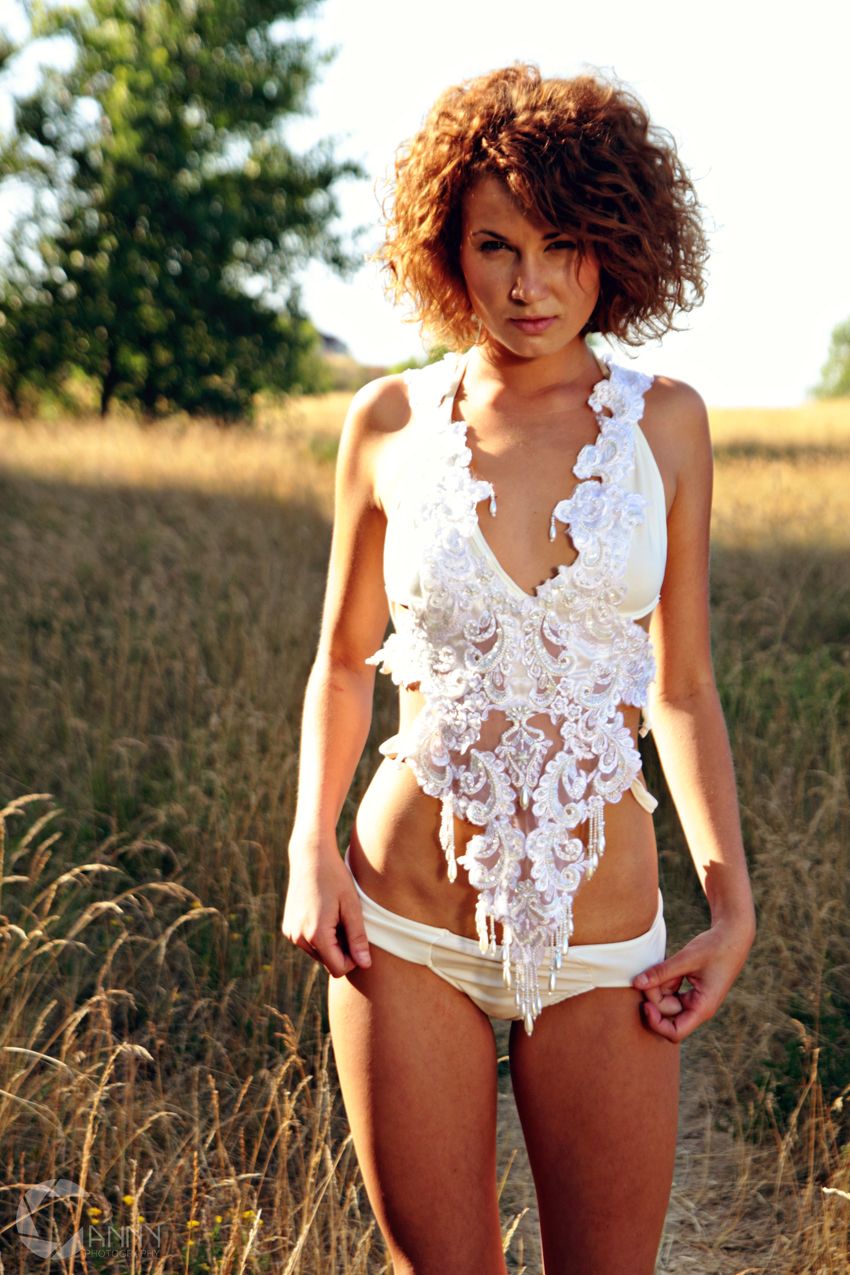 Photos Courtesy of Raya Hanon
Oftentimes swimwear makes us dream of exotic locales—days spent lying on the sun-drenched beaches of Ibiza or surfing along the Balinese coastline, but for Heather Pierce it's the destination that inspires the swimwear. Her brand, Raya Hanon, is filled with images from her world travels; she simultaneously designs two collections for her line, one of which is made for swim while the other is basically for you to strut your stuff in. What sets this brand apart, aside from the surprising attention to detail, is the ability to strike a balance between swimwear and sensuality—you don't need to show off every inch of your body to look sexy—but it sure doesn't hurt.
Designer Heather Pierce created the Raya Hanon brand as a way to express the experiences and beauty of her travels and share them with the world. Each collection focuses on a different place, highlighting a part of its culture through color, design, fabric or even sewing technique. Soaking in the language, food, customs and aesthetics from each exotic location, Pierce translates her adventure through her swimwear designs. This season's line draws on her time spent in Bali, and focuses on two collections, the 2014 Bali collection and the 2014 Exclusives.
Having spent time with the locals, Pierce began to understand their religious connection with the land, sea and air, and hoped to represent that spirituality through her line. The frangipani flower is a common symbol in Bali, usually displayed for prosperity, protection and good fortune. Found throughout both collections, the flower is hand-sewn onto each suit with seed beads to represent the intricacies and sacredness of these plants. Bright yellow and gold are popular colors as the shades are often found on trees and statues—a sign that a spirit is dwelling inside and deserves respect.
The 2014 Bali collection is filled with bright yellows as well as white to symbolize air, green for earth and blue for sea. Textiles found in the region including lace and batik are heavy in the collection drawing out a beautiful balance between meaning and visual aesthetics. The line-up varies from full-coverage one-pieces to skimpy little bikinis, from sheer suits that barely hide anything to monokinis that can cover up any problem areas. And while we wouldn't recommend taking in the sun with some of these sheer numbers (unless it's a nude beach), the colorful suits are perfectly appropriate for beach days.
The exclusives collection is totally not for swimming—it's better for posing, maybe a light dip on your honeymoon, sunbathing when you know the paparazzi is going to be snapping a photo—it's more fashion than function. But what beautiful fashion it is. Delicate hand-sewn beading and lace runs over each suit giving it the look of lingerie that's perfect for romantic getaways. We're especially loving Exclusive III for the sheer beading that almost seems to float down the torso.
We love both of these collections and as much as we could see ourselves soaking up some sun in the colorful Batik Monokini we could also see ourselves spending a gorgeous day in a poolside cabana rocking one of those lacy exclusives. Do we need to choose just one? Turns out, no, we don't. Summer lasts a good three months and we're totally getting a head start this year. Now we just need to plan a vacation.
Raya Hanon is available online and priced from $70-$750.