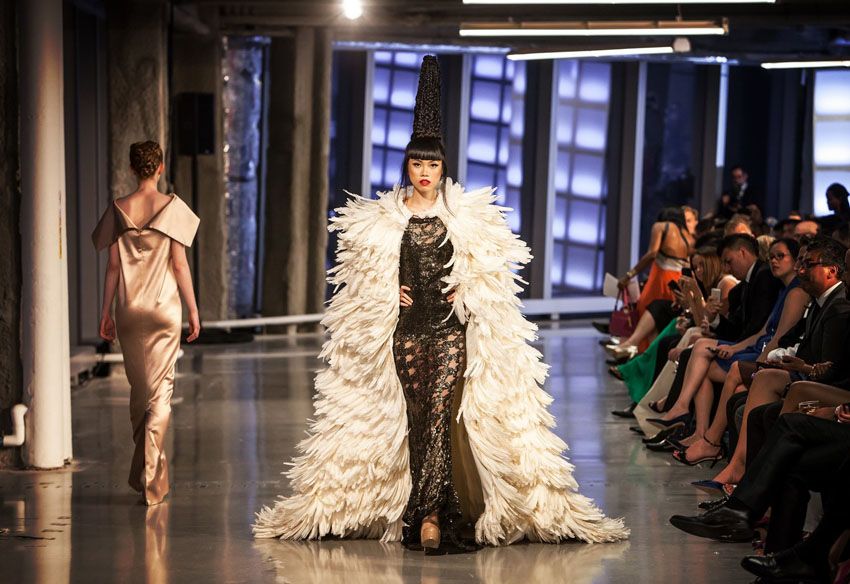 Photos Courtesy of J Model Management
Last week, Jessica Minh Anh made history again. The model and entrepreneur, known for producing outré fashion shows at some of the world's most unconventional venues, staged her latest presentation at One World Trade Center. The building, which has been in the making for almost a decade, is not expected to open until mid-2015. Needless to say, this is the first fashion show—or any event for that matter—to be held there.
The 63rd floor of One World Trade Center was turned into an observatory for the occasion, and 10 designers from around the world showcased their couture to an audience of editors, industry insiders, dignitaries and executives. The hour-long show included pieces from fashion houses Ziad Nakad, Chula, Norka Peralta, Hay United, Puey Quiñones, Alina German, Cat Footwear, Libas Reshma, Riyaz Gangji and Cristina Sabatini.
JustLuxe took a few minutes to chat with Anh backstage. The question on everyone's mind is, of course, "how do you pull off these shows?" Below, the model shares just how exactly she does it.
JustLuxe: How and when did you decide that this was going to be the venue for your show this summer?
Jessica Minh Anh: Actually, it was very recently. After the show in Singapore (in March), I thought I wanted to do my next show at Niagara Falls. So I flew to Niagara Falls and I realized it's not a suitable venue for my show—it's not good enough. But I thought…I'm already in America so I want to do something here. It's very hard to match the level of my previous shows and the only place to do that is here [at One World Trade Center]. There's nothing else that can match. I'm only interested in places that can't be accessed by other people—you're either the first or you're not. One World Trade Center isn't even open yet so obviously it was the right choice.
JL: How did you convince them to let you have our show here?
JMA: [laughs] Well, just my usual pitch. Because I have a track record with all my previous successful shows, it's been easier to get the locations I want now.
JL: This building is very meaningful to New Yorkers. How have you factored in the importance of this particular venue into your show?
JMA: It's not just meaningful to New Yorkers, but to the whole world—it touched everyone. It is extremely emotional, so knowing that I'm able to step foot in here and do this show, is really a big honor and I really treasure that. I think it's the most important show I've done. The designers are usually inspired by the venue and many designed the entire collection that they're showing tonight around the significance of this building.
JL: Have you ever been turned down by a location before?
JMA: No
JL: Never?
JMA: If I were turned down the first time, I would come to them again and make sure they say yes. I've never had a location I want that I didn't get.
JL: Do you choose different designers to showcase for different locations?
JMA: Yes. But sometimes designers come back to us and want to show in our next show. There are a few designers that I've worked with three or five times already.
JL: What do you have your eye set on next? Can you share any future plans?
JMA: Venue is our main competitive advantage so I don't reveal it until it happens. Geographically, I'm looking at the Middle East—but there might be changes at the end. Everything happens so quickly; even I don't know what's next sometimes. The show I staged in the Grand Canyon was originally supposed to be in Brazil. Sometimes I'm even surprised by my own decisions—so that's what keeps it exciting.