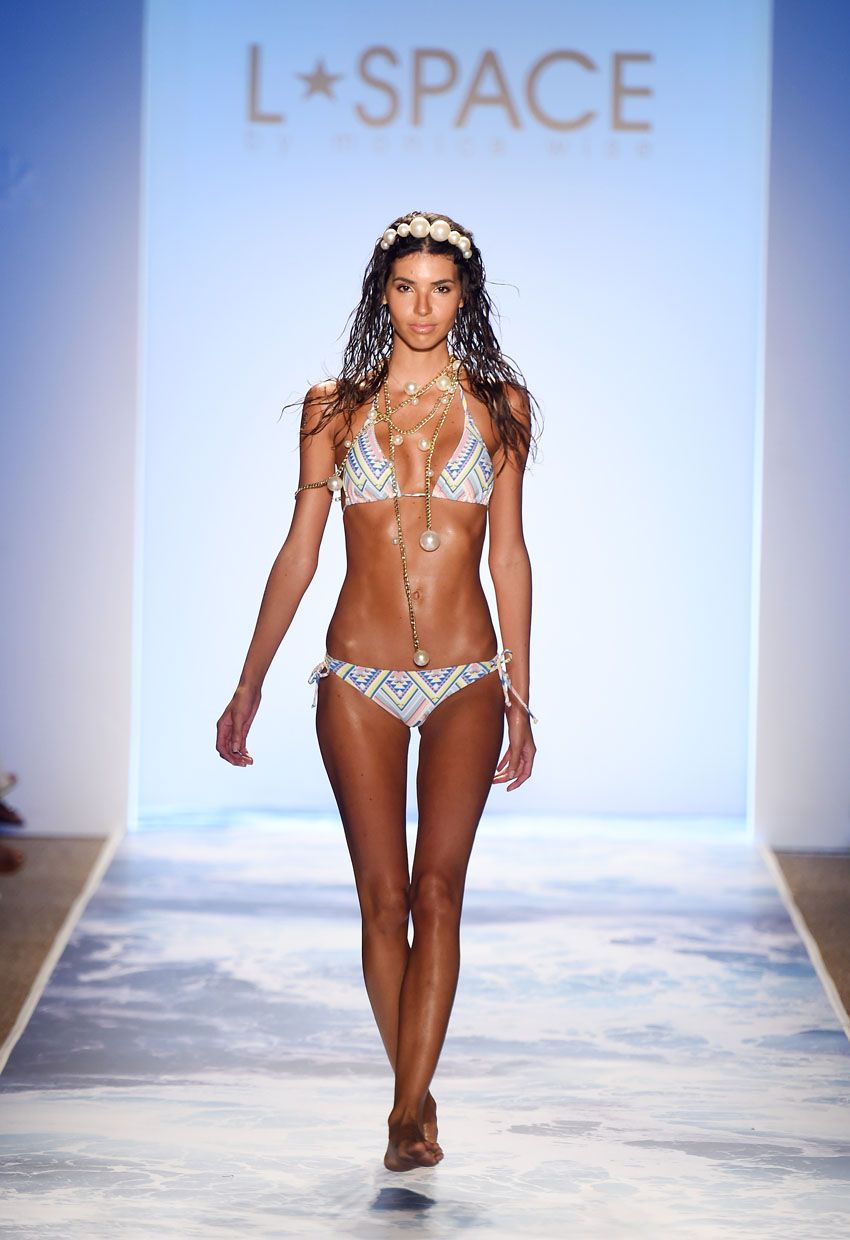 Photo Courtesy of L*Space by Monica Wise
In the dead of summer, when we're spending every moment either at the beach or dreaming about the beach, Miami Swim Week swoops in to make all our seaside sartorial dreams come true. While no one really needs more than a few bikinis and cover-ups to get through the summer, we could have an entire closet of swimwear off these runways and still not be satisfied. Another brand we need to add to our wardrobe was L*Space by Monica Wise, who presented their Resort & Spring 2015 runway collection last weekend, entitled The Water is Rising. While swimwear always circles around water as its inspiration element, they took it to the extreme, sending models down the catwalk with wet hair, golden scales and beach accessories.
Held at The Raleigh Hotel in Miami Beach, the runway show was an exhibition of both sand and surf, showcasing bikinis and (beachside) ready-to-wear alike. Inspired by the water and mythical creatures within, models were styled as mermaids, with wet hair, pearl accessories (that vaguely resembled Chanel's pieces) and scale tattoos in shimmering metallic, as if they were giving us a glimpse of their golden tails. Accessories were heavy with headbands, multi-strand net necklaces, bracelets and bangles on nearly every model. The few who wore shoes were styled in flats that wrapped around the ankle for an earthy look.
Suits were very angular, featuring crisscrossing bands or cutouts leaving sharp contrasts against the skin. Cover-ups were billowing in shapeless dresses or tunics, with swimwear featuring the opposite in snug, form-fitting silhouettes. If a piece wasn't wrapping around the body with excessive use of straps, it was likely decked out in fringe, a big player on this runway. Every color was seen from summer brights to a collection of sporty black and white pieces. The show ended with dark monokinis decked out in lace, and heavy, jewel-laden pearl chokers that gave the collection a dark romantic vibe.
Wise's collection was truly mix and match, models came down the runway with black patterned bottoms and neon green tops, allowing for women to wear her pieces however and wherever they feel most comfortable—which for most of us, is in the water. To get the fresh-out-of-the-ocean feel, Wise brought on Johnathan Powell of Jonathan Product to replicate the wet hair and Stila Cosmetics lead makeup artist Sarah Lucero to give the models a natural, dewy look. Personally, we'd leave the aquatic scales at home, but a little wet hair, a golden glow and a bikini kind of make for the perfect summer look.