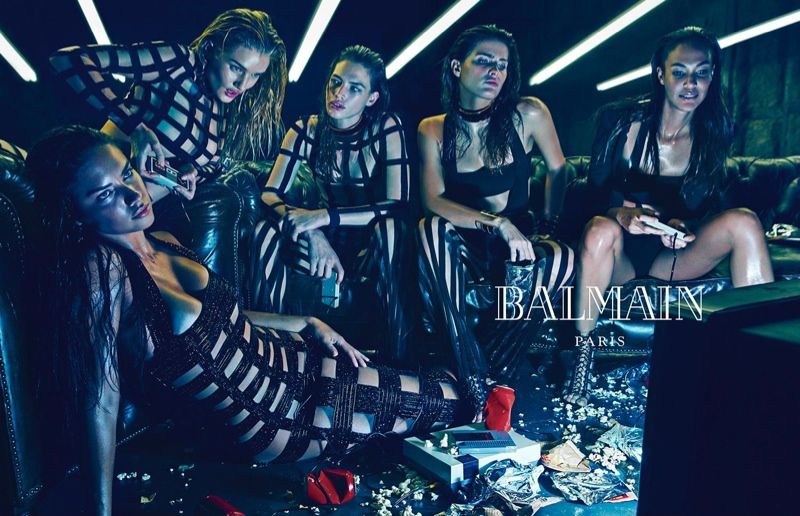 Photos Courtesy of Balmain
According to the latest Balmain campaign ads, most strong women spend the day crashing cars, getting into subway brawls and rewarding themselves with some ketchup-soaked victory burgers. But if that doesn't sound like your typical Monday then you probably won't be able to connect to the images on a super personal level. Inspired by the Balmain Army (the self-imposed title given to fangirls of the brand), creative director Olivier Rousteing opted for a literal interpretation with the Spring 2015 campaign. Models are dressed in uniform colors or patterns and are seen throwing a few kicks and punches for the camera (maybe it was a Balmain sample sale?).
Shot by Mario Sorrenti and directed by Pascal Dangin of KiDS Creative, the images are meant to capture the raw edge and strength of women. "The incredible power that all those strong women bring in front of the camera, put into real life situations, helped me explore and create a new reality that represents the pop aspect of my generation," Rousteing said in a release. These "real life situations" see Adriana Lima, Joan Smalls, Rosie Huntington-Whiteley, Isabeli Fontana and Crista Cober sitting around in Balmain chowing down on popcorn and soda while playing old-school Nintendo. Nothing against the gaming system (or burgers for that matter), but if sitting around playing video games and drinking coke makes me a strong, powerful woman than apparently I've been rocking it since the age of 12.