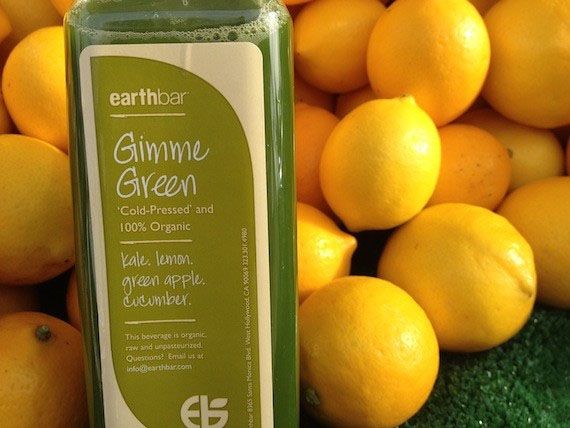 Photo Courtesy of 2Sense-Los Angeles
Lately in
Los Angeles
, the power lunch plays second fiddle to the liquid lunch, and not the sort Don Draper and his Mad Men sip on. With over 100 juice bars sprouting up all over our Southern California sprawl, increasingly Angelenos drink their salads.
At this point, you should remove your presuppositions of juicing as a pretentious "LA thing," because drinking your veggies transcends its superficial-allusions. This assertion carries even more weight, once you partake in a strict
juice cleanse
.
Juice cleansing involves one, three, or five days of fresh pressed fruits, veggies and revitalizing, raw nutrient intake. Philosophically, juicing is not to diet, but to detoxify. Drinking your meals allows the digestive system to rest and your organs to cleanse, in addition to every unheralded positive. Expect renewed energy, clear and bright skin, a cleaner liver, clarity of mind, and more restful sleep.
Similar to most trends, juicing is a revival. In fact, the resurgence finds its inspiration in California's raw food fervor of the 1970s. Beverly Hills Juice touts "Raw since 1975." They helped pioneer the high-pressure hydraulic press used to extract juice without exposing the fruit to oxidation and, in turn, preserving more enzymes, minerals and vitamins.
Whether holiday overindulgences linger or because you want to give your system a naturally induced revamp, give juicing a try. To that end, we took to LA to help you right your ship. A male and a female, we sampled several of the most buzzed about and diverse cleanses existing around town. We enjoyed our customized juice cleanses from portable bottles, quite a luxury.
You may be familiar with Earthbar — the whole body, health minded smoothie bar housed in many Equinox gyms across Los Angeles. This fitness centric business recently entered the organic cold-pressed juice game, with athletic precision. Their 3-day Rejuvenate Program is ideal and customizable for the active individual. An especially good choice if you're new to juice cleansing.
We beamed with excitement for the duration of this cleanse, not only because of its taste, but because we never felt hungry. Across LA, from yoga to the gym, we maintained our body's energy levels and recovered quickly due to added raw plant based proteins. In particular, the Raw Recovery Shake — packed full of coconut, sprouted protein and cacao nibs for flavor — recouped much of the foundation needed in a post-workout shake. In addition, a cold puree of veggies and spices rounds out the day in a soup. Due to its hefty portion, Mary left all three half eaten while Victor went to bed well satisfied, just right for a guy's appetite. Memorably, one evening's cucumber anchored soup, tasted of a creamy and cool vegan vichyssoise.
Aiding its battle-worthy cleanse, Earthbar wards off crankiness with three different supplement shots during the day. Explained best by friendly and knowledgeable Marketing Manager Margaret Daniel, "E3 Live balances the mood and Coconut Kefir jumpstarts detoxification. A garlicky wellness shot strengthens your immunity throughout." An EB team member will help you get your cleanse going, adhering to reasonable modifications (e.g., adjusting recipe for allergies). Daily, each cleanse incorporates five drinks, three shots, and a soup. You can go daily ($65), 3-day ($190) or 5-day ($295).
Pressed Juicery, with its first location in Brentwood, spilled across the LA (juice) scene quickly, setting up shop in a juice truck in Malibu and, most recently, a storefront in West Hollywood. Clearly, plans aim to build upon the exceeding popularity amongst its loyal, high-end and celebrity clientele. And rightly so, Pressed Juicery delights. The juices are truly products of nurtured research and development, each drink more interesting, tasty and sensible than the next.
The Almond Milk with vanilla bean and date mimics a milkshake, making it hard to believe it could also be incredibly good for you. Taste, coupled with the estimation "that 90% of disease can be attributed to an unhealthy digestive system," begs that you drink up! Pressed hits the trifecta as a manageable cleanse: taste, options and convenience. They press three different cleanses, varying in ingredient intensity. Easy online ordering, nationwide home delivery and $70-per-day will get you on your way. Not sure which fits your fancy? Head to their online cleanse quiz to help determine which has your name on it. Once you taste these well-balanced juices, you'll be taking to Twitter to promote, just as their loyal followers do. 
Lastly, but certainly not least, the mom-and-pop shop on Melrose, Liquid Juice Bar, brings juicing back to its roots. Family owned, this small operation forgoes decorative packaging and promotion, focusing solely on the quality of the cleanse experience and each customer's individual needs. Liquid embraces a more extreme detox, without shake-like treats holding your hand.
This Liquid cleanse does not support intense energy exertion, so steer clear of weight lifting and the like. Co-owner, Amanda Dumas states they emphasize on cleaning the colon, liver and blood; an oil-change for the body, if you will. She tells us, "All our juices are well balanced, but we keep it pretty simple, so the body can digest easier."
Taste wise, the presence of highly cleansing apple, detoxifying lemon and circulation enhancing ginger, help flavor the series of six veggie based juices. Stimulating cayenne plays a recurring, peppy role each day, as does Yerba Mate tea. Sipping on the rare vitamins and minerals found in this herbal tea jumpstart metabolism and small traces of caffeine keep you going. While more intense physically and taste wise, the results of this cleanse were most apparent. The Liquid cleanse is $55 per day, with the option of local delivery at a small additional cost.