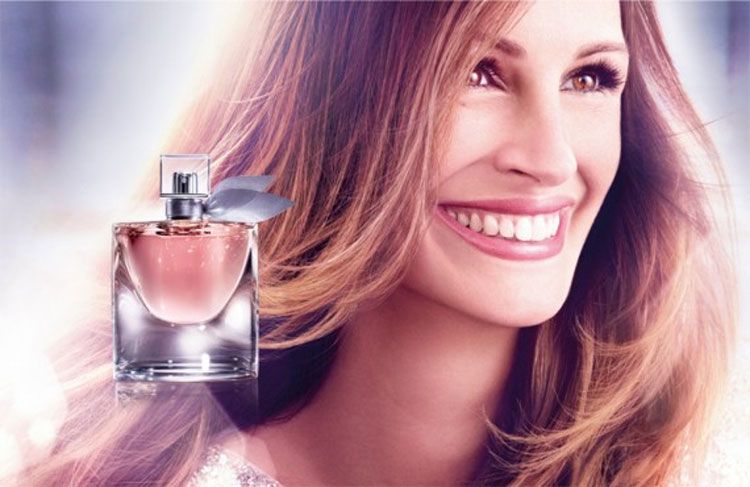 Photo Courtesy of Lancôme Paris
L'Oréal-owned cosmetics giant Lancôme is preparing for something big, and we think you'll be pleased to hear about it. Hoping to add another scent as successful as their iconic Trésor, the cosmetics giant is poised to release their newest
luxury fragrance
in mid-August as a way to update its women's perfume category.
La Vie Est Belle— life is beautiful— is Lancôme's way of representing the era of women's personal fulfillment and self-realization. Lancôme International's President, Youcef Nabi, explained fragrance trends over the past few decades to
WWD
, noting that the seventies were about emancipation, the eighties were about a quest for power, and the nineties were about gender-bending and minimalism. Today's scents are about the empowerment that comes from being freed from caring about possessions and appearances. That is the philosophy behind La Vie Est Belle.
And who better to be the face of this new perfume than Julia Roberts? Nabi told
WWD
that Roberts is "the only person that could embody this kind of joyful femininity, this woman that could be all women at the same time— in their honesty, truth and diversity." The TV advertisement follows Roberts through a party of beautiful, materialistic people as she realizes they are controlled like marionettes against their own free will. When she realizes that she too, is manipulated, she decides to break the threads and create her path of happiness.
La Vie Est Belle combines the scents of iris, jasmine, Tunisian orange blossom, and fractionated Indonesian patchouli essence, as well as vanilla, tonka bean, praline, black currant, and pear. It comes in Lancôme's iconic "crystal smile" bottle— a square bottle with an arc curving inside the linear flavon— with two organza wings around the neck to represent freedom. A 20-ml bottle will sell for $68 in the U.S., set to be introduced in August.
To learn more, visit
Lancome-USA.com
.