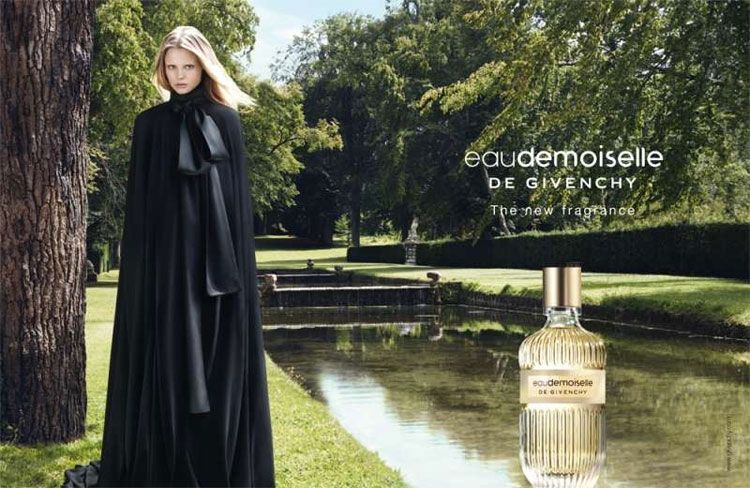 Photo Courtesy of Givenchy
Parfums Givenchy is finally introducing one of its well-loved international
luxury fragrances
to the U.S. As of yesterday, Eau Demoiselle is now available online and in the 42 Neiman Marcus stores across the country. The perfume actually debuted internationally in 2010 and has been available in European and Middle Eastern markets, but was not distributed to the U.S. It had a short stint at Plume et Palette, a French beauty boutique in Disney World's Epcot park, but was not there for long. The eau de toilette is exclusive to just Neiman Marcus for its first three months in the U.S.
Moët Hennessy-Louis Vuitton (LVMH) executives already expect the fragrance to see great success, noting that its scent would appeal to a wide range— even though the name translates to "scent of a young woman." Industry sources even estimate that the rose, orange and musk fragrance will do $2 million in retail sales in its first year. President of LVMH Fragrance Brands, Nicholas Munafo, is so confident in Eau Demoiselle that he hopes to make it a pillar of the brand. "We think it's got tremendous potential, and our goal is to build it into a classic," he said.
The perfume comes in a fluted clear glass cylinder with tapered ends and a matte gold cap. The bottle's crisp, understated style reflects what's inside — cedarwood, ambrette seeds, tonka bean and musk lay the base for Turkish rose essence, and top notes of mandarin orange, Italian winter lemon and the Japanese basil Shiso. LVMH Olfactory Director Francois Demachy describes it as "an imaginary rose in the morning dew" — quite the air of refreshment.
The sensual, elegant and timeless perfume will sell for $65 in a 50 ml bottle and $87 for 100 ml. A Moisturizing Body Mist will also be available in a 100 ml bottle for $46.
To learn more, visit
GivenchyBeauty.com
.