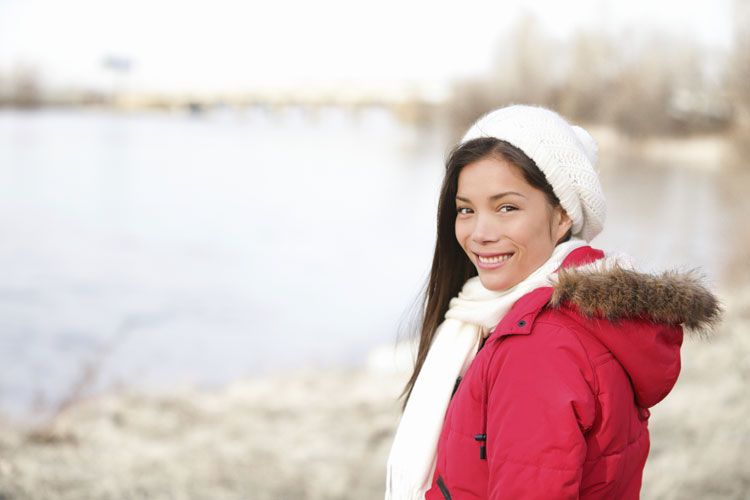 Photo Courtesy of iStockphoto/Thinkstock
It's finally December, which means holiday lights, cheery carols, soaring spirits… and split ends. If you're like the rest of us and your poor strands are in need of major
luxury hair care
, we've got some great suggestions for you. We sought out experts in the biz who gave us their best kept tips, secrets and products for protecting your hair and maintaining a healthy mane this winter.
Anyone you talk to will tell you to keep your hair hydrated, as the colder temperatures suck moisture from the air, and therefore, your hair. "The winter elements, like the cold, wind and dry air can destroy anyone's locks if they are not careful," warns celebrity stylist Gregory Alan. Alan, who has worked with such superstars as Jewel, Rebecca Romijn, Josh Holloway, Charlotte Ronson and the cast of
Glee,
, recommends using an intensive hair repair mask at least once a week if you're unable to treat yourself to the works at a salon. We like the
Leonor Greyl Masque Quintessence
, which uses exotic oils to counteract the trauma to damaged hair.
Photo Courtesy of Stockbyte/Thinkstock
Many hair and beauty experts will advise you to lay off the hot styling tools this winter so as not to pull out more moisture from your hair. "Just like your skin goes through shock from being in cold and then hot climates, so does your hair," explains Andi Scarbrough, the Head of Education at Byuti Hair Therapy in Santa Monica. "Air dry whenever possible, especially if you know you need to use a flat iron or curling iron to finish your style," she suggests.
And if you just can't wake up without a hot shower in the morning, take the plunge and invest in good styling tools. "You aren't really saving money by using a cheap flat iron when it has uneven heat and poor construction that can burn on tear already sensitized hair," Scarbrough warns. As with anything we know is going to be getting near-everyday use, it just makes sense to make sure your styling tools are high-quality and well-made. May we suggest the
Solia Tourmaline Ceramic Flat Iron
, whose ceramic and tourmaline ion technology protects against heat damage.
Photo Courtesy of Fuse/Thinkstock
While it's always best to try to avoid heating tools, sometimes it's inevitable (especially if you're trying to avoid catching a cold.) So if you're going to pull out the hot tools, make sure you're stocked up on hydrating products like leave-in conditioners and protective oils. Celebrity hairstylist Julia Papworth should know— she's responsible for the healthy strands of stars like Cameron Diaz, Sarah Silverman and Rashida Jones. "During winter, when the weather is cold and dry, damage from heating tools, such as curling irons and blow dryers can be much worse than usual," she explains.
So if you are going to apply heat to your hair, make sure to coat your strands in a protective product first. She suggests using
Macadamia Natural Oil Nourishing Leave-In Cream
before you blow dry and
Oscar Blandi's Dry Styling Heat Protect Spray
before you curl or flat iron. "These products act as a defensive coat between your hair and the heat," Papworth says.
Photo Courtesy of George Doyle/Stockbyte/Thinkstock
This may seem obvious, but if you want to protect your hair, do just that — literally. Wear a hat in the cold winter months to both keep your ears warm and protect your delicate strands from the harsh elements. One thing to note, though, is to avoid wool in both your hats
and
sweaters. "Wool is a very warm fabric, but it is also known to have fibers that can irritate the skin and absorb a significant amount of moisture, which can greatly dry out your hair," Dr. Shani Francis, a Board Certified Dermatologist in the Chicago area tells me. "Protecting your hair from direct contact with wool and instead using silk or satin is a very helpful strategy to maintain healthy, moist hair during the winter, and prevent hair breakage," she said.
Photo Courtesy of iStockphoto/Thinkstock
If your hair is breaking, take it from Alan and visit your salon every 6-8 weeks for a routine trim. "During the winter months, your hair sees the hairdryer and hot tools on a regular basis, causing your hair to have more breakage and frizz," he explains. Keeping your ends clean will make your hair look and feel healthier.
Photo Courtesy of George Doyle/Stockbyte/Thinkstock