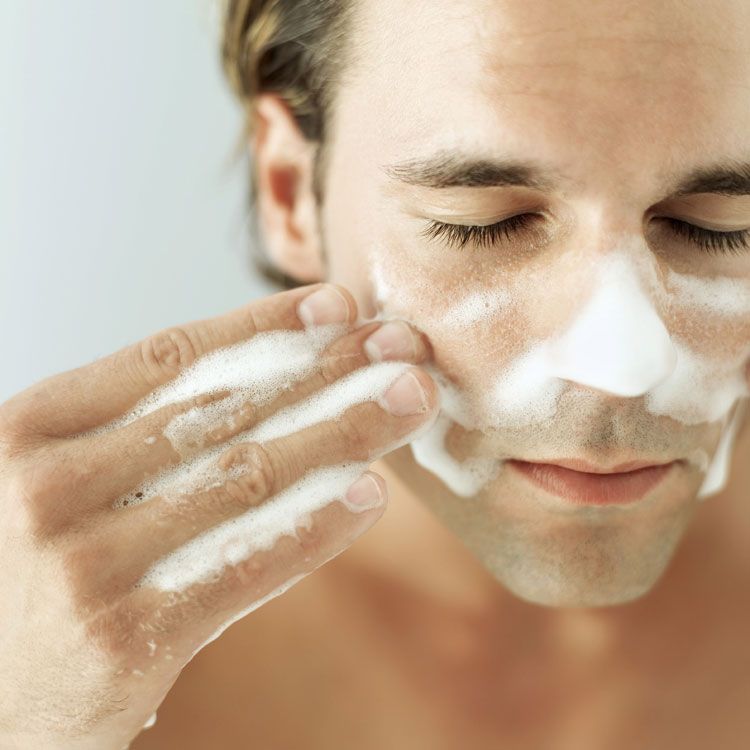 Photos Courtesy of iStockphoto/Thinkstock
Regardless of your gender, taking care of your skin is one regimen you should never neglect. It's important for men and women alike to develop a personal skincare routine and stick to it. As much as we admittedly focus on one's attire or physique, it is always a person's face that initially draw us in. Men, take care of your face and others will undoubtedly take notice. While there are simple steps one can take to ensure that their skin is hydrated and clear ó such as drinking water and avoiding processed foods ó unfortunately, that alone will not prevent flaky skin in the winter and dry skin in the summer. To assist you on your road to hydration we have compiled a list of five tips for men to leave skin radiant, along with some of the top
luxury skincare
products on the market.
While it is important to wash your face, over-washing can result in negative side effects. Obsessive cleaning and excessively harsh products will deprive your skin of the natural oils it needs to stay hydrated, and according to
Livestrong
you should only wash your face once a day, preferably at night when it is dirtiest. Instead of using a cleanser in the morning, quickly rinse your face with cool water to keep in many of the good, natural oils your body produces.
The Amazing Face Cleanser
by Aesop thoroughly cleans the skin and gets rid of grime and oil that builds up throughout the day to leave you feeling completely cleansed and balanced.
To polish away dirt and dead skin cells that clog up pores, it is important to exfoliate with a gentle scrub. According to the
American Academy of Dermatology
, (AAD) exfoliating helps to improve the look of dull, lifeless skin. Your skin type will determine the frequency at which this needs to be doneó for example, dry skin should be exfoliated less frequently so as to not strip the skin of its protective outer layer. Proper exfoliation allows you to buff away the ugly surface of dead skin cells to expose the fresh layer underneath, and also helps to clean pores and reduce ingrown hairs.
According to dermatologist
Dr. Macrene Alexiades Armenakas
, menís skin differs from womenís in that it contains larger pores, which when combined with the sweat and oil accumulated with daily activities, makes men more prone to skin problems like acne and blackheads. Also, the oils found on a manís face react differently to products than a womanís ó something that guys should keep in mind when picking out a scrub.
To exfoliate, simply use a nickel-sized portion of face scrub with lukewarm water and gently work into the skin. Jack Black is a particular skin care line that boasts no fuss, quality products designed with men in mind. The
Jack Black Face Buff
opens up congested pores and gets rid of built up dirt and dead cells with its small scrubbing particles. This product is also a great deep-cleaning, pre-shave cleanser to get a closer, cleaner shave. Or, for an invigorating cleanser that is also designed to fight wrinkles, the
HydroPeptide Anti-Wrinkle Exfoliating Cleanser
is a fabulous daily wash that helps bring vibrancy back to skin.
Shaving is one of those things where opting for the quickest route simply isnít going to work. As perhaps one of the roughest things you can do to your skin, it is important to make sure that you are using the best products to reduce irritation. Made with hydrolyzed wheat protein, almond oil and extracts of mallow, lemon balm and water mint, the
Soft Brush Shaving Cream
by Acqua di Parma provides a rich, thick lather that relieves and refreshes the skin. Dermatologist
Dr. Dennis Gross
reminds men that one secret to less irritation and ingrown hairs is to shave
correctly
. Dr. Gross recommends the use of a shaving cream or lather and massaging it into the skin for 10-15 seconds. He also explains that it is much better to go over the shaving area 10-15 times lightly than 2-3 times harder, as too much pressure can result in unsightly bumps.
According to the
AAD
and Dr. Badreshia-Bansal, ďNo matter what your skin type, using daily moisturizer and practicing year-round sun protection are vital steps towards maintaining healthy, glowing skin. Thatís because with adequate hydration and use of a broad-spectrum sunscreen, the skin has the advantage of protecting itself from free radicals and harmful ultraviolet radiation that cause skin damage, discoloration, premature wrinkles and even skin cancer. Over time, a careful and consistent skin care routine with products designed for specific skin types can gradually improve the overall health and appearance of the skin.Ē
Lightly rub in moisturizer while your skin is still slightly damp to seal in the natural moisture. Donít be afraid to reapply moisturizer throughout the day if your face begins to feel dry and tight. Moisturizing is especially important for men since most guys irritate their face everyday by shaving. Doctors at the AAD recommend a creamy formula that contains sunscreen and antioxidants. Other good options include grape seed, petrolatum and dimethicone.
For a rich moisturizer that will leave the skin feeling soft and hydrated we recommend
Cr?me de la Mer
. Not only does this incredibly restorative face cream soothe dry skin, but it also reduces the appearance of wrinkles.
Zirh Platinum Age Defense Environmental Response Cream
is another great option. After cleansing, apply this highly concentrated anti-oxidant protection to your face to maintain moisture and encourage skin firmness.
To protect against the damaging effects caused from exposure to the sun and ultra-violet radiation, the best thing you can do is apply sunscreen regularly. Not only does this help fight against skin cancer and reduce signs of aging, but it also helps to keep moisture in the skin, according to the
AAD
. Even in the winter, exposure to the sunís rays can increase the risk of developing dry skin, wrinkles, age spots and spider veins as determined by the
AAD
. Howard Murad M.D., Associate Clinical Professor of Medicine at UCLA, founder of Murad Inc., and author of
The Water Secret: The Cellular Breakthrough to Look and Feel 10 Years Younger
recommends a moisturizer with UVA/UVB protection reminding us that UV rays can penetrate through clouds, leaving skin at risk even on overcast days. Featuring Zinc and Vitamin E to balance skin and keep it healthy, the
Murad Face Defense Board Spectrum SPF 15
is a great option. Another choice is the
Malin + Goetz Face Moisturizer
contains SPF 15 which creates a barrier against skin damage and retains moisture without clogging the pores.