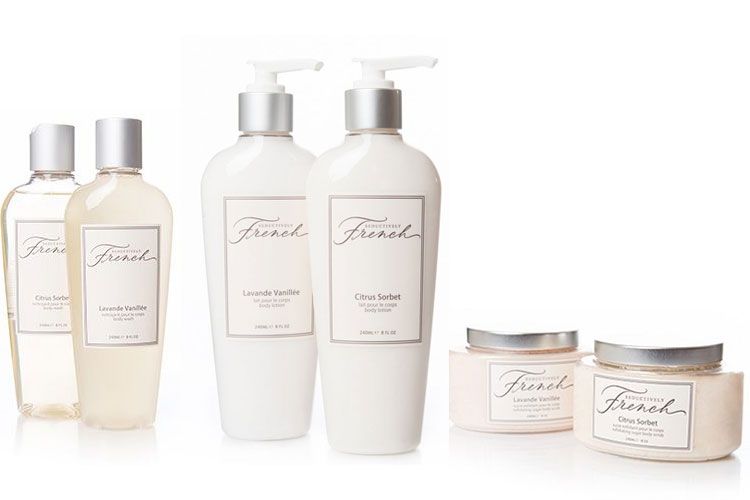 Photos Courtesy of Seductively French
Anyone looking to channel their inner Parisienne is in luck thanks to a new line of
luxury beauty products
on the market. Created by travel and lifestyle journalist Slavica Monczka,
Seductively French
is a lifestyle blog inspired by the passion, romance, and quality that can be found in French culture— in everything from the country's cuisine to its fashion. With the same driven spirit, Slavica set out to create a line of products for her brand that could be enjoyed and gifted. After having the opportunity to enjoy the products ourselves, we found that these products have the same "je ne sais quois" quality that we all envy in the French. Better yet, these products are made from natural and organic ingredients, so you know you're getting top quality products that are safe for your skin.
Tell us which international city you find the most luxuriously seductive and you'll be entered to win a full set of Seductively French beauty products.
The signature line is comprised of a body cream, body lotion, body wash, body scrub, eau de cologne and massage oil candle that are free of toxins like parabens, phthalate, synthetic coloring, DEA, silicone, PEG, PPG, and aluminum. Inspired by the exotic scents found in Provence and the French Riviera, each product is available in a therapeutic Lavender Vanilla or soothing Citrus Sorbet fragrance. "The signature scents I developed are my absolute favorites," Slavica says. "I admit there are other French vanilla and citrus fragranced products out there, but none like these."
We started with the delicate body scrub— unlike other exfoliators whose harsh ingredients can result in irritated, dry skin, Seductively French's version contains natural sugar crystals and botanical oils that eliminate dull skin cells and reveal a fresh glow, while simultaneously pampering the skin. Quench your skin's thirst with the select herbs and botanicals like green tea, aloe, shea butter, chamomile, and soybean oil that make up the body cream and body lotion— the moisturizing qualities of these products are said to help your skin recapture elasticity and therefore, youthfulness.
But perhaps the most unique product of the collection is the massage candle, which can be used traditionally for ambiance and fragrance, or as massage oil. As the wick of the candle burns and the soothing lavender or citrus scent is released into the air, the candle's wax melts into a luxuriously smooth liquid that can be used for manicures, pedicures and an all-over body massage. Made with ingredients like shea butter, coconut oil, jojoba, rosehip oil, and vitamin E, we couldn't think of a more seductive way to go about the task of daily moisturizing.
Exclusive to JustLuxe readers, Seductively French is offering 50% off its products for the next 30 days with the promo code
9d7e4231
. Additionally, the brand is giving away a full set of its new product line (worth more than $250) to one lucky winner. (See Terms & Conditions below.) Respond by midnight on Wednesday, April 17, and we'll contact the winner the next day with the good news. Bonne chance!
Seductively French Terms & Conditions
Simply comment below with one international city that you find the most luxuriously seductive, and why, and you'll be entered to win. Comments must be received by 11:59 pm ET on April 17, 2013, winner will be notified by April 18, 2013.