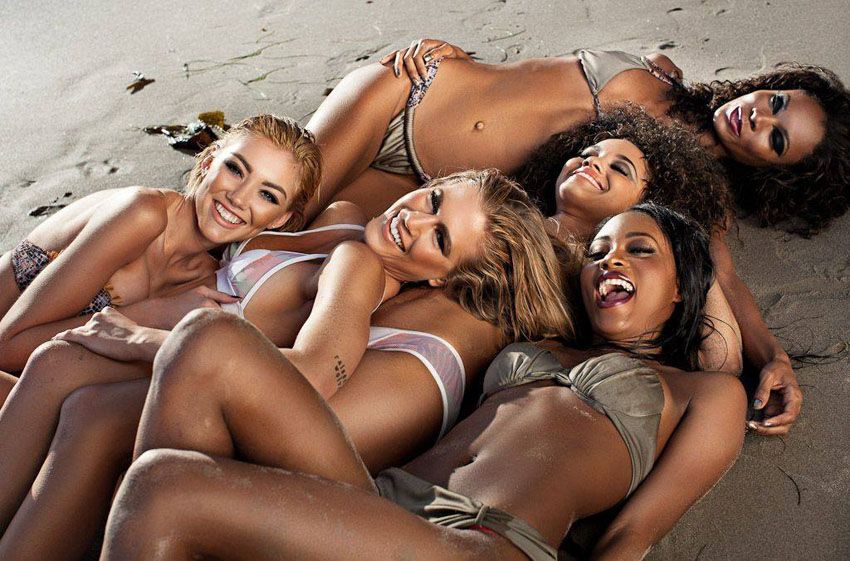 Photos Courtesy of Gleam by Melanie Mills via Facebook
There's a pretty good chance you want to show off your bod this summer. And why wouldn't you? You've been training at SoulCycle since January, you just found the perfect bikini and already have a penthouse booked for a week in Barbados—the only thing left to be concerned about is your skin. Maybe it isn't so perfect—a blemish here and there, or maybe a little uneven tone from your pre-SPF days can leave anyone feeling less than glowing, but we're pretty sure we found a solution for that. Emmy Award-winning makeup artist Melanie Mills created Gleam, a face and body makeup that will literally leave your skin radiant. With a background that ranges from makeup work on the set of Charlie's Angels, to editorial shots in Vogue, to her award-winning stint on Dancing with the Stars, Mills spoke to JustLuxe about her A-list career, Gleam products and her favorite celebrity clients.
Falling into her career out of a pure passion for cosmetics, Mills started in makeup almost seventeen years ago as a way to have fun with her gal pals rather than as a job opportunity. "I did it with all my friends," she recalls. "I kind of produced these photo shoots and runway shows and video clips when I was like a kid, but I never ever thought of any of it other than to just have fun." Attending school at the Università di Firenze in Italy with intentions of becoming a translator, she soon had a change of heart, and began to travel Europe in the hopes of finding her life's calling. She soon met a friend in Milan who was attending a cosmetology school there; it was during this visit that Mills realized her cosmetic hobbies could be a career. "My grandma who helped fund everything was like, 'No, no, no, no!'" she laughs. "I have a family that is very 'industry' related from jazz musicians to dancers and singers, to theatrical producers and managers and stuff like that, and my grandmother was like, 'It's a tough business, you know. I thought you were going on the other path.'"
Luckily for Mills, it paid off. Starting with an internship on Hollywood movies, thanks to a chance meeting with a friend's roommate, she began building her resume, but she admits it was a rocky start. "They gave me a shot, and I remember they said, 'Go get a makeup tool belt,' and I literally went to Home Depot and bought a tool belt, because I just had no idea," she laughs. "It was hilarious." But Mills picked it up quickly, and started getting paid gigs for smaller B-horror films with those in the industry guiding her on. "Everything just kind of kept falling in my lap, like, really easily," she confesses. Working her way up through to television shows like The Office and That '70s Show, to Hollywood blockbusters like Charlie's Angels and Anchorman, she landed her Dancing with the Stars department head gig almost by accident. "I came on just kind of to assist one day and do their title shoots. I remember like doing Tia Carrere and Tatum O'Neal, and the makeup artist that was running the show just was impressed and hired me on," Mills explains. "She didn't last the next season, and so when I had gotten word that they were looking for someone new, I went in and interviewed and I got the job! So I then became the department head from season three to season 13."
And it was this career move that gave Mills the recognition that she deserved. "I won an Emmy, I was nominated seven times there, or—no, six times there—and then I've also been nominated for an Emmy for iCarly and Victorious and the [82nd] Academy Award Presentation Show," she explained. Taking over at Dancing with the Stars, Mills wanted to bring makeup back to television and went big for her on-screen looks. "The producers definitely gave me free range to just go for it. I wanted to combine the ballroom, like, heavy intense, kind of over-the-top, almost clownish makeup with the modern stylized vogue type of stuff," she explained. "I wanted to try to bring that to television. We have not seen on T.V. a lot of makeup until the beginning of, I would say, Dancing, actually. I think Dancing kind of sparked makeup again."
The beauty on the show definitely isn't au natural. Big lashes, bold lip choices and golden skin probably inspires more than a few of us to make a run for Sephora in an attempt to emulate the look of some of our favorite dancers. And her makeup experimentation turned more than a few heads. "I got a lot of press off that show; a lot of attention," she admits. "I got known as revolutionizing the body for television mainly because in the ballroom world, self-tanning is a huge, huge, huge phenomenon." But while the ladies looked like bronzed goddess on-screen there were more than a few issues backstage. "The girls wore all sorts of products that were very orange, and when you start to use that often, even regularly, you're going to have patches that get weird and some streaks," she explains. "It can come off kind of odd, and even if you do it nicely and regularly—you're really coming across a lot of problems, you know? I was just spending so much time fixing the bodies!"
But after an ambassadorship with San Tropez and trying all manner of self-tanners, Mills decided they weren't what she needed and began to develop her own product. "I needed a body makeup that was pigmented enough to cover, actually smooth out imperfection and smooth out all the craziness self-tanning will leave behind," she starts. "Hydrate the skin, because on that show, even self-tanning can really start to dehydrate your skin, and then I needed it to be just fabulous. I needed it to work on multiple skin tones for multiple reasons, and I needed it to not get all over the place, and if it did happen to transfer, not stain. And there was just nothing on the market like that." After creating a small batch of her own concoction, stars began referring to it as "gleam" referencing the way it made their skin look when they wore it. "Celebrities and people started driving up to my house—and I don't live in Hollywood, I live in the foothills of Los Angeles—for a little ounce for the red carpet or whatever they were doing," she says. She knew she had something special and after numerous offers to buy her product she decided to go solo and launched Gleam by Melanie Mills.
Starting with four shades that match every skin tone, the Body Radiance is meant to work for face and body to smooth out tone, imperfections and give it a lit-from-within glow. The shades, all a different shade of metallic gold, can give entirely different looks depending on color. "So, I'm blonde, so if I was to use the light gold, it would just give me a really nice soft glow; it covers some imperfection. I could use it as a highlighter," she explains. "On a darker skin tone, that would be like a beautiful golden highlight." And working with dancers has allowed her to almost eliminate the chance of transfer. "It does dry down to a beautiful dry finish and, like I said, doesn't get all over the place," she says. "Now, in super high humidity areas, and super crazy, gnarly sweat, you can have some transfer, but again it's not going to stain, and it really does stay put." While it's not waterproof (Mills admits that would have compromised the health factor) it will general stay put for a quick dip or a little sun and surf.
With a product that could be worn on the skin daily, Mills wanted to make sure her products were going to be great for your skin, to be both beautifying and healthy. "I really wanted it to be good for your skin. I put lots of great ingredients in it like Vitamin E and aloe vera, jojoba oil, tea extract, skin tightener, wrinkle filler, its paraben-free, it's cruelty-free, it's gluten free, it's fragrance free—the smell is actually an essential oil," she adds. Recently adding the Body Radiance Dust and Lip Radiance to her collection, Mills suggests mixing colors to find the perfect glow for each occasion. "You can shade match, like light-gold with light-gold powder, or rose-gold with rose gold powder on top," she offers. "Or you could put the rose-gold all over your body, and then you give yourself a dusting of the deep gold and just enhance it, make it just a touch darker and give yourself just a little more of that glittery glow."
While we were afraid Gleam by Melanie Mills would be too glittery (we've seen those eye-catching looks on Dancing with the Stars) it was surprisingly subtle and did exactly what it said it would—gleam. Each color worked on our skin, imparting a soft sheen that made it look like we were naturally that flawless. The body dust had more of a glitter to it, but only a touch, making it far from anything you would have rocked in middle school. We immediately thought of wearing them as eye shadows for a glamorous night out, and Mills agreed with us. "You can use it as eye shadow, blush, bronzer—I love the powders; I'm getting a great response from the powders because they're unique, and the mica is a high-quality grade crushed pearl," she explains. While we love that the product doesn't transfer onto our white summer dresses, or smell like self-tanner, we adore the inner glow it gives our skin—seriously, nothing else works like it. And if celebrities are swearing by the miracle in a bottle, then so are we.
Prepping the (now glowing) skin of stars like Brandy and Ariana Grande, we had to ask who some of her favorites were because we just knew she would list women we love. "[Elizabeth] Liz Gillies was definitely a muse. Love her, love her, love her. She just went blonde. She's no longer that bratty teen from Nickelodeon, and now she's this stunning, gorgeous, young scarlet that I know is going to be someone big: she's just so talented," she gushes. "I love Ariana Grande. I loved Natalie Coughlin, the Olympic swimmer. So inspirational. Such a sweetheart. I love, love, love Brandy. I love Anna Trebunskaya, one of the dancers from Dancing with the Stars." As Mills continues her list, beginning to sound like someone who is frantically trying to remember who to thank in an Oscar speech, we realize this woman has worked with a lot of celebrities.
As an Emmy-Award winning artist, Mills basically has her pick of jobs and she doesn't mind playing favorites. "I like editorial because it's intimate. You're really dealing with like maybe a ten to fifteen person crew, versus like a hundred to a two-hundred person crew," she admits. "Runways are awesome, but they're a ton of work. But the one's that I usually do are concept fashion which are in LA and New York, which we deal with mostly with up-and-coming designers, so a lot of them aren't organized, and you don't even get the look until the day [of]." But then she flips the tables on us. "I'll tell you what I am kind of sick of doing," she starts. "What does start to get old is sitting on set, fifteen hours a day, powdering a few guys. That can start to get—and that's what starts to happen on film and episodic. Like, you start to work five, six days a week—14, 16, 17 hours a day." She explains the annoyance of continuity on a set, how trying to make a movie that takes six months to make look like one day. "I've worked on a show where a guy had a beard, and he walked in one day, and it's shaved, and you have to match him to the beard. You're like, 'Oh my God! Okay, let me whip out a beard!' You know, stuff like that!"
Anxious to put some of her episodic nightmares behind her, Mills is hoping her new brand takes off so she can focus her creativity on expanding her talents and helping others who want to get into her field. "I hope this line ends up becoming as big as it is, and I'm really focused on that," she explains. "And then I can just take my creative direction into like, say, campaign shoots for the line, and then more shoots for [my] book, and I'll probably still do some fashion shows." With the secret to glowing skin and an expanding product line that gives us the youthful inner-glow we've always wanted, we're pretty sure this award-winning artist is going to get exactly what she's after.