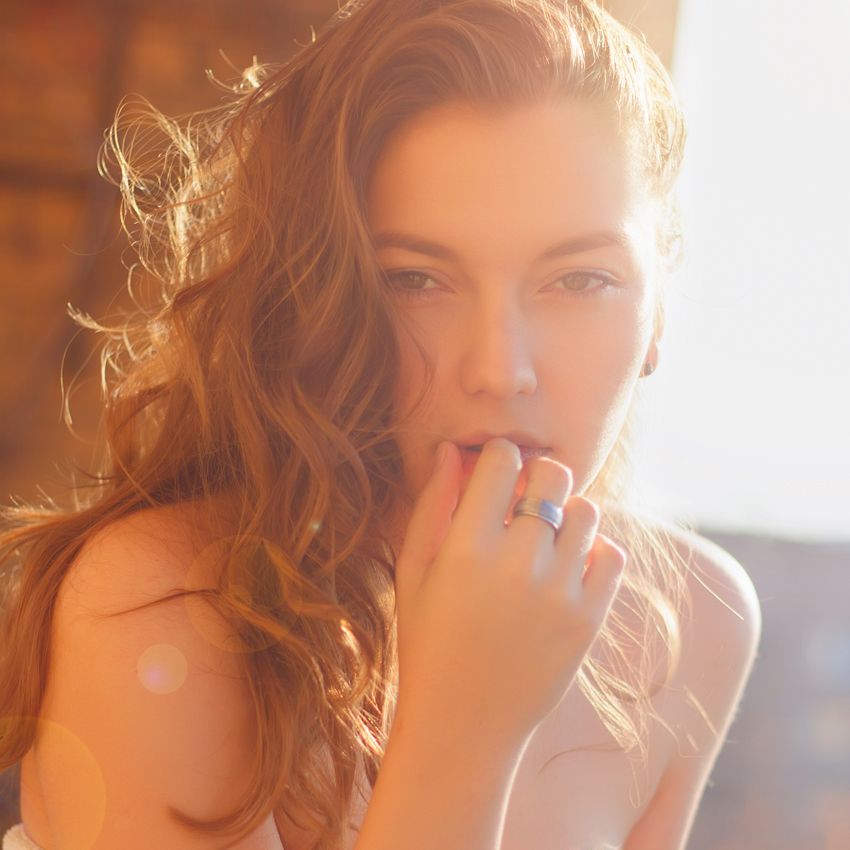 Photo Courtesy of Shutterstock
Now that it's the middle of summer all those mentions of a polar vortex are forgotten whispers in our head and all we want to do is lie on the beach and wallow in the warm sunlight. But with all those rays comes some much needed skincare. Now that winter is gone and our skin in no longer the dry, splotchy mess it was in winter, most ladies think a layer of sunscreen is enough to keep your skin looking great. And it can be—unless you want that natural summer glow. You know the one. That radiant, lit-from-within, I-woke-up-like-this skin. And while it seems like a fantasy one can only achieve with a layer of foundation and a great Instagram filter, we promise it's possible. What can be hardest for most women to get past when switching skincare products or going bare faced is that skin might react differently for a week or so—it's getting used to new product. But get past that and your skin can really start to react to the benefits of your new regimen. Here we outline a few of our favorites that can be mixed and matched into your own routine to give you that truly beautiful, naturally healthy skin that summer calls for.
Photo Courtesy of SK-II
Cleanse
While some people might say that cleansers don't matter since they are only on your skin for a matter of moments, we believe it can make all the difference in the world. Choosing a wash that will rid your skin of makeup, impurities and grime from the day turns your face into a clean slate that serums, masks and moisturizers can more easily penetrate. Well-known for its anti-aging ingredient Pitera, SK-II includes it in every product, from the most concentrated serums to their gentlest cleansers. The SK-II Facial Treatment Cleanser is intended to clean and hydrate while delivering its active ingredient directly to the skin. A little goes a long way with this cleanser, and it's fresh fragrance and creamy application makes even a quick rinse feel luxurious. This wash left our skin feeling squeaky clean and smooth, but not at all tight. Skin was cleaned while retaining moisture and balance, a perfect palette for summer skincare. Available at SK-II and priced at $75.
Photo Courtesy of Tata Harper
Exfoliate
For skincare that's natural, organic and non-toxic we love Tata Harper. Sure, the bottles look gorgeous on your countertop, but they manufacture their own products, use environmentally sustainable ingredients, and have a family farm in which they grow herbs and flowers for research. Luckily for us they just released a new face mask that is perfect for summer. The Limited Edition Soothing Apricot Resurfacing Mask (sounds yummy!) offers a cooling effect on contact with the skin and is actually a summer edition of their award-winning Resurfacing Mask. Using apricot stem cells and coconut water, the mask is anti-inflammatory (for any sun-induced redness), promotes even skin tone and works like a peel with beta-hydroxy to renew dull skin. While we love the smell of the product, what feels best, especially during the summer, are its cooling properties. Coming in a gel form, it's easy to smooth over the skin, and is especially perfect if you've seen a lot of sun and want to soothe tender areas while still taking care of your complexion. We felt refreshed, tingly and baby smooth after our first treatment. Since it is limited-edition we're thinking of stocking up on a few jars for the rest of the year. Available at Tata Harper and priced at $65.
Photo Courtesy of Neiman Marcus
Mask
Sheet masks are starting to catch on in the US and if one can get past the terrifying serial-killer look of wearing one, they can be one of the most efficient ways to introduce ingredients into the skin. Sulwhasoo began in Korean herbal and medical skincare and has long been an established brand in Korean women's beauty regimens. Appearing stateside only four years ago, this brand has been catching on in popularity thanks to its active ingredient of white ginseng. Coming in a pack of 10, the Snowise Ex Brightening Masks have been individually fermented in this ginseng and can minimize age spots and defend against collagen deterioration. Having used masks before, we were no stranger to the awkward looks you might receive from your significant other while wearing the mask, but we promise it's worth it in the end. After about half an hour (we left it on a bit longer than instructed as it just feels so luxurious), we removed the mask to find skin tone smoothed and skin literally glowing. It was dewy, luminous and actually brighter—just as the name suggests. Massage in any remaining serum and let it absorb fully into skin before adding moisturizer. You'll want to touch your skin to be sure it's real but don't—you'll diminish your newly-obtained glow. Available at Neiman Marcus and priced at $130.
Photo Courtesy of La Prairie
Serum
La Prairie is known for being one of the most luxurious beauty lines in the world, but expensive doesn't always mean quality. In this case, however, it absolutely does. The limited-edition Skin Caviar Liquid Lift from La Prairie is meant to lift, firm, moisturize and give your lackluster skin that youthful plushness that it seemed to lose right after college. Intended to go deep into the skin, the serum recharges cells and strengthens new ones to protect and enhance your complexion. Aside from the fact that putting La Prairie on your skin feels decadent in and of itself, this serum has been a staple in their collection for years. While we didn't see an immediate disappearance of wrinkles (it's a serum, not a magic wand) our skin did start glowing from the moment we put it on. Smoothing just a few pumps onto our skin left us feeling instantly moisturized and dewy. After letting the serum dry (an essential step), our skin was smooth and bright. There was a definite glow to the skin and it was as soft as baby's bottom—it was like we just had a facial in the comfort of our own home. After each use the results were the same, and a week or so in, our skin was definitely feeling firmer and plumper (in a good way!). We're totally sold. Available at La Prairie and priced at $325.
Photo Courtesy of Natura Bissé
Eye Cream
The first signs of aging can be seen around your eyes in the form of dark circles, dryness and wrinkles—and that does not bode well for anyone hoping to be a golden beach bunny. Backed by decades of research, Natura Bissé has been producing beautiful results for celebrities, socialites and well-heeled clients alike and are practically connoisseurs in the art of using science to perfect the skin. To start beautifying your eyes, try Natura Bissé's Diamond Extreme Eye which uses natural extracts to moisturize, firm, lighten and de-puff your peepers. While there aren't any actual diamonds in it, there may as well be due to the brightening and glowing affect it will lend to your eyes. With a light spa fragrance, the serum is soft and smooth allowing it to be massaged into the orbital eye area without any pulling or tugging of the skin. Applying it in small circular movements, this eye cream almost instantly starts to brighten the under eye area. Plus it's moisturizing without being oily. Available at Natura Bissé and priced at $202.
Photo Courtesy of Elizabeth Arden
Moisturizer
Skin repairs itself at most during the night, so that's the best time to hydrate your skin and load up on good-for-you moisturizers and ingredients. Elizabeth Arden's Eight-Hour Skin Protectant Nighttime Miracle Moisture has been a beauty-lover's favorite for years. Using lavender to help calm the skin from the elements of the day, this cream uses super emollients and Vitamin E to restore moisture to the skin overnight. Shea Butter helps to seal in hydration and salicylic acid helps to gently soften and exfoliate skin for a renewed, hydrated appearance in the morning. For those who love lavender scented products, this lotion is a dream. The perfect fragrance before a night of relaxation, it smells dreamy and light; it's easily one of the most beautifully smelling moisturizers we've used. It feels perfectly creamy on the skin and can feel quite rich at first, but soon leave skin feeling moist, not greasy. We woke up in the morning with hydrated skin that was soft, moist and plush to the touch. Available at Elizabeth Arden and priced at $39.
Photo Courtesy of Obagi Medical
Sun Care
Some of the best skincare can be bought at the department store, while others swear by coconut oil—others still will only use what is prescribed to them by their dermatologist. Obagi Medical is only available by prescription, but it's totally worth the trip to the doctor's office. The Professional-C Suncare moisturizer has a broad-spectrum SPF of 30 to help combat UVA and UVB rays. With 10 percent Vitamin C, this formula also helps to improve signs of aging while protecting and repairing skin. The scent is decidedly citrus-y with hint of sunscreen so it smells just like summer. The formula glides over skin smoothly and evenly, moisturizing the skin and leaving it feeling feather-soft and not at all oily. Our favorite thing about this sunscreen is the silicone touch that allows this SPF moisturizer to double as a makeup primer—filling in little bumps and ridges in the skin while giving the complexion a smooth, flawless finish. Kind of perfect for that fresh-faced, summer skin. Available by prescription from your dermatologist.