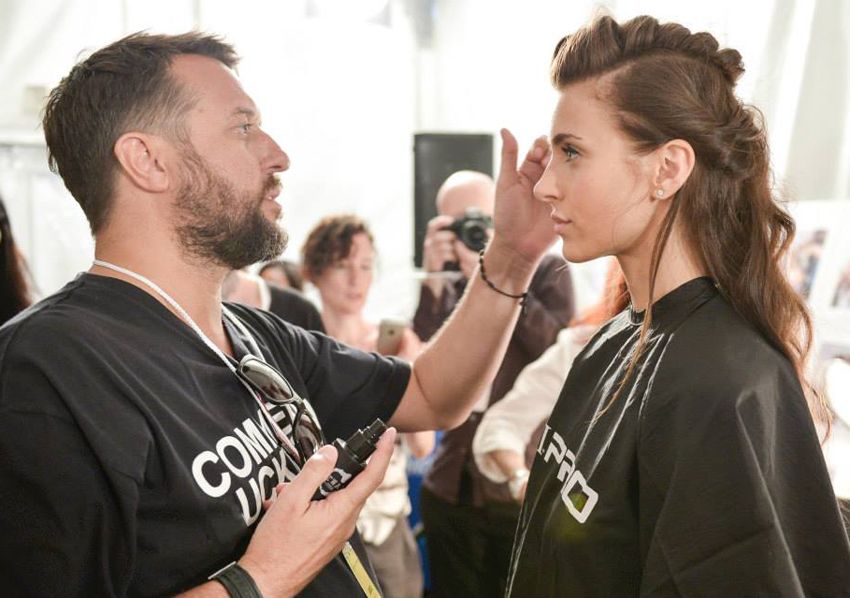 Photo Credit TIGI Professional via Facebook
You might be chatting with friends about the latest runway coats to hit Neiman's, but autumn is still far away—far, far away. Okay, not that far, but there's still another solid month of summer left, and personally, we intend to soak up every last drop of the sunshine. But—confession time—our hair is getting a little worn out. With the heat there are only so many summer hairstyling options and on top of that you can only wear a bun so many times before people start to notice. So what's a girl to do? We scoured the spring runways for inspiration and talked with a few pros, hoping to find better styling options to work some new life into those overdone summer locks. We even tested them all out to make sure they were easy enough for a fun day in the sand or surf. Now we're just hoping there are enough sun-soaked days left in the season to wear them all.
Photo Credit Aveda via Flickr
With almost 20 years of hairstyling under her belt, fashion week and editorial Redken stylist Jenny Balding knows hair. Her work has been seen on the runways of Marc Jacobs, Betsey Johnson and Proenza Schouler, plus she has worked with celebrities including Heidi Klum, Miranda Kerr and Kendall Jenner, so we had to get her take on one of the chicest hair trends this season—the ponytail. She gave us a how-to on one of our favorite looks from the Osklen SS14 collection. "Create a low side part on whatever side suits your face best. Then blow dry very smooth and straight," she explains. Personally we love the low side part, but middle parts were also all over the runway. "Separate the sections in front of the ear and leave them out. Then sweep hair into low ponytail at the nape, keeping it really smooth as you go," she says. "Take one of the side sections and cross over the base of the ponytail and pin right underneath. Repeat the same technique on the other side." By now in our test run everything was looking pretty spot on, and we basically vowed to try runway looks more often. "Mist with a gloss spray for the ultimate sheen!" Balding adds. (Plus a little sun protectant never hurt anyone.)
Photo Credit Aveda via Flickr
As a senior stylist at New York City's Cutler Salon, Balding specializes in cutting and styling for both men and women, and lives by the motto "bringing runway to reality." Taking the best looks from runways worldwide, she recreates the looks on clients and salon guests—and now she's bringing them to us. Another style to up our ponytail game is the braided look from Stella McCartney SS14. Balding suggests beginning the same way, "Blow dry very smooth and straight. And make sure you direct the hair off the face to encourage the hair to stay sleek." Seems easy enough. "Sweep into low ponytail at the nape, then take a small section from the underneath of the ponytail and create a tight braid," she explains. This was admittedly a little more awkward; we needed to start our mini-braid on the side—largely due in part to our butterfingers. "Wrap around the base of the ponytail and pin."
Photo Credit Valentino via Facebook
While we were blazing this trail of on-trend ponytails with Balding, we couldn't leave out Valentino's now iconic bubble tail. "Why not create small bubbles in the tail? You can go with a really high ponytail like Blake Lively at the Met Gala or really low at the nape seen at Valentino this season in Paris," she asks. So when asked which we would prefer to style—we had to admit we wanted both. For Lively-esque hair she suggests we "smooth hair into a really high ponytail just under the crown or wherever most suites your profile. Make sure you secure tightly to keep it anchored and not loosen over time." When replicating the look at home we really suggest it's tight; after a couple fumbles we realized the brushing, backcombing and addition of more bands can really loosen your look. "Brush your ponytail so it creates a smooth surface on top but then back brush the underneath of the tail to create a puffy texture! Then slightly smooth again to finish," she adds. "Then create small bubbles all the way down to create your look as desired." To copy Valentino's runway look "start with either a low side or center part and smooth into really low ponytail at the nape. Again, secure tightly as this is your anchor." Then work those mini bands in however you see fit.
Photo Credit TIGI Professional via Facebook
One of our favorite brands to hear from after fashion week is the Catwalk by TIGI crew that shares how-to's on some of their best runway looks. Our favorite by far for summer was the twin-tail braids from Mara Hoffman SS14—without the extensions of course. "Prep hair with ample mousse, working it from roots to ends and brushing through with a paddle brush while creating a defined center part from hairline to nape," explains Catwalk by TIGI Global Creative Director Nick Irwin. "Starting with the left side of the head, gather hair and begin French braiding directly behind the ear, securing the end with a small elastic. Repeat on the right side." This part, we'll admit, was not easy. French braiding behind your own head is never simple, but after a while we got the hang of it—sort of. "Using a colorful woven belt, bind the two braids together in a small section at the nape of the neck and pin in place, tucking away the ends." Aside from the French braiding this was pretty easy to replicate—and even if it's a little messy it just looks like you've been playing in the surf, so we consider it a win-win.
Photo Credit Aveda via Flickr
We also had the opportunity to pick the brain of Larry Sims a fifteen-year hairstyling veteran that began his career as a choreographer for musicians, but after discovering his true passion for hair, his celebrity clientele began lining up for his styling chair rather than dance in his studio. Clients include Queen Latifah, David and Victoria Beckham, Christina Millian, Gabrielle Union and Mary J Blige. At Ann Yee SS14 we saw some deliciously funky braiding we just had to try. "Start off by having straight, fresh, blown out, clean hair. Take a dime size amount of Go Pro Gro Cream Oil (smooth 'n shine) and apply from root to tip for shine and moisture," Sims suggests. Then, using a rat tail comb, create two sections of hair from the temple of head, to the center of the back of the neck- secure the middle section with a clip. French braid both sides of sectioned off hair and bind the braids with small rubber bands." Again the perils of French braiding almost tripped us up, but a tight braid is slightly easier to accomplish. "Drop the middle section of your hair by removing the clip. Part down the middle and twist back both sections on the top of your heard into the middle crown of your head," Sims explains. "Secure with mini rubber bands and bobby pins." This looks is definitely edgy without attempting a trendy side-shave.
Photo Credit TIGI Professional via Facebook
A celebrity spokesperson for Got2b Products, Sims works with celebrities, collaborates with international stylists, styles editorial shoots and even styled our favorite, Lupita Nyong'o the night she won the Oscar. At Miami Swim Week we saw a few styles we couldn't leave off the list and Sims was just the guy to give us the how-to. To get the braided beach Mohawk at Suboo, Sims suggests we "start off by establishing a natural wavy texture by applying a salt-infusion waving spray to wet hair. Allow hair to air dry." (Admittedly, air drying our hair was the hardest part of this look.) "Once dry, take the top middle sections of your hair, using the arches of your eye brows as placement guidelines. Loosely, French under braid, the top of the crown hair; secure with mini rubber bands," he explains. "Take the two remaining sections of hair, on both sides and roll upwards away from the face, allowing tendrils to fall organically on either side of the face. Then secure with a volume hairspray."